INWED 2019: 'Each step was driven by choosing work I enjoy'
To mark International Women in Engineering Day 2019 on 23 June, Fiona Barbour discusses her journey to becoming Mott MacDonald's global practice leader for rivers and flooding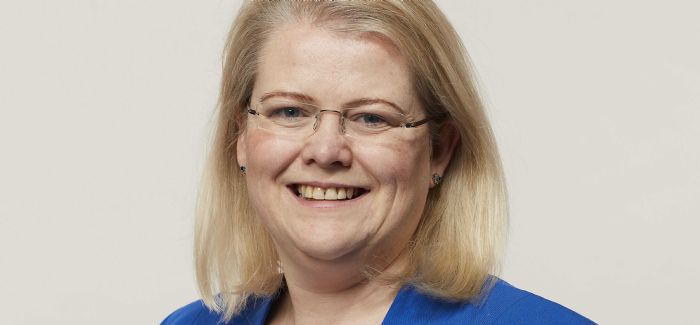 When I was at school, I knew I wanted to be an engineer – all the teachers told me I had the right problem-solving mind with strength in maths and physics. The only thing was that I didn't know what type of engineering I wanted to do. 
My careers and maths teacher, Mrs Tyson, was on the board for Women in Science and Engineering. As the only pupil appearing interested in these subjects, I got a lot of opportunities to go to university open days, do work experience and job shadowing. It was brilliant!
I shadowed a director for a company that built corporate jets, I climbed around inside a jet plane being stripped down for maintenance at Luton Airport, I saw concrete-crushing demonstrations at universities and spent a week teambuilding at Loughborough University.
After those experiences, I came to one conclusion: I didn't want to study civil engineering. It just didn't interest me. For most engineering degrees you needed maths, physics and one other subject at A-Level to get on the course. So when choosing A-Levels, I thought I would just choose a third subject I enjoyed – geography. This was mainly down to an inspirational teacher, Mrs Welch.
I knew I wanted to take a gap year and try my hand at working so I tried for sponsorships but, as I didn't want to be involved with the armed forces, that wasn't an option. Instead I joined the Year in Industry Scheme. At the time of my application, I put myself down for general engineering experience, but when it came to securing a placement, a last-minute opportunity came up in Haywards Heath working for Posford Duvivier in river and coastal protection. This was fortunate because, by this point, I had decided to study civil and environmental engineering, which was so I could continue with geography and because I had found out that actually civil engineering wasn't just crushing concrete.
My gap year had cemented my passion for civil engineering and the specialism of flood defence. It was a great year and gave me a vision of what I wanted to do after graduating, which helped me stay focused for my five-year course at the University of Edinburgh. I decided to apply for my master's degree because someone had told me that I would need a master's to get chartered when I came out. Now I am so grateful for that off-the-cuff comment as some of my peers who didn't do the master's had to self-fund the master's year whilst working, which was more difficult.
I really enjoyed university and won the William Dudgeon Scholarship for being best in the year in my second year. This boosted my confidence in the subject and gave me faith that I could get a first, which I did in 2002. I remained passionate about water engineering, again influenced by an excellent lecturer Dr Wardlaw, who now asks me to call him Robin, although the student in me can't bring myself to do so.
After graduation, I knew wanted to work in river hydraulic modelling. I wanted to live at home in Hertfordshire after graduating and commute into London. The only job offers I was getting were in East Croydon or Redhill, which were not commutable distances from home. I figured if I was paying rent I may as well stay in Edinburgh, as I loved the city. My parents wanted me to work in the St. Albans office of what is now called AECOM as it was just down the road. I wasn't keen on that as even though they did do hydraulic modelling, it was sewer modelling and I had absolutely no interest in.
I took a job in the same company in Edinburgh in the Rivers and Reservoirs Department. However, six months later I was in the St. Albans office doing sewer modelling and loving it. It turned out that the experience doing sewer and river modelling paved the way of my career and professional specialism of integrated modelling.
My second job was with JBA Consulting, working for the same boss as my first job. As I had experience with the sewer modelling software, I got the opportunity to work on an Interreg IIIB NWE project – 'Urban Water' – with Renfrewshire Council. The project was a future vision of managing flood risk in urban environments.
These were the days before national surface water mapping and little was known about urban flood risk and how to manage it. We benchmarked various software that may have approximated elements of the integrated approach. Sewer models simplified channel representations, river models could not include the pipe network. This resulted in me presenting papers at Floods and Coast and CIWEM conferences and software user groups about the work we were doing to regionally address surface water flooding. 
JBA was also providing the surface water mapping for the Environment Agency and I was involved in some of the testing of the approach used. On reflection, the Interreg project was a platform that allowed me to promote myself and become known in the industry, especially the CIWEM Urban Drainage Group (CIWEM UDG).
I became a chartered engineer, in 2006, and joined the ICE Edinburgh Branch Committee following involvement in the Graduates and Students committee. The following year I became the chair and extended my network further. In 2009, I contributed to the production of the CIWEM UDG group's Integrated Modelling Guide through workshops and authoring of the modelling chapter. This enabled me to get to know other key members of this niche industry. This was also the year I got married.
In 2011, I joined Mott MacDonald as modelling team leader in the Edinburgh office, and the following year became a mother, sharing my maternity leave with my husband. 
Over the years, I have increasingly been drawn upon to carry out integrated modelling studies. As the industry has advanced the technology to do this, more of these studies are needed and a team has been developed to support this work. This has resulted in the Edinburgh office being the centre of excellence for integrated studies that supports work across the UK and abroad. In 2016, I was appointed onto the CIWEM UDG committee and took up the role of webmaster.
In the same year, I applied to become Mott MacDonald's global practice leader for rivers and flooding. I was appointed because of my passion for the work we do and the industry. This role has extended my internal network to those across the globe, gaining an understanding of our work in various pockets and bringing together a community of people learning from each other and sharing knowledge.
This role is exciting for me as I know we are doing some really amazing work, including: delivering the Boston Barrier a 25m navigable sector gate to protect against tidal flooding; stabilising 115,000ha from river erosion in Bangladesh; designing the first moveable flood alleviation weirs in the UK as part of the Leeds Flood Alleviation Scheme; creating a 5.6km seawall in Jersey following Hurricane Sandy; building smart highway tunnels in Kuala Lumpur that can be closed off and used for flood storage; designing 2,500 river crossings for a 1200km railway in Mozambique; and greening Philadelphia and New York with ambitious retrofit green infrastructure (SuDS).
However, as a company, people don't always know what we do. I am passionate about recognising and promoting the technical excellence and hard work that our team delivers.
On reflection, I have stumbled into some areas in my career apparently by accident, but each step was driven by me choosing work that I enjoy. I encourage staff who work for me to do that and not be too daunted about having to decide their entire career path on graduation. I also say the same to school pupils I speak to – they often put a lot of pressure on themselves to make all decisions during their school years. If you can enjoy what you do now, then the future will turn out right.