Interview: UKWIR chief executive Steve Kaye
Steve Kaye, the new chief executive of UK Water Industry Research (UKWIR), wants to get the industry thinking collaboratively about its biggest challenges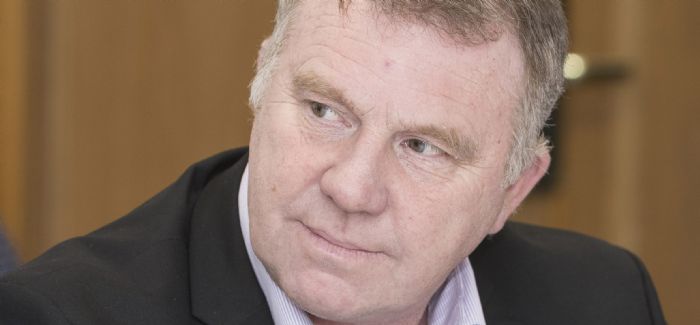 UKWIR'S 'Big Questions'
1. How do we halve our abstractions by 2050?
2. How will we achieve zero leakage in a sustainable way by 2050? 
3. How do we achieve zero interruptions to water supplies by 2050?
4. How do we achieve 100% compliance with drinking water standards (at point of use) by 2050?
5. How will we deliver an environmentally sustainable wastewater service that meets customer and regulator expectations by 2050?
6. How do we achieve zero uncontrolled discharges from sewers by 2050?
7. How do we achieve zero customers in water poverty by 2030?
8. What is the true cost of maintaining assets and how do we get this better reflected in the regulatory decision-making process?
9. How do we ensure that the regulatory framework incentivises efficient delivery of the right outcomes for customers and the environment?
10. How do we become carbon neutral by 2050?
11. How do we turn all wastes we receive and generate into products by 2030?
12. How do we achieve zero harmful plastics in the water cycle by 2050?
By James Brockett
As the man who led the innovation function at Anglian Water for over 15 years, Steve Kaye knows the value of collaboration in coming up with answers to a water company's challenges. Through initiatives such as the Shop Window and the Water Innovation Network, he helped create a culture at Anglian where the utility did not expect to know all the answers to its challenges itself, but instead sought to develop solutions through partnership working with the supply chain and others.
This is exactly the approach he wants to put into practice on larger scale in his new role as chief executive of UK Water Industry Research (UKWIR). The organisation, which commissions research on behalf of all the UK's water and sewerage companies on 'one voice' issues, recently set out a dozen 'Big Questions' which it wants to help the water industry solve, and is poised to launch a programme of events where individuals and companies from all parts of the water sector, and outside, can contribute to shaping its research programme.
"In all the years I've been involved in innovation and R&D, I've always felt that UKWIR was a great way for the water industry to get leverage and funding for research and to have a collective voice on issues that are common to all of us," says Kaye, who took over at the helm of the organisation in September. "I think there's a real opportunity to bring people together, to apply some collective brainpower to our challenges, and also to bring in other sectors and sources of funding to collaborate with us where we can."
UKWIR's 'Big Questions' are not short of ambition. They include how to achieve zero leakage, zero interruptions to supply, zero uncontrolled discharges from sewers and zero customers in water poverty.
So are these ambitions really achievable? Kaye believes so, saying that the industry needs to be ambitious and aim high if it is to make real progress.
"The reason we are asking these questions is that we want to create a paradigm shift," says Kaye. "When Kennedy said he wanted to put a man on the moon, they found a way to do it. It was an aspiration, and taking on that goal meant changing the face of space technology. Innovation is like that. If you just say 'we want a 10% reduction in x' we'll probably just work harder at the things we do already. The big ambitions are meant to drive big innovation – that's the thinking."
UKWIR commissions around 75 research projects each year, with the work typically being carried out by academics and other external contractors. These projects have traditionally fitted under sector themes (e.g. drinking water treatment, wastewater treatment, sewer networks) but after a period of transition, they will be aligned with the Big Questions instead. Starting early in 2019 will be a series of events where the questions will be discussed with a wide variety of stakeholders.
One of Kaye's hopes for these events is that discussions with different types of organisations will lead to additional sources of funding for UKWIR's research, from parties with an interest in the outcomes being sought.
"We want the events to promote the challenges and big questions, to bring people together from across the sector, but also from other industries to help us co-create the route maps and collaborative opportunities. We are in an ideal position to try and co-create solutions to those big questions, rather than just do it within UKWIR and the usual suspects in the industry. We want to include academia, other industries where they can transfer knowledge and new ideas, to link with other sectors like energy, agriculture - the sky's the limit really," says Kaye.
The organisation's role is to create a "platform" for innovation, he says, ensuring that potential innovators in the industry, academia and the supply chain are thinking about and researching the key issues. Such early stage innovation is vital if long-term challenges are to be addressed.
But the UKWIR programmes can also lead to innovation which makes a real difference in the more immediate term. An example of a successful UKWIR project which has borne fruit recently is the development of the SAGIS – Source Apportionment GIS – software tool, which quantifies the loads of pollutants from various sources in catchments and is now being used by the Environment Agency to set permit limits for discharges from wastewater treatment works.
Created in 1993, UKWIR is backed and funded by all 19 water and sewerage companies in the UK, who each contribute in proportion to the size of the population they serve. It has a relatively small team of London-based permanent staff, but relies on a larger network of industry professionals, paid and unpaid, to draw up and oversee its programme. This involvement from throughout the industry is a strength of UKWIR, but it also presents a challenge for its leadership to maintain cohesion and strategy, according to Kaye.
UKWIR is a member of the Global Water Research Coalition (GWRC) a group of 14 international water research organisations, and Kaye wants to make more of these links and foster international co-operation on the biggest water issues. He also wants UKWIR's research to gain a higher profile in the media to help attract interest and engagement from beyond the water industry.
He might have spent all his 29-year water industry career at Anglian, but Kaye is a well-known figure across the industry: he is a regular speaker on the conference circuit and has also been involved in a host of cross-sector initiatives. A chartered mechanical engineer by background, he is a visiting professor at Imperial College and Brunel Universities, and also chairs the Industrial Advisory Panel for the STREAM programme, a university collaboration funded by EPSRC. He cites the Shop Window and the Water Innovation Network – both of which won awards – as his proudest achievements from his time at Anglian, and notes that other water companies have since been successful in adopting similar approaches.
"I think the main thing for me is moving from centralised R&D to open innovation - throwing challenges out into the world and getting people to come together to co-create the solutions," says Kaye. "I'm proud of the fact that I helped to change the culture in a utility, towards open innovation. And some of the techniques and that thinking is what I want to bring to UKWIR as well."
For more information on UKWIR, visit www.ukwir.org. Steve Kaye will be among the speakers at the WWT Wastewater 2019 conference. Details can be found here: event.wwtonline.co.uk/wastewater
This article originally appeared in the December issue of WWT