Interview: Tony Smith, Chief Executive, Consumer Council for Water
"We don't want the market to disappoint the customer… if that happens, the customer view of the industry could decline."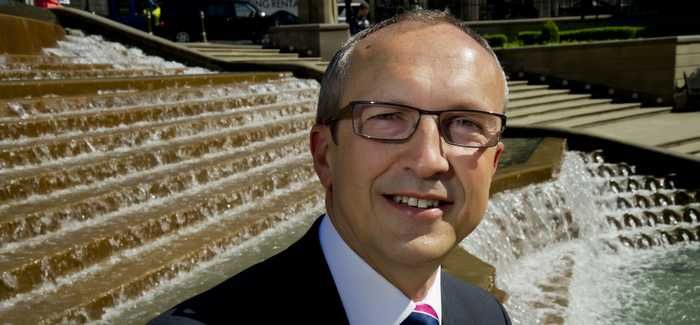 It's less than a year before non-household retail competition is introduced in England in April 2017, but current moves from the government and regulator are already drawing attention to the next phase of reform – household retail competition for the domestic customer.
Following the government's announcement last November that it wants to introduce competition for households by 2020, Ofwat is conducting a cost-benefit analysis of the proposed move which is expected to be published shortly. So it was against this backdrop that the Consumer Council for Water (CCWater) recently quizzed over 3,500 domestic water customers on their views of the reform for research entitled Floating the idea: Household customer views on water market reform in England.
The findings were less than a ringing endorsement of the prospective market. Two-thirds (65%) of people initially said that they supported the idea of competition in the water market, but this fell to 51% once the wholesale-retail split and its implications were fully explained. Once they were presented with a likely figure for the amount they could save by switching (£4-8 off the annual bill per year) the proportion saying they would be interested in switching in such a market was much lower, at 32%.
"The principle of having a choice is viewed as a positive by the majority of customers, but their view changes quite a lot when you start to put into scale the amount of money that customers could potentially save," CCWater chief executive Tony Smith tells WWT. "Primarily, it is the case that customers are looking for a reduction in their bill as a result of choice. We know from our research that the majority are satisfied with the service they receive from water and sewerage. So they are not really looking for a service benefit – they just want to know what competition will mean for their bill. And when we start to reveal the size of saving that may be available in the retail component of the bill, at that point it causes a large number of customers to reduce their level of interest."
Participants in the study had an unrealistic view of the savings that might be gleaned from competition. When asked the amount that would be needed to entice them to switch, 61% named a figure that was higher than £20 per year, and 44% wanted higher than £40. Yet the retail component of a water bill is only around 10%, or £40 on a typical £400 annual bill. With water companies' profit margin within that only 10-20%, a saving of £4-8 per year is probably as much as can be expected; many customers therefore could be in for a disappointment.
On the face of it, a 32% willingness to switch would still represent a healthy market, but even this figure needs to be taken with a pinch of salt as it represents what customers say they would do, not what they what they actually will do. Add in the likely effect of customer inertia – so prevalent in energy retail and in other sectors such as banking – and real switching rates would be much less.
However, switching rates are not everything, according to Smith.
"The success of a new market is not necessarily all to do with switching; it's also to do with customers' engagement in the market," he says. "You might choose to renegotiate with your current supplier. That's not switching, but you are actively engaging with the market and getting benefit from it. And if someone's consciously deciding not to play the market, that's fair enough too, because that's their choice. But if the market disappoints the customer, then I think that's a bit more of an issue. You wouldn't want a market that causes the customer view of the water industry to actually decline."
Domestic customers remain notably less enthusiastic about competition than business customers, who stand to gain more from a competitive landscape, both in cost and customer service terms. However, some of the concerns about the process are the same for both: customers are hesitant to switch to a new entrant without a track record, and also want to know that in the event of a problem, it will not complicate matters to have a different wholesaler and retailer.
Perceptions of metering emerged as a barrier to customers' interest in the market, with 60% of unmetered customers saying they would be unlikely to switch if it meant they had to have a meter installed, even if this led to a better deal. Yet it does not necessarily follow that metering is a pre-requisite for competition, stresses Smith; neither does it follow that the ban on customers being disconnected for non-payment would have to be lifted – another topic explored in the research.
But he adds: "One interesting question is what would happen if customers had an opportunity to bundle water with energy for example, and they were on a prepayment meter. Would that prepayment meter extend to supplying the water services as well? If so, would this mean that the customer could be disconnected? It's this sort of question that arises when new entrants come into a market – they may well come in with new innovations."
One conclusion that can be clearly drawn from the research is the need for regulation to protect the interests of vulnerable customers who currently benefit from social tariffs or payment plans. These customers are less likely to be active in the market, and would be penalised if these tariffs and payment plans are not offered by new market entrants.
Whatever the outcome of Ofwat's analysis, CCWater will continue to keep a close eye on customer opinion, with its research findings playing a role in the design of the market. After the advent of non-household competition next April, the organisation is expecting to have an increased volume of industry complaints to handle, an effect which would be only increased should progress be made on domestic competition.
Currently, 50% of CCWater's complaints relate to billing, while 10% of overall complaints are from business customers. Both of these segments might be expected to attract more complaints as markets open up, if customers experience problems with switching, the transfer of customer data between companies, and so on.
"We tend to hear quite quickly if a company's got a problem, because our phones start ringing a lot," says Smith. "We'll be playing an important role not just in fixing the problems for the customers, but in relaying to Ofwat if there are systemic problems with one particular supplier or with the market as a whole."
So is the proposed timescale feasible to bringing in domestic competition around 2020? Smith is cautious.
"It is possible to do it in that timeframe, but I think it would be helpful to see the lessons, good and bad, from the introduction of the non-domestic market, and to take those lessons and apply them to the domestic market. I think there's got to be enough of a window in order to allow that to happen."