Interview: Tony Harrington, Director of Environment, Welsh Water
'Across the EU, sewerage remains the Cindarella service... we all need to do something about this together if we are to deliver fully for our customers and the environment.'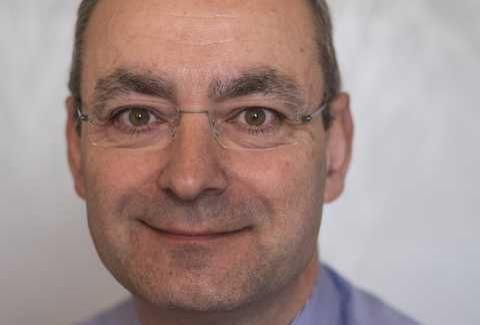 Tony Harrington, Director of Environment at Welsh Water
Interview by James Brockett
Plotting a course for the future of urban drainage in the UK is a daunting task: not only because of the host of challenges facing the sewer network in a time of climate change and flooding, but because of the number of people and organisations with a stake in proceedings. When national and local government, developers, water utilities, regulators and householders all have their own priorities, and drainage assets themselves are subject to complicated structures of ownership and responsibility, setting a strategic direction might seem a Herculean job.
But Tony Harrington, Dwr Cymru Welsh Water's Director of Environment who is chairing Water UK's group on Delivering 21st Century Drainage, is not a man to shirk from a challenge. Since last year, this group has brought together the key stakeholders and has set up seven workstreams, reporting to a single programme board, that seek to promote joined-up thinking and action on the issue. It is a field in desperate need of clear strategy and leadership, according to Harrington.
"Right across the EU, sewerage remains the Cindarella service," he says. "We're still designing sewage systems in fundamentally the same way as we did in the 1970s. Our drainage systems are increasingly stressed because of the challenges of population growth and climate change, and we just haven't got the traction across all the stakeholders involved to deal with these issues.
"We all need to do something about this together. We need not only improved ways of designing drainage systems, but different ownership structures to simplify the landscape and get the traction we need to progress improving services still further for our customers."
The group is taking a 25-year time horizon and the areas where it has identified the need for action include drainage capacity planning, regulation, drainage misuse, groundwater inundation and drainage infrastructure deterioration.
Harrington's experience of driving through Welsh Water's 'RainScape' sustainable drainage (SuDS) programme, which is working with local authorities to retrofit SuDS features, will stand him in good stead. DCWW is set to spend around £60M on the programme in AMP6, on the back of successful AMP5 projects in Llanelli in particular. But while the RainScape programme has achieved impressive results, it has also required intensive collaboration between the water utility, regulator, local community and local authority, which is why replicating it across the country will require determined leadership.
"We've proved that it's possible to do it well – for the naysayers, we have real examples of SuDS in the ground that you can come and see, and show that they work," says Harrington. "The question is, how can we do more of it? The key lesson from our RainScape programme has been how essential it is to get the local authority and community – our customers, on board."
The Water UK Programme Board will not pull its punches where clear change is needed: for example, on sewer misuse, it is set to lobby hard against wet wipes being marketed as 'flushable', pressing industry and government to enforce a new standard on the issue.
WWT caught up with Harrington ahead of his appearance at the Wales Water 2016 conference in May where he will be presenting on the subject of 'collaboration and innovation in the water industry'. Innovation at Welsh Water, explains Harrington, is defined in terms that go beyond the typical emphasis on technology to encompass scientific and research work as well as the people agenda and innovative business processes.
Much of this is also inherently collaborative. For example, last year the utility introduced a web-based portal which collects suggestions and ideas from the supply chain and the wider public. Voluntary groups are also key partners, for example through DCWW's Water Framework Directive Funding Scheme, which over the last four years has made hundreds of thousands available to community groups for environmental work. The scheme was extended last summer with a £60,000 fund being made available for initiatives that tackle non-native species in the water environment.
Catchment management is another area where collaborative approaches are to the fore, and water companies including DCWW are working together with agriculture in a number of innovative ways. But Harrington feels that this activity needs to be better supported by government and regulators before it can really take off.
"The problem is that at a national and European level, agricultural policy is at odds with water quality policy," he says." Governments must set a regulatory floor for the agricultural sector to get these aligned, so that minimum standards of land management are set and enforced, via the billions coming from Europe to farmers. Payments for ecosystem services (PES) can only operate over and above that basic level of land management – otherwise all we are doing is paying polluters not to pollute. Until we have that regulatory floor, we [DCWW] can only have a limited ability to undertake PES schemes e.g. those to protect our drinking water sources."
As one of the relatively few water company directors who has also worked for a government agency (he was Director of Policy and Regulation at the Food and Environment Research Agency between 2009 and 2011) Harrington is in the rare position of being able to understand regulatory issues from both sides of the fence. He also has the advantage, in Wales, of dealing with the devolved government and a single environmental regulator dedicated to Wales (National Resources Wales), which gives him a perspective on what could be done better at a national level.
"Much has been said and written about barriers to innovation in the industry, but the main one that I see is the intolerance of failure across the sector," he says. "The regulatory regime is based on 100% compliance, with requirements left to the last possible minute. There's no time allowed for us to experiment, to take time to get something right, which is what you need when you are pursuing innovative softer catchment based approaches that involve multiple stakeholders."
The growing focus on competition, especially in England, could be distracting us from taking further action that is supportive of collaboration and innovation, he adds.
Nevertheless, he is optimistic that whatever the short term barriers and delays when it comes to bringing about beneficial change, these can be overcome in the long term.
"If ever I am frustrated about progress with the pace of progress in the industry, I try to remember the huge strides that have been made in the last 25 years," he muses. "When I started working in the sector in the 1980s, 80% of sewage in the SW where I worked went straight into the sea untreated. Now, we have the best environmental water quality we've ever had. In the next 25 years we will again achieve a lot."
- Hear more from Tony Harrington when he speaks at WWT's Wales Water conference, 25th May 2016 in Cardiff. For details and booking info visit wwt-wales.net