Interview: Richard Warneford, Wastewater Director, Northumbrian Water
"We are starting to understand the value of good analytical brains, as well as good analytical systems."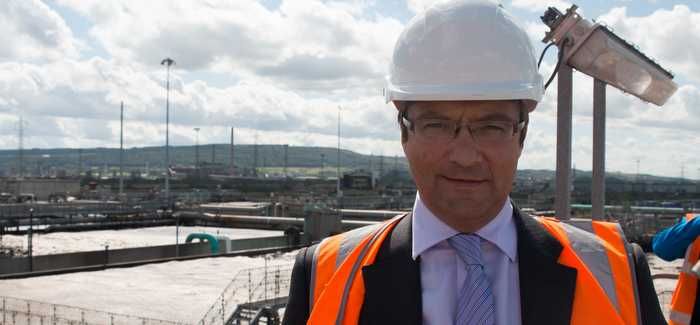 Richard Warneford pictured at Bran Sands WWTW
Path to the Top
1985-91
Newcastle and Gateshead Water Company (NGWC), Trainee Engineer and Site Engineer
1993
University of Sunderland, BEng (1st Class Hons) in Civil Engineering
1993-98
Northumbrian Water, Area Project Manager
1998-2001
Northumbrian Water,
Community Manager/ Works Manager
2001
Ondeo Industrial Solutions (Secondment)
2002-05
NWL, Water Production Manager (Northumberland and Tyne)
2005-08
NWL, Water Production Manager (Tyne)
2008-12
NWL, Distribution Manager
2012-
NWL, Wastewater Director
by James Brockett
Very little is wasted in the wastewater treatment process these days, and nowhere is this more true than at Northumbrian Water. For the last three years all the sludge produced by wastewater treatment in the Northumbrian region has ended up at just two plants – Howdon in North Tyneside and Bran Sands near Middlesbrough – where it is used to generate power via advanced anaerobic digestion (AAD). And with the opening earlier this year of a gas-to-grid facility at Howdon, the utility has gone one stage further, and is now injecting biogas produced from AAD into the National Grid.
I meet Richard Warneford, Northumbrian's wastewater director, at Bran Sands, which is a sprawling out-of-town treatment and sludge processing complex the size of a small village. Before we clamp on our hi-vis for a tour of the site, he tells me how Northumbrian is also actively investigating putting in gas-to-grid at the Bran Sands site – it plans to have this up and running by the end of 2016 – and how the arguments for extending energy generation in this way are compelling.
"We're quite proud that we put 100% of our sludge through those two plants, where it generates electricity, and then 100% of the waste product goes back to the land and is recycled - there's something we love about that whole story," says Warneford. "It seems a logical step, then, to take the opportunity to do even more with that and look at the options for gas. It's important as part of the whole environmental cycle, but it's important financially to us as well, as the government has incentivised the whole thing around green gases at the moment. It's things like this that actually allow you to keep bills low."
The 88kWh of energy generated from gas-to-grid at Howdon will save Northumbrian £3M a year, from an £8M investment, and is helping the company exceed its target of getting 20% of its energy from renewables.
Nevertheless, the project has come with its challenges, and Warneford said that the first few months of operation at Howdon was a 'learning curve' as Northumbrian's staff at the plant got to grips with the challenge of turning out gas to the required standards for the grid. Currently, the plant operates 24 hours a day during the week and slightly less than this at weekends; in the coming months it will move to 24/7 operation.
"For our employees, it's a leap from being wastewater treatment operators to managing a gas plant and an electricity plant," he says. "They are in touch on a daily basis with Northern Gas Networks about the calorific values of the gas; it's quite complex, and very different to wastewater treatment, so we have to upskill our employees. That's great news for them, and for others that work in the industry, because it's another string to their bow."

Network knowledge
It is not the only area in which Northumbrian's workforce is developing a new skillset. The utility is garnering an increasing amount of data about its sewer network – it has more level monitors installed on CSOs than any other company in the industry – and by the end of this year it will have a new IT system in place which can centralise and analyse this data in an integrated way. Warneford says that CSOs are just the "tip of the iceberg" as far as sewer monitoring is concerned, and that the company is moving towards a point where technology allows it to know as much about its wastewater network as it does about its water network. Making proactive use of that data requires two key developments in the workforce: firstly, the need for every individual and team to understand how their role impacts the whole network; and secondly, the need for people with the right skills to interpret figures and trends.
"We are really starting to understand the value of good analytical brains, as well as good analytical systems," says Warneford. "We've taken on some really clever people with degrees and backgrounds in mathematics, who can look at the data and decide what it is telling us. It's no longer just engineers and scientists who are embedded in the industry - as important as they are - you also need people who think differently if you are to get the right answers sometimes."
While Northumbrian is a national leader on many measures, including its standards of wastewater treatment, one area where it is striving to raise its performance is sewer flooding. It has forged a unique partnership approach with the Environment Agency and local authorities to implement sustainable drainage (SuDS) projects in its region, while other measures include insourcing CCTV work for reactive flooding, which has resulted in quicker response to incidents. Customer education is another key plank – 70% of sewer flooding incidents are caused by factors other than excessive rainfall – and Northumbrian's PR campaign featuring the mascot 'Dwaine Pipe' and the slogan 'only toilet paper, pee and poo goes down the loo' has been much imitated in the industry.
Varied career
While Warneford has spent almost his whole career at Northumbrian, it has been a varied one, starting off as a trainee engineer and progressing through operational roles on the water side; he undertook secondments both within the company - managing treatment works - and outside, at Grangemouth Oil Refinery. Having been Northumbrian's wastewater director now for three years, he readily admits that tackling flooding is at the top of his list of customer concerns, but he shakes his head when I ask whether it is the issue that is likely to keep him awake at night.
"I would say that nothing keeps me awake - it's important in this role, as in any management or leadership role, to have a sense of perspective. Even though sometimes you can think there is the weight of the world on a decision, the decision will be gone and in a few weeks' time it will be something else. So I tend to go to sleep OK; but if you ask me what I think about most when I wake up, I think about making flooding better for people. Because there's nothing worse than sewer flooding, and it's a service failure that we as an industry can do something about."
One recent project he has been involved in was chairing a Water UK group which established industry-wide standards for the service water companies provide to developers; in July this yielded its first set of statistics allowing comparisons between water companies on the issue. Warneford describes it as an extremely worthwhile initiative that was required to address the perception that utilities were a barrier to housebuilding; he says that he was only too happy to play a part to build trust and confidence in an area where the reputation of the industry was at stake.
Warneford's enthusiasm for the water industry shines through, and as we set off for a stroll around the aeration tanks and the biogas installation at Bran Sands, it is clear that he is doing a job that he loves.
"The thing that gives me a buzz is the people," he says. "When the people I've seen come through the business do well, whether that's someone who's been here 20 years or five years, and if I can play any part in helping them there that's what really makes me tick. It's a brilliant industry because of the people that work in it."