Interview: Paul Horton, CEO, Future Water Association
"There needs to be greater awareness of the issues the sector faces, both now and looking forward 15 years."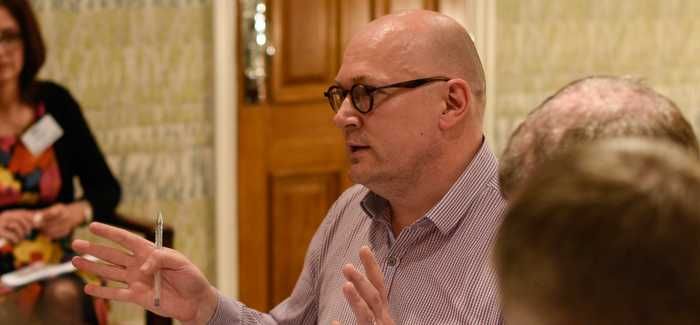 Paul Horton, CEO, Future Water Association
Path to the Top
1989-92
Research and Database Analyst, Thomson Reuters
1992-94
Environment Policy Adviser, CBI
1996-05
International Director, British Water
2005-11
Director, International Development, CIWEM
2011-13
Director of Membership and International Development, CIWEM
2013-14
Director, Membership and Development, CIWEM
Dec 14- May 15
Chief Executive, SBWWi
May 2015-
Chief Executive, Future Water Association
by James Brockett
While a rebrand which changes the name of an organisation can sometimes be merely a cosmetic exercise, at other times the new name can reveal a significant shift in the way it sees itself and its purpose.
The latter is certainly the case for the Future Water Association, which has adopted its new moniker after its previous incarnation as the Society of British Water and Wastewater Industries (SBWWi).
The man responsible for the change is Paul Horton, who took over as CEO of the supply chain membership organisation in December last year.
The rebrand - which was unveiled at the organisation's Water Innovation Forum event in Belfast on May 28th - followed a series of consultation exercises with its member companies, and has also yielded the three-pronged mission statement of "informing, innovating, influencing."
The reason for the emphasis on future-gazing is a belief among members that the supply chain ought to be at the heart of any discussions about the sector's future needs and how innovative activity can help meet them.
"I think there was a recognition that there needs to be greater awareness raised of the issues that the sector faces, both now and looking forward 10 or 15 years," Horton tells WWT. "We can raise that awareness not just by lobbying, but also getting involved in a discussion about those issues and what they mean for organisations in the sector, and for government policy, now and for future generations."
The organisation already has a strong focus on innovation, through events such as 'Water Dragons' – an adapted version of the TV programme Dragon's Den - its publications, such as the 'Innovating for the Future' road map, and its member workshops. As the Future Water Association it will be extending this focus further.

Barriers to innovation
Its recent member engagement work has produced a set of what it sees as the key barriers to innovation, and it will be running workshops and training sessions linked to those barriers, as well as feeding the into discussions with regulators, government and others.
"At its strategic level, to an extent, regulation has been a barrier: it's tended to drive capital expenditure, big infrastructure, rather than driving innovation," says Horton. "I don't just mean innovation with products, but new ways of doing things too. I don't want to be too critical of regulation as we are moving into a new 5-year period and there are lots of different things happening, but it hasn't driven the uptake of a lot of new ideas yet.
"Other barriers are linked to the sources of funding that are available. You can get everything from small scale grants through to R&D tax credits, which is fine, but I think at a strategic level there needs to be better links with what research councils are doing, better links between people with new ideas and sector priorities, and more encouragement for people on how to get from A to B."
Horton wants his organisation to be able to help innovators on their whole journey, from developing their idea and accessing funding to engaging potential customers.
As part of this drive, the Water Dragons event is set to be replicated in more parts of the UK, involving more of the nation's water companies. The association is also in discussions about holding a junior version in secondary schools, aimed at inspiring young people who in five or ten years' time might want to work in the sector.
"The expectation is that the young people come up with an idea, they do some market testing, look at how they might take the product to the market and come up with a business plan," says Horton. It will use the same process as Water Dragons, with us obviously supporting the schools as far as we can. We think it's one way of encouraging the next generation to come into the water sector; I want the water sector to be able to compete with the X-Factor."
The Future Water Association's principal place for chewing over future challenges is its Supply Chain Forum, which contains a large cross-section of the membership representing suppliers all the way from Tier 1 to Tier 4, and informs its programmes of activity. Horton's preferred timescale for thinking ahead is 10-15 years, because it is long enough to challenge yourself and the status quo but not impossibly distant.
"We'll talk about many things that relate to the future. For instance, where will we be when everything linked to the underground asset base in an area is mapped on our phones? The power of our mobile devices is increasing all the time, so how do we maximise the capability of that, and capture the data so that anyone can use it? I think all of those are things that appear in our discussions," he says.
"As we head forward 10 years I think nearly everything will be electronic, from the way you manage sewage treatment plants, to the way you manage networks. Electronic systems, the use of mobile devices, and computing power is developing rapidly. As a sector we are going to need the generation of people who have grown up with that and who are at home with that whole environment. So I think the nature of the skills gap is going to change, because the knowledge and skills base, and the requirements to meet that knowledge and skills base, are going to change."
Emerging themes
Cybersecurity, and the vulnerability of water assets and operations to external threats, is another hot topic, as is the potential of smart metering technology. How the sector copes with further urbanisation, and the implications for drainage and sewer networks, is another theme; while another is the introduction of retail competition in 2017 and how further competitive elements might play out into the sector.
"If you are going to have a discussion about Open Water and what it will mean from 2017, then I think we should be at the heart of that discussion because there's potentially a big impact on the supply chain," says Horton. "What will it mean by 2020? There'll be fewer utilities. There might be a little bit of blood on the floor, from some of the incumbents, and from some who have tried to get in. But the question mark for me at the moment is whether it will create a fundamental sector shake-up, that means we start looking at whether we need to have AMP periods or whether we can look at different regulatory models. I'd be quite interested in that – I'd like to see that happening."
Horton, whose career has featured roles at the CBI, British Water and CIWEM, says he has always been a free thinker and it was the chance to put some of his ideas into practice in the sector, as well as the challenge of leading an organisation, which made the prospect of his current role an irresistible one.
Returning to the subject of innovation, he concludes: "I want to ensure that companies and people with the right ideas can go throughout the whole journey and see their ideas realised. That underpins this organisation, and if it happens then our vision will be realised as well."