Interview: Paul Fletcher, MD, Kier Utilities
"It's a really exciting time to be in the industry," says Paul Fletcher, managing director of Kier Utilities. "If you take the AMP6 transition from AMP5 there's an argument that says it's the largest transition that's occurred and the largest change that occurred in the water sector since privatisation.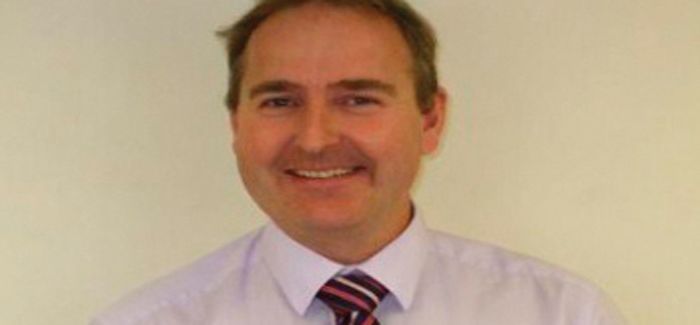 Paul Fletcher
What you didn't know
• My perfect evening is...
Having a really good laugh with family and friends
• I drive...
A Mercedes-Benz E300 Hybrid
• It's not good for my image but I like...
Virtual racing. I beat my entire senior management team at a recent event – by quite a long way!
• I'm currently reading...
I like Roman fiction
• My favourite TV programme is...
The Chase
• My greatest weakness is...
I struggle to say 'no' to my kids
"Hugely different with moving from an output-based model to an outcome-based model. What I've seen with a range of clients across the country is this has been addressed in a completely different way. Ranging from a very transactional 'I want a widget and I want to pay a sum for that widget' to 'I've got a sum of money that we've now got to deliver'."
Fletcher is discussing the transition from AMP5 to AMP6 and when WET News caught up with him at Kier's Newbury offices recently he explained that the world of contracting in the water sector is also changing, why collaboration cannot be "faked", and why it is important for the water companies to put all their cards on the table.
Driven
Part of the construction, support services, property development and residential group Kier, Kier Utilities works mainly in the water sector although it is a minor player in gas, power and telecoms. Around 85% of its turnover is from the water sector, regulated and non-regulated.
It is fair to say, that AMP6 has proved a success for Kier. Fletcher says: "It's been a really interesting process as we've transitioned from AMP5 to AMP6.
"As Kier we were very successful in AMP6, particularly from the alliance side which has been driven more largely around the behavioural aspects of the people we were going to put forward for various elements of work.
"Kier is involved with three Anglian Water alliances and the Thames Water Infrastructure Alliance, and those two models are all one extreme. They are far more the collaborative and alliancing end of the spectrum, if you like."
Discussions
Fletcher says that what he "finds really interesting at the moment" is that other forward-thinking water and wastewater companies are seeing that alliancing model and want to emulate it. He adds that Kier has had discussions with several clients shared how that model has improved the lot for the industry, not just for the contracting fraternity but for the client and more importantly for the end-user.
"More forward thinking clients are starting to realise that it is a different way of working but start to see there's actually benefits in working in that way. One reason for that is if you take a more transactional route where it's about price, and where it's about the cost efficiencies that are expected to be driven throughout the clients' budgets it becomes very challenging, very demanding.
"There's only so many ways to skin a cat to improve your efficiency of delivery, your efficiency of process in order to drive further and further savings."
Fletcher says that at some point that becomes a diminishing level of return as some companies demand further cost reductions. "Where that becomes challenging is that we have to stand firm to our beliefs.
"We don't make those kind of margins as a contracting entity on standalone contracts. So where clients are expecting us to take 10 or 5% out, it's not sustainable for us.
"And if it's not sustainable, it's not sustainable period. If it's not sustainable for us it's in nobody's interest for us to fail. It's not in our interest, it's not in the customer's interest.
"It's trying to help support clients in understanding there are better ways for us to deliver programmes of work that becomes sustainable to both ends."
At the other end of that scale, says Fletcher, Kier Utilities is prepared to take more risk, particularly where outcome delivery incentives (ODIs) are concerned. Go back ten years and KPIs were the key thing to measure performance.
He says: "Whilst ODIs are similarly finite per se in that they have very targeted end results the potential for transforming a business model to deliver against those outcomes is far greater if we do it together than if we try and do it at loggerheads, or if we try and do it in a transactional way."
Fletcher continues: "The influence that we have in the kind of work we deliver affects directly some of the key performance metrics that the water authorities are now measured against.
"That's meant it's become a really exciting place to work particularly with forward-thinking clients. Those that are prepared to take a different view on life and are prepared to put all their cards on the table in a really open way means that we'll become aligned to their PR19 business plan submissions, we'll be buying into those business plans directly."
Fletcher says it is about how contractors can influence that, and a lot of it is based on trust, built on openness, honesty and establishing incredible collaborative working models that are underpinned with the right people.
And having the right people is where behavioural assessments in water company procurement processes comes in.
Fletcher explains: "If they're looking for people who do truly demonstrate capability in collaboration or a belief in collaboration you can't fake that when you're put through a three-day assessment process. It's a huge leap forward. If you take a client's view that says 'if we get the right people, we'll make it work' and some of these assessments are really tough, really challenging at every level."
Skin
He should know, having undergone behavioural assessment himself.
"They get under the skin of all aspects of your personal traits. It's quite disconcerting to have somebody walk right behind you with a clipboard writing something down every time you scratch yourself," he recalls, laughing. "But you know what? When you take that to the next degree, the way the [client / contractor] relationship had evolved so quickly we were able to ask to see the results of their teams."
Not having the right people means you are not successful, says Fletcher. Kier has spent a lot of time to ensure that it does, and that they believe in the values "that are true to us".
Fletcher concludes: "It genuinely is a really exciting time to be in this sector. There's been a lot of change in client organisational structures, and there will be further consolidation in the water sector."
He continues: "With the regulatory pressures mixed, the change of workforces that we've got and longer-term arrangements, it all mixes up to be something that is quite exciting."
This article first appeared in WET News.