Interview: Nick Ellins, chief executive, Energy and Utility Skills
"I'm not convinced it's a loss of interest in engineering I just think it's how we talk with people these days. It's a different dialogue," says Nick Ellins on the skills shortage. "If you sit and talk about pipes, sludge or the real methodology of engineering you do lose people.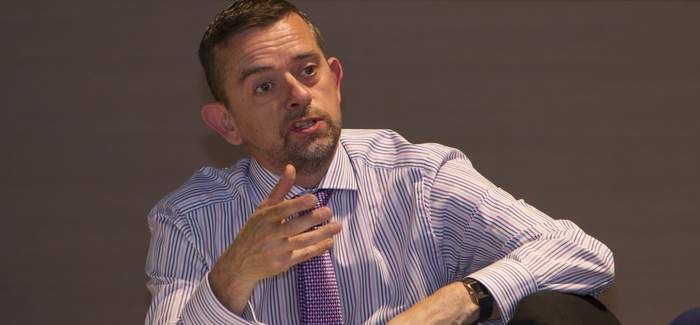 Nick Ellins
What you didn't know!
• My perfect evening is...
A quiet evening in with my wife
• I drive...
A Citroen Picasso
• My nickname is...
The delivery boy – Water UK gave it to me because I always deliver. I didn't say I liked it!
• It's not good for my image but I like…
Cycle racing and Lycra
• My greatest weakness is…
Bicycles – I've got eight!
• My favourite TV programme is…
Fargo
"But if you explain to somebody about the otters and the ospreys, the reed beds, anaerobic digestion, and what it does for the environment you end up with a bunch of people around you who are absolutely enthralled by what this sector does. They absolutely love it."
He says engineering in itself is still highly attractive and highly valued but attracting people to it is an issue. "People, particularly the younger generations, are more interested in end outcomes, values and ethics. Salaries are important but they're not the be all and end all these days. It's quite surprising how many young people will go to a company for an OK salary but a company that they genuinely believe does good."
This month, Ellins celebrates his first anniversary as chief executive of Energy & Utility Skills. And his passion and enthusiasm to help tackle the skills shortage in the utilities sector was plain to see when WET News met him recently for a coffee at the Costa just across the road from Energy & Utility Skills' offices in Shirley, near Solihull.
He explained how a strategy is being put in place to attract talent to the utilities sector; why having a skills passport is essential; and why the regulators need to "embrace their sectors".
Solvable
There is a 36% gap in technical vacancies that need competence. "We're now the highest sector of any in the UK economy," says Ellins. "When you look at it in terms of numbers we're only 2,100 vacancies and construction is 11,900 but by percentage we've got some issues because there's a trend, and it's getting worse."
But he is convinced the skills shortage can be tackled, saying: "It's perfectly solvable. It's not a cliff edge at all – we just need some concerted action. Part of that is going to tried and trusted engineering groups, and part of it is asking ourselves whether we want people working here today [at Costa] to start getting involved in the sector.
"The people here at Costa would be brilliant at retail. They must deal with some very difficult customers, difficult situations, multitasking so what's the difference? They might not be great for going into an anaerobic digestion plant but given time they could be good managers, strong communicators."
'Breadth of skills'
Energy & Utility Skills has been working on a Talent Source Network, an attraction and recruitment ecosystem, as a way to attract and encourage people to work in the utility sector. Talent Source Network is designed to deliver tailored solutions around sector attraction, recruitment and talent retention across youth entrants, apprentices, graduates, professionals and service leavers.
Ellins says there are certain skills that need to be technical and engineering led, and that takes one strategy, but talent attraction is something quite different. "The breadth of skills needed are very wide, they're growing all the time, the complexity of the jobs you're going to take on, the digital nature of the jobs you're going to take on… You're going to need very different people.
"We said to the Department for Work & Pensions, the next time there's a BHS or a Tata Steel or an Austin Reed on the high street, send them to us and we'll put them in a talent pool. We'll go to the utility companies and say to them 'we want you to commit jobs into this talent pool' and try and attract those people back out."
There are currently more than 2,500 people, including 981 ex-military personnel, in the talent pool waiting to be "collected by the utilities". They are not going to be experts in process, says Ellins, but they are going to be people who have an interest in joining the utilities sector.
Ellins says: "We've got one of the power companies to commit a lot of jobs to it – 500 jobs – provided government matches it. It's a trial, so let's see what happens."
A number of water companies have expressed an interest in the scheme as well.
"We can't guarantee a person will get a particular role but if government puts a thousand people in the pool, we'll try to whip up a thousand jobs and say 'come and meet us, come and talk to us'."
He continues: "If you look at that skills gap in pure engineering terms, everyone's got a problem. In terms of talent attraction, it's a different way of cutting this and you can get someone who is completely competent in manual tasks but they just don't know they can be an engineer in our sector.
"We've got to try another way. It's getting them into the industry first and seeing where their career can take them. It's bring them in, don't assume they're slow learners, and look at where you develop their careers. That's down to the company."
What Energy & Utility Skills has to do, he says, is avoid duplicating and "getting under the feet of the utilities".
Sweeping statement
Another initiative being trialled over the next six months is the Competency Accord, which aims to reduce the amount of duplicated training and assessments through a common approach to competency recognition across all the utilities.
Ellins explains: "A pipe is a pipe until you take the product within it and the environment it sits in. It's a bit of a sweeping statement but around 85% of the job role is common to them all, and then you need the understanding of gas, water, electricity. What we're looking at are skills passports that mean a person working in Cornwall on gas, can down tools when the contract comes to an end, and then move up to Scotland on water.
"You end up just dealing with that last 15% so you are going to need to know hygiene standards, health and safety.
"You're recognised as trained up to a certain level, and that will enable a better flow of people, so immediately you enlarge the talent pool to the entire utility sector including all of
its contractors."
Procurement process
Suddenly the whole pressure starts to comes off, he says. "If you make the talent flow in a more sensible and efficient way, you start to release some of these blocks. You can take away some of the limitations. The assets are going to need to be worked on by someone but an electrician doing cables for UK Power Networks can more or less go into Northumbrian Water and do power.
"What they won't know is what the site requires them to do, and that's all we've got to release – the knowledge of the sector."
In just a few days' time, Energy & Utility Skills will launch its Procurement Skills Accord at the House of Lords. This initiative will make skills a part of the quality requirements in utility contracts.
The asset owner specifies, as part of the quality part of the procurement process, that it wants an investment in skills. As a result, the supply chain will know that no-one can undercut on that and not put skills in because it will be a quality requirement.
Ellins says the Procurement Skills Accord, which is being trialled through to March, has 28 organisations involved. "They're all going to try and see what happens when you build skills into procurement.
"It's slightly entrepreneurial but if you add all these things together it won't break it [the problem], but it will start to make a proper impact and release some of these bottlenecks.
"That's all part of what we're doing right now, and you can't see the gaps between power and water and wastewater. They're all the same. Until you get into the specific skills, people are just working on common attitudes to utilities.
"If we can keep doing that and we can keep these people in the pool, incentivised to stick with us, and seeing it as an attractive sector, there's a fighting chance of getting through this. It doesn't solve cyclical price reviews but it does try to come up with one other solution that you can do to retain talent."
All the initiatives mentioned above bolt into Energy & Utility Skills' new strategy, which Ellins expects to be delivered by Christmas.
So how did the strategy come about? Ellins recalls that soon after joining Energy & Utility Skills he went to an All Parliamentary Group on Apprenticeships which talked about employers "in a way that I found very uncomfortable – we've neglected training, not spending enough, we haven't invested in future generations".
Looking at all the utility companies that he knew, he felt that was not the case.
"But when I'm in Treasury rather than the Skills department in the government, Treasury talks to us as the biggest enabler of productivity in the economy because infrastructure is how this country is going to move itself forward.
"I saw a National Infrastructure Plan (NIP) that had 57% of the £425bn being attributed to my members. We're the people who drive the productivity in the economy and plans for society. Treasury saw this as an asset to UK PLC. The skills department was describing us as a burden."
The dialogue shifted to the Treasury, which is where infrastructure sits.
Strategy
Ellins also decided to see how the utilities approach workforce planning. "But I went the other way around – if I can't find skills in the National Infrastructure Plan for Skills what happens if I look at Ofwat?
"I go through Ofwat 2020, 25-year statements, resilience duty and there's nothing anywhere on workforce renewal. The only thing I find is a reference in the resilience duty that it's the responsibility of the company. So the market will provide? Yes, it will, at a cost.
"I tried Ofgem, it's the same. Defra, it's the same. I go into what was DECC, and the same. None of the government departments that sponsor the utility sector and none of the regulators promote workforce renewal and long-term sustainable workforce. Yet nothing they want can be delivered without it."
The strategy has been formed by getting chief executives from the utilities to come to together for two hours, twice a year and give strategic direction on workforce renewal.
"It's a pure partnership of chief executives from 32 utilities and contractors and we're going to do everything we can to build a workforce renewal strategy in collaboration with Ofwat, Ofgem, Drinking Water Inspectorate, the Northern Ireland regulators and start to solve some of these problems together," says Ellins.
"Those initiatives you've heard of, that's what they've chosen. Those are their priorities. The theory was, don't come up with ten priorities and not deliver – let's just take a few and nail them."
It is worth noting that the Treasury has agreed to champion the project. Ellins says the risks of not tackling workforce renewal are huge. "This is why, for me, when we talk about workforce renewal for the sector I genuinely mean the policy makers, regulators, regulated and the supply chain because Ofwat's got the same problems recruiting as Defra has, as the Environment Agency has, Northumbrian Water has. Everyone has got the same issues."
And Ellins emphasises that the regulators and policy makers need to embrace their sectors. "I want to see passion from Marcus Rink (DWI), and passion from Cathryn [Ross]. Passion from our new water minister. It's their sector. Everyone's delivering an end result from companies and it will work, it will also cascade."
Ellins concludes: "People will come to us and see what we do for the environment, and see that you can genuinely join a water company and bring kingfishers back to a river… You start thinking 'this is some sector this'. But it's got to come from passion."
This article appears in the October 2016 issue of WET News