Interview: New Eric Wright Water MD Neal Whittle
Eric Wright Water's new managing director, Neal Whittle, tells Robin Hackett about the importance of delivering on existing frameworks in a challenging market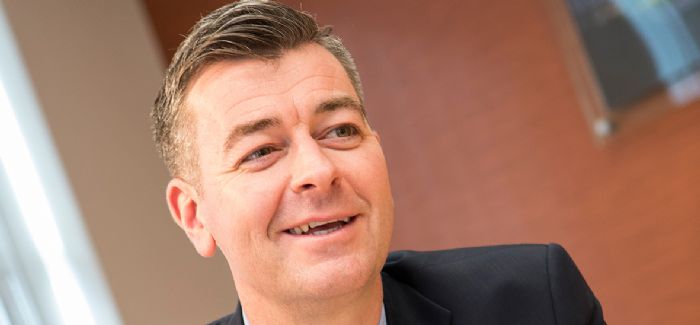 Eric Wright factbox
• Eric Wright Group traces its roots back to a construction company founded in Fleetwood in 1923 called Brown & Jackson
• The group is 100 per cent owned by the Eric Wright Trust, a charitable organisation with social improvement at the heart of its values, focusing on engineering education, young people and the elderly
• The principle trading companies are Eric Wright Group, Eric Wright Construction, Eric Wright Civil Engineering, Eric Wright Facilities Management, Eric Wright Water, Eric Wright Partnerships, Maple Grove Developments and Applethwaite
• Eric Wright Water's team is composed of professionals from across the civil, mechanical, electrical, instrumentation and control engineering disciplines
Neal Whittle joined Eric Wright Group as a quantity surveyor when its water operation was a £3 million business in 2003. Fifteen years on, he has just been promoted to managing director of Eric Wright Water, a £45 million company in its own right with a stated ambition to become a leader in its field.
The business already has framework agreements with United Utilities, C2V, Yorkshire Water, Scottish Water and Severn Trent, and Whittle hopes agreements can be reached with other companies with AMP7 on the horizon.
However, in a highly competitive marketplace, Whittle stresses that the primary focus at this stage is on ensuring existing relationships remain positive.
"Our main priority is to make sure we are providing great service and cost-effective solutions so that we give ourselves the best opportunity to be there with the companies we currently work with in AMP7 and beyond," he tells WET News.
"Our clients are relatively few in number and so that gives us long-term relationships that we need to build, and it's a marriage with those clients. We need to make sure we are commercially sound and offer value for money, innovative solutions, and our safety record has got to be world class.
"We've been in it for 15 years up to now and our aim is to keep those relationships going AMP after AMP after AMP."
Whittle, who was handed his first managerial role at Eric Wright a decade ago, has witnessed the "huge growth" of the company at first hand, including the acquisition of Site Electrical in 2010, which gave the business a mechanical and electrical operational arm.
His previous role was senior director of the water and civil engineering business but, with Eric Wright Group having made the decision to separate water from the civil engineering arm two years ago, his new job gives him a more specific line of focus.
"The water business was growing quite quickly from roughly £20 million to £40 million over the couple of years from 2014 to 2016 and it just became a natural move," he says. "I needed to focus on the water business because it was growing and getting busier."
In his new position, Whittle will aim to ensure Eric Wright Water devotes the time and energy required to meet clients' expectations.
"Reputation is everything for us," he says. "Service is everything. Customer service for the water companies that we work for is massive.
"We've got to make sure that we are easy to work with, we do what we say we're going to do, and when there's a problem we react in the right way and make sure we come up with the right solution."
He is satisfied that the company is moving in the right direction and hopes that it can reach the next level in the next decade.
"At the level we work at – and we're not at the tier one level – I would suggest we are one of the leaders in that field," he says. "Ultimately the ambition down the road is to have a seat at the table on some of the major frameworks with the water companies. That's probably in AMPs beyond AMP7."
Whittle is also confident the business, which is 100 per cent owned by the charitable Eric Wright Trust, is in a "good space" with its existing frameworks.
A particular highlight of the business' recent work was a project for United Utilities that Eric Wright Water carried out as M&E delivery partner for C2V+ at Hesketh Bank wastewater treatment works.
The project – to increase capacity while reducing operating costs and overall energy use – saw Eric Wright Water install the mechanical and electrical equipment as well as the control auto­mation. Working on a live site, they achieved the compliance date for the UV installation within budget and without any safety incidents.
"The programme was tight," Whittle says. "The compliance date was 31 March last year and we resourced heavily in the period beyond Christmas to achieve that, which was an excellent achievement – C2V+ and UU were over the moon with that."
On the MEICA framework for Yorkshire Water's direct delivery team, he adds: "The overall framework is going really well – hitting compliance dates, below budget, and the client is happy. Yorkshire is certainly an area we'd like to build on the early successes."
The agreements with Severn Trent and Scottish Water are for maintenance-type works, but Whittle says there is "certainly scope to advance and become a bigger player in those areas".
While relationships are positive, though, the AMS framework with United Utilities may change in 2019.
"That's potentially going in a different direction, but we still hope to be involved in the procurement strategy for the level of work with United Utilities," Whittle says.
It is another reminder of the challenging climate that contractors in the water industry face.
"There's always the fear factor," he says. "If you lose one of those frameworks you're locked out for at least an AMP period, potentially even longer.
"There's no guarantee that you'll be working throughout the AMPs with the water companies we currently work for, and that's the main challenge for us – to keep those relationships and keep those contracts, for future frameworks as well.
"That's a difficult challenge for anybody working within the water industry, but I would hope that all the water companies that we currently deal with – and C2V+ as well – would say that we do an excellent job for them, we're easy to deal with and we would do anything for our clients."