Interview: New Clancy Docwra CEO Matt Cannon
Former rugby union professional Matt Cannon wants to ensure water companies recognise the full value Clancy Docwra can offer going into AMP7 as he prepares to become the company's new CEO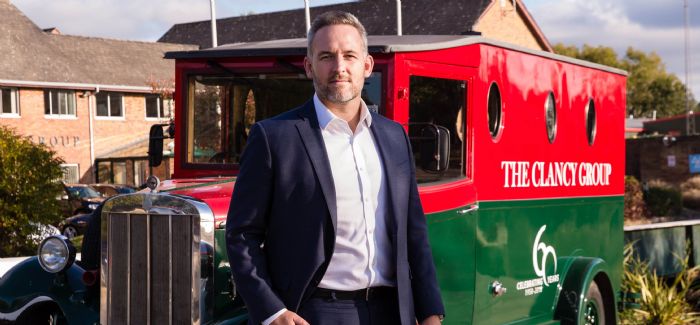 THE VERDICT
"Historically we've come from a pedigree of being really, really good at delivery, but I think that's evolving to a much more collaborative working arrangement with our clients where we really try to understand what it is they're trying to achieve, understand more and more about the pressures they're under from a regulatory perspective and how we can work with them to achieve those outcomes."
New Clancy Group CEO Matt Cannon
By Robin Hackett
In 2004, after a professional rugby union career that brought England Sevens recognition, Matt Cannon began working for Clancy Docwra, the company founded by his grandfather in 1958. Next month, he becomes The Clancy Group's chief executive, representing the third generation of the family to take the helm.
Over the last 15 years, Cannon has immersed himself in the business, working with clients including Thames Water, Anglian Water and South East Water before becoming chief operating officer in 2016.
When he begins his new role on 1 February, Cannon will lead The Clancy Group's operating companies, Clancy Docwra and Clancy Developments, as well as Clancy Plant and says he is "very proud" to follow in the footsteps of his grandfather and uncles.
"The business has been in my blood for a long time," he adds.
His initial experience with Clancy Docwra came over 20 years ago when he worked as an operative to fund some travelling before starting university.
"I hadn't really thought of it being a career move at that stage, but I really enjoyed the dynamic of the business, the family ethos, and being involved in something I cared about," he says.
After university, though, he had the opportunity to pursue a career in rugby union. He spent three years on the books at London Irish as well as representing England Sevens as they triumphed at the 2003 tournament in Hong Kong, featuring alongside players including Henry Paul, Jamie Noon, Phil Greening and Magnus Lund.
"I learned a huge amount from rugby – not just about sport but about the dynamics of working with teams and effective performance in elite sports, which has played a huge part in influencing my career to date and our own people development initiatives," he says.
For a number of years, he divided his time between rugby and the family business, with the balance gradually shifting towards the latter.
"I recognised that rugby wasn't going to be forever, so I started doing some part-time work in the business, primarily to get some experience on my CV," he says.
"The life of a professional sportsman is quite interesting – while it's a full-time job, it's not exactly full-time. There's quite a lot of training and rest time, and we used to always have a day off during the week to get some work experience. I spent some time in our rail division and in our head office with our marketing and bid team, writing prequalification and tender documents, and I really enjoyed it.
"I reached a higher level than I thought I was ever going to reach in rugby, but the time came to change tack and I went from full-time professional to semi-professional. I joined a club called London Welsh and then had a conversation with family and went into the business."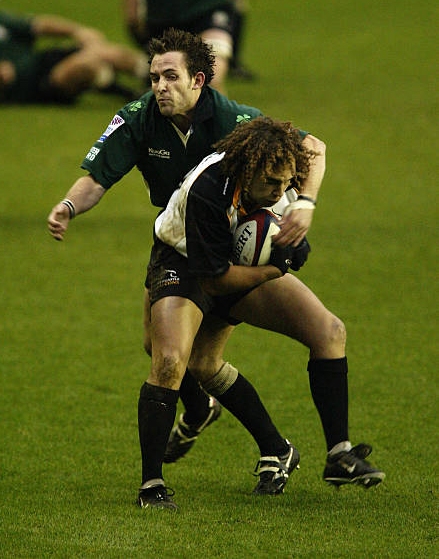 Matt Cannon during his time playing rugby union
His years with the company have seen him work across a range of sectors but, prior to becoming chief operating officer, the bulk of his time had been spent working on its water company contracts.
As a result, he is well placed to understand the pressures the sector is facing and believes Clancy Docwra can play a more substantial role in ensuring successful outcomes.
"The view is that it's going to be a pretty challenging regulatory environment going into AMP7," he says. "We know there's going to be some large improvement targets around things like leakage, and we see ourselves as a key partner for the water companies in the achievement of those goals and targets.
"We have a strong reputation for direct delivery and our ability to work with our clients. One of the things that's changed, and is changing more and more, is this principle of working in partnership and collaboratively with our clients.
"If we're going to improve leakage by 15 per cent, there's a really key role to play in supporting and working with our clients to achieve that. We're not just going to get there by squeezing things and trying to drive enhanced productivity. We're going to have to think and work smarter to redesign processes, look at what it is we're trying to achieve – how do we integrate better? Do we have to revise overhead structures and management?"
Cannon highlights two examples of new technology that offer indications of the company's shift towards this new mentality.
Eviid, which was launched in the summer, enables two-way communications between site and remote teams, allowing operatives to patch in experts via live link as needed, obtain second opinions and remove the need for costly multiple site visits.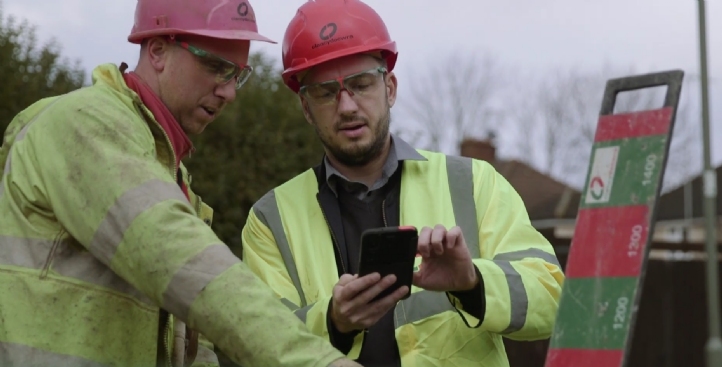 Eviid is an example of innovation and technology at work
Clancy Docwra has also been working with Microsoft on a project to maximise the value of the data analytics offered through the Azure platform.
"We've been able to combine leakage data with the Azure platform and our own deeply ingrained operational knowledge," Cannon says. "That means we can start looking at predictive analytics and forecasting what happens. We can understand how we plan and put resources in the appropriate place rather than being reactive all the time. We can cut down leakage response times, interruptions to supply, and start looking at working in a smarter fashion.
"The world has changed. We've achieved quite a lot with technology, and my view of that is it's helping drive a different view of us as a contractor and what value we can add to the client. It's the recognition that, in the services they're effectively purchasing from us as a contractor, they're potentially not getting maximum value from us just by buying those services – actually they're buying the experience, the knowledge and the technical capability of our business and our people.
"I think utilising that to a better level is something that's really changed in the last couple of years. It's something I'm really proud of and certainly want to build on going forward."
Cannon feels AMP6 has been a successful period generally for Clancy Docwra, citing its recent Anglian Water Supplier of the Year award as part of the Integrated Maintenance and Repair (IMR) Water Alliance as evidence of the "huge progress" the business has been making.
"We've got six key water clients in the UK and we've had some great successes so far," he says. "The work we've done with Anglian Water in their alliance model has been really good. Anglian Water have been pushing boundaries – they're pretty highly regarded in the water sector – and I think we're a key part of that progression.
"We've also made significant progress on things like the infrastructure alliance for Thames Water, and with Southern Water the relationships and the level of integration and collaboration has changed hugely.
"We're in talks with three key clients to extend the contracts and frameworks into AMP7, which is a really important piece of the pie for us. What we've got now is a solid foundation and platform to go into AMP7 with continuity. We are now far more integrated with those clients – and with all our water clients really – around thinking and planning for the future."
When he takes the reins next month, Cannon hopes to continue the work of his predecessors and take his grandfather's business to new heights.
"It's about building on the fantastic foundation we've got," he says. "We're a family-owned business and we intend to stay a family-owned business. We're not looking to be the biggest business in the sector, but we're looking to deepen and strengthen the relationships we've got with our client base.
"We have 60 years of fantastic knowledge and experience, and in some cases we've slightly undersold our value – we can add a huge amount more into the water sector to help companies achieve the challenging targets that are going to come their way."
This article originally appeared in the January issue of WET News