Interview: Neal Whittle, senior director, Eric Wright Group
"The water industry is dominated by the AMP cycle and if you are not within the frameworks there's a risk that you'll fall away from moving on. But it's an exciting industry to work in," says Neal Whittle, senior director at Eric Wright Water (EWW).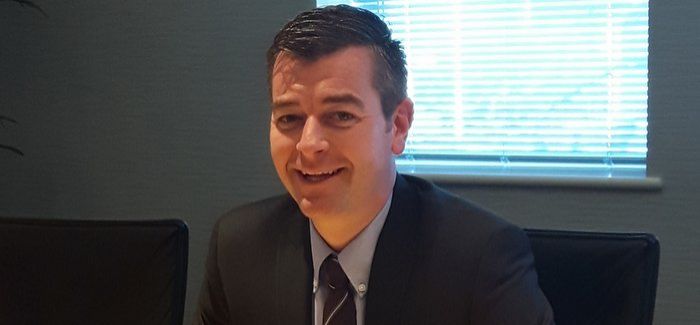 Neal Whittle
What you didn't know
• I'm currently reading...
Private L.A
• I drive...
An Audi A5
• It's not good for my image but I like…
Justin Bieber
• My greatest weakness is…
Salt & vinegar crisps
• My favourite TV programme/movie is…
Detective shows / Scent of a Woman
"Yes, the water company clients are demanding but that drives an improvement within our company. We're constantly striving to do things better, to embrace technology. To innovate is the key to supplying what the water companies need. That makes us a better company as well."
A good outlook to have especially as Eric Wright Water has ambitions to target growth in and outside of its traditional North-west stomping ground. EWW is part of the Eric Wright Group and was created following a decision to consolidate the group's water activities following the acquisition of Manchester firm Site Electrical.

WET News caught up with Whittle at the Eric Wright Group headquarters in Bamber Bridge, near Preston, and learned why it made sense to combine the water activities into one company; why it had the confidence to go for MEICA work; and why diversity is the key moving forward.
Frameworks
Eric Wright Group's foray into the water sector began in 2003 when its civil engineering division was successful in getting onto United Utilities' (UU) capital maintenance framework and grew from there. Seven years later, the group added frameworks with Scottish Water and Severn Trent Water as a result of the Site Electrical takeover.
However, the process of taking over Site Electrical did not go smoothly. Whittle explains: "The difference in cultures, management styles and the workload that company had wasn't quite what we expected. Elements of the business were good, elements were not so good and it's been quite a tough ride to make sure that we got that business into shape."
This has been achieved through consolidating all the civil engineering water works and Site Electrical work into one company – Eric Wright Water.
The company has since undergone major growth doubling its turnover to £40M to become the second largest division within Eric Wright Group, which also comprises construction (£140M); civil engineering (£20M); facilities management (£13-14M); and development and housing (£20M).
This growth over the past two years, has stemmed from Eric Wright Water winning renewed frameworks for both UU and Severn Trent; getting onto the rural framework for Scottish Water; and gaining Yorkshire Water's MEICA framework.
Whittle says the MEICA framework "was a bit of an anomaly", saying: "We went for the Yorkshire Water MEICA framework as an area we've never really tackled before. It was an aspirational target to go into Yorkshire and we were successful last August in getting onto that framework. We're really pleased to have developed into another area, and having the operations in Scotland and Severn Trent gave us the confidence we could open up operations elsewhere."
He continues: "In the North-west we are a supply chain partner with C2V (the CH2M/VolkerStevin joint venture) on UU's construction delivery partner (CDP) framework.
All those parts have constituted to us growing. In 2014 we were a £20M company and now we're in the region of £40M. It's been huge growth over the last two years."
The water sector may be dominated by the five-yearly regulatory cycle but Whittle emphasises that the water companies have different spend profiles within that. "We were keen to diversify and not be as reliant on just the North-west operations. We wanted to spread our wings a little bit and reduce the risk of just working for the North-west area."
Service quality
However, while Eric Wright Water has seen major growth Whittle says the strategy is to consolidate, making sure it does not grow too quickly and at the expense of providing a quality service.
Whittle says: "With the frameworks in place over the next four years to 2020 we've got the next few years to consolidate for when AMP7 comes around, ensuring the four areas that we operate in are run to the correct levels of quality.
"We're not at the top table and we're not working as a CDP but we're working as a really valued part of the supply chain for the water companies directly, but also somebody that has a reputation for doing things the right way and doing things with integrity.
"All of our values which are borne out of Eric's (group founder Eric Wright) philosophy resonate with all the water companies so they're looking to look after the customer, to do things in the right way to make sure they don't damage the environment, looking to support local communities.
"All those elements of the water companies tick all the boxes for Eric Wright. It's a fantastic industry for us to be involved in," says Whittle.
At the beginning of this year, Eric passed the remainder of his shares over to the Eric Wright Trust meaning the group is wholly owned by the charity. There is little change to the operating model with Eric remaining as chairman, and the group remaining risk averse to ensure a proportionate return within the industries it operates.
Whittle adds: "It's a fascinating model. In terms of how the world of business operates we're not quite the same as most companies. We also have the benefit that the efforts we put in to make a profit go to good causes and is also reinvested back into the company."
The Eric Wright Group's fundamental philosophy is to operate a profitable business which provides secure long-term job opportunities for its staff, and to establish durable relationships with clients, suppliers and sub-contractors while returning a proportion of its profits to the community by supporting charities and deserving causes.
"It's a major thing for us as a company. It gives directors a different outlook of making sure that what we do is the right thing for the Trust," says Whittle.
This article first appeared in the June 2016 edition of WET News.