Interview: Mark Hanrahan, NM Group business development director
"There's a limited interest in engineering," says Mark Hanrahan, group business development director at North Midland Construction (NM Group). "We go to schools saying we need engineers, we need manufacturing assembly personnel for factories but those young people are just not there.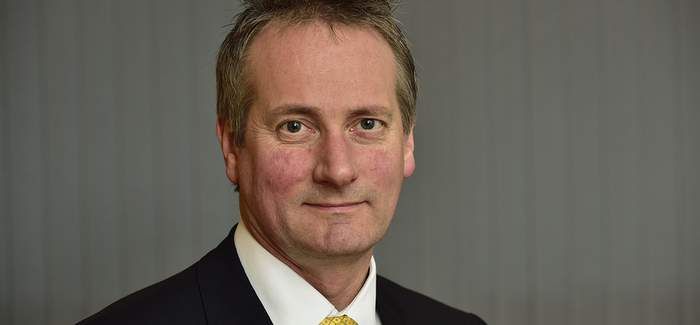 Mark Hanrahan
What you didn't know!
• My perfect evening is...
Alfresco dining with my family overlooking the Pacific Ocean
• I drive...
A Jaguar F-PACE S
• It's not good for my image but I like...
Man Utd away games – I've been shown on TV a few times and people say I look like a thug!
• I'm currently reading...
The Fort by Bernard Cornwell
• My favourite TV programme is...
The Big Bang Theory
• The bravest thing I've ever done is...
Rescue a friend off of a mountain
"Even so, these are the sort of people we're looking for and there's no appetite. We've got this massive demographic gap in engineering as a whole."
Hanrahan is venting his frustration over the skills shortage in the water sector as he tells WET News that demand for the skillsets needed to deliver offsite build asset optimisation is likely to rise tenfold; that the dearth of engineers could cause the water companies to fail efficiency targets; and that the water sector has to become more appealing to youngsters, and virtual engineering can help.
Hanrahan says that with fewer massive new builds expected as the industry is driven by efficiency challenges from regulator Ofwat, the water companies are seeking to "get extra life" from their existing assets instead.
"What we're seeing now in AMP6, and more so in AMP7, is more demand for that M&E [mechanical and electrical] specialist service. Likewise, we've seen a big drive for offsite build, not just government but the water companies are committed too. We need to move more to a factory assembly."
NM Group, parent to NMNomenca and Nomenca, has three factories in the UK and is seeing increased demand for skid-mounted equipment, package equipment, pre-cast blocks, inlet works, pumping stations.
However, while offsite build is on the increase it has reduced significantly the amount of work done onsite. Offsite build requires different skillsets to accommodate production and assembly.
"You can't just take a chippy or a brickie from site and deploy them into a factory to do pre-cast," says Hanrahan. "It's completely different. Much like when you take an electrician or a fitter who would normally work onsite doing an installation, when you bring them into a factory environment you need to give them additional skills and training for the work that you're doing there."
For the past 12 years, NM Group has run an apprenticeship scheme through its academy. "About 12% of our workforce are either apprentices or under-graduates. That's a massive number – but It's not enough! If you look across the water sector, there must be thousands and thousands of job vacancies that we're struggling to fill."
To try and alleviate the issue, NM Group is in discussions with Manchester Metropolitan University, IMechE [Institution of Mechanical Engineers] and other bodies, to structure degree apprenticeships in M&E engineering. This would entail taking A-Level students and bringing them into a company and rolling them through a degree apprenticeship programme.
Hanrahan says: "When you look at the number of engineering degree students it's very small, and the ones that are doing a degree in engineering it's usually for aeronautical engineering rather than what we're looking for [mechanical, electrical, civil and chemical engineers] to service the water sector.
"We've got this huge gap, and as an industry we need to make the water sector something where people go 'actually I can see a long-term career within that'. The water can offer all these different careers. Students studying bio-medical sciences have they considered coming into the water sector and becoming a process engineer because we use those sort of things in the treatment of potable water and wastewater?"
Then there is virtual engineering, again something that NMGroup is doing to try and attract interest. Hanrahan says: "We're doing a big drive with our virtual engineer to bring people who may have gone more into the gaming side, and explaining that what we're doing. We're looking to create virtual engineering environments where you can move around a bit like Grand Theft Auto or whatever, you can move around in that environment, manipulate data, manipulate equipment so we can optimise that build.
"Straightaway you're trying to make it really interesting to young people."
Attending careers fairs, Hanrahan says the first thing NM Group does is to immerse the students by taking them to a site in a virtual engineering environment and enabling them to walk around it.
"We tell them this is what they can be involved in. They're amazed, they're blown away. These are things the likes of NASA do – 'come to Mars, you can have a walk around Mars'," he says laughing. "Seriously, though, it's about making it appeal to youngsters by using state-of-the-art technology. This is not just pouring concrete and putting some steel on it. This is what it's about now and certainly for us it's been a huge step forward. We've had interest not just from youngsters but some older people coming and wanting to start learning virtual engineering."
But it is not just about targeting college and secondary students, he says. A lot of children tend to decide what they want to be at about nine or ten years' old, and as they consider what subjects to take at secondary school.
And Hanrahan warns: "Because of all those other drivers we're moving from traditional design and construction onsite and we're moving more to offsite build asset optimisation. The skillsets that are required for that, we're already struggling as the water sector to find those people. Over the next few years we're probably going to see a tenfold increase in demand for those skillsets."
The reality is that if the required skillsets are not met than "offsite build just won't happen". Hanrahan continues: "It's not as though all the design services can be done in India or America. You physically need people on the ground in the locality, to go and investigate equipment, identify problems, report back, and then do the work that is required. That's physical work onsite for asset refurbishment or upgrade."
He is concerned by the impact that reduced capacity has had on UK manufacturing and refurbishment over the past 20 years or so, and that "demand is going to spike and we just don't have the capacity".
He says: "What will happen is the efficiency challenges that Ofwat are wanting… The water companies are just going to start failing against those. It's a big challenge for the entire water sector in that some of the clients we're talking to are saying 'can you build this in your factory?'. They can see the significant savings, it reduces health and safety risk, it's got increased reliability, less impact on the environment and their customer base. It ticks all the boxes."
A twofold situation emerges where there is asset optimisation in terms of engineers and technicians, and teams that can strip down equipment, analyse it and then do the upgrade to get increased life; and then there is the drive for offsite build in a factory which is all about assembly production personnel.
Hanrahan concludes: "Everyone says 'yes, there's a skills shortage blah, blah, blah'. But people just talk about it – we now need action. If we can get people really thinking about the skills shortage specifically to the water sector, and how we make the water sector appealing to young people, then fantastic."
Mark Hanrahan will be discussing innovating within capital delivery partnerships at our Water Industry Supplier conference in Birmingham on November 10, 2016. events.wwtonline.co.uk/supplier
A version of this story first appeared in WET News.