Interview: Lawrence Gosden, MD, Wastewater, Thames Water
This month we talk to Lawrence Gosden, MD for wastewater at Thames Water, about building flood resilience in London and the water company's preparations for PR19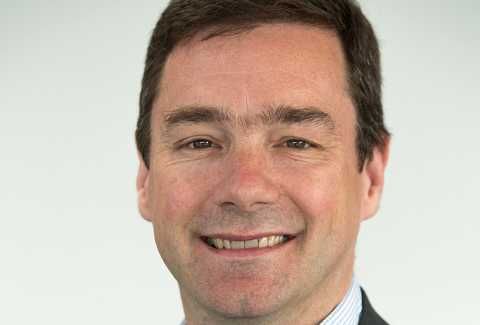 CV: Lawrence Gosden, Thames Water
- Lawrence Gosden has been the managing director of Thames Water's wholesale wastewater business since June 2014, when this division was created amid the separation of Thames's wholesale and retail operations.
- He has been at Thames a decade, having joined in October 2007, originally serving as Head of Capital Delivery and latterly as Asset Director. Earlier in his career he held senior posts at Southern Water and South East Water.
- At Thames, he is responsible for overseeing the collection and treatment of 4.2 billion litres of wastewater every day across its 350 sewage works and its vast network of sewers, and the creation of enough energy to run a city the size of Oxford.
- In the five years to 2015, Gosden played a central role in shaping a £5BN capital investment programme which included the Lee Tunnel and the Thames Tideway sewage treatment works improvements. He also helped create the Eight2O Alliance which delivers Thames' large capital projects
-Interview by James Brockett
The approach to PR19 has seen water companies take engagement with their customers to new heights, as they seek to establish a set of outcomes that will shape their investment programmes for the start of AMP7 in 2020.
In the case of Thames Water, this process has included an element of 'gamification', where rather than simply being asked for their preferences, customers are steered through a computer game which gives insight into the impact and cost implications of their choices and the trade-offs involved in running a water utility. So what has Thames learned from the exercise and how might it influence plans for AMP 7 and beyond?
"The interesting thing for me which I think has risen up very strongly is customers really caring about the impact on the environment," says Lawrence Gosden, Managing Director of Wastewater at Thames. "We've seen some very strong support for doing more environmentally, not only in the obvious areas of reducing pollution, and improving environmental performance, but also things such as the generation of renewable energy. As a leader of a wastewater business, that's fantastic to see."
With Thames's wastewater operation now generating almost 50% of the energy it uses from renewable sources – around 340GWh a year, saving around £40M in running costs – it's little surprise that customers have given the thumbs-up to further green energy investment, which will help keep bills down so directly.
However, quantifying the costs and benefits of other environmental interventions is less clear cut, and this is the central task behind much of Thames' ongoing PR19 work, ahead of publication of the five-year business plan early next year.
However Gosden is keen to point out that PR19 is just a 'snapshot' of the longer-term business planning going on behind the scenes, where the utility is of necessity thinking decades ahead. This is certainly true for one of the big current themes in the industry – resilience. With much work currently going on to assess the vulnerabilities of infrastructure to risks like floods and droughts, and the ability to recover from such incidents, Gosden believes that the Thames area, containing the UK capital, is in some respects a special case.
"I would say that with 25% of the UK's GDP running through London, I think London needs a special review of what is the right level of resilience in that arena," he says. "That's something we'll be paying close attention to.
"I think people can fall into the trap of thinking, though, that resilience is about building lots of extra kit and building redundancy into assets. It definitely isn't that, even though it might be needed in some degree. The way we're understanding resilience is very much about splitting it down and understanding really what service resilience means to customers, and that can be achieved in a number of ways. It may be about interconnectivity – in pipework for example - so that there is extra capacity in systems that provide service to customers. It might also be through heavily deploying techniques such as LEAN plant manufacturing, where you optimise to perfection all of your manufacturing assets, treatment assets, in order to be able to create capacity and therefore resilience in those systems.
"Resilience is about the ability to resist, being able to cope in circumstances like big floods and big droughts and continuing to provide customer service; but 'how resilient?' is a question that now features quite high up on the list of importance."
Resilient drainage
Alongside its big investments in sewer infrastructure – the Tideway Tunnel being the most obvious example - this AMP period has also seen Thames carry out a pilot project which has seen sustainable urban drainage systems (SuDS) retrofitted in three areas of London. Gosden says that SuDS has a big part to play in reducing the load on London's sewers going forward, although he stresses that it is most effective in helping deal with low to medium levels of rainfall. By contrast, it is heavy, sudden rainfall that can be most problematic for flooding risk.
"Whether you are a climate change believer or not, the reality that I'm seeing as a wastewater leader is more frequent, heavier flash flooding style storms in summertime," says Gosden. "In fact, over the last few years, summertime has been more difficult to handle operationally, because of flash flooding storms, than the winter time which would traditionally have been more of a focus. The volumes can be enormous in a short space of time, and that's where you need large infrastructure that's going to move that away smartly and help get things back to normal."
AMP7 is also likely to see Thames and other water companies ramp up work on preventing sewer blockages. Around 80% of blockages can be attributed to customer behaviour, with fats, oil and grease let loose into drains and wet wipes and other items flushed down toilets. 'Fatbergs' are back in the news – Thames's recent discovery of its biggest ever Whitechapel fatberg made the headlines on the BBC Today programme – and the water company is set to put further resources into its 'Bin it, don't Block It' campaign.
"We've deployed a whole range of engagement techniques with our customers on this, and we've found we've had the most success when it's targeted," he says. "We've analysed all the risks and used big data techniques to layer all the different data sources: blockage data, usage data, data on the pipework and the configuration of the network. When you put those together it gives you a picture of where your key areas of focus are, and we've really targeted those areas very heavily, with every means of communication, traditional and digital. And we've found when you do that, you can achieve a 20% plus reduction within a very short space of time."
Digital control
Thames is also investing heavily in the digital control space, with its increasingly high-tech control room (the I-Hub) able to respond in real-time to pressures in the network and make adjustments to the operation of pumping stations, for example, based on the performance data and alarms received. A current initiative is the greater use of weather data for so-called "stormchasing"; predicting where storms will hit and taking protective and preventative action in the network. The utility undoubtedly has more information about its wastewater operations at its fingertips than ever before: for example, it now has over a thousand monitors measuring depth levels in the sewer network in central London alone.
"This is what PR19 is all about, the innovation agenda," concludes Gosden. "There is some excellent innovation in this industry which is not shouted enough about, and there are equally some areas which could do with a greater level of innovation. We are trying in a very practical way to incorporate innovation into our proactive, predictive planning, to ensure that customers can get the best possible service, people don't flood, and there is the best protection for the environment."
- Lawrence Gosden will be among the speakers at WWT's Wastewater 2018 conference, held in Birmingham on January 30th. Info: events.wwtonline.co.uk/wastewater