Interview: Kier Utilities' water MD Nigel Dyer
Kier Utilities' Nigel Dyer tells Robin Hackett how the company is evolving to meet the changing demands on the water sector ahead of AMP7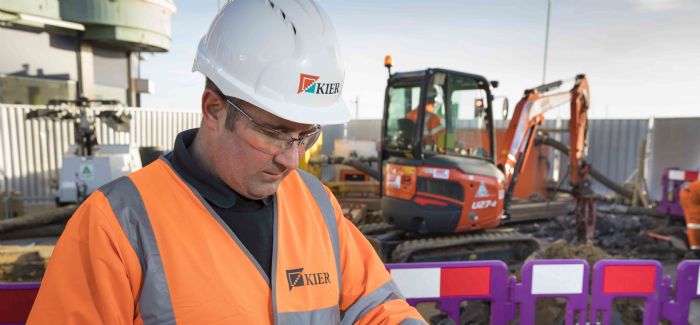 With Ofwat having now brought in its new customer measure of experience for a shadow year, water companies and their contractors are getting to experience a dry run ahead of AMP7.
C-MeX involves the regulator surveying random samples of water company customers in addition to those who have had cause to contact their water company, while the definition of a complaint has been widened to include those made via social media and other channels.
Although no financial incentives will apply to C-MeX performance during the shadow year, the measure will be implemented in full from 1 April 2020 and, with contractors often finding themselves at the forefront of customer experience, they will need to respond.
"As well as value for money and making sure networks are resilient, customer service is going to be paramount in AMP7 and that's something we're acutely aware of," Nigel Dyer, Kier Utilities' managing director for water, says. "That emphasis on the customer is something we're going to see a major shift on in the next year or two."
Kier's water offering ranges from pumping stations and processing plants to tunnelling, metering and the repair and maintenance of clean water and sewer networks.
Given that a sizeable part of its work involves direct interaction with the public, the firm – which has a dedicated customer experience team – is taking steps to rise to the challenges C-MeX presents.
"We're designing new work processes to make sure we can respond to customers in a timely manner, and we've also got to think about how to upskill our workforce to ensure they've got the right customer skills because they are the interaction between a water company and their end users," Dyer says.
Part of that includes offering clear explanations to the customer about why the work is required and keeping them informed throughout the process. It will also involve seeking to identify any solutions, such as trenchless technologies, that might enable them to reduce the impact on the public.
"We will always have to have an intervention on the water network because of the sheer complexity of it but, if we can minimise disruption, we'll obviously have a greater level of customer experience," Dyer says.
"It's not just about being polite – it's about the technological solutions and work processes we can use to ensure that customers are fully abreast of what we're doing and why we're doing it, as well as keeping our promises on timescales."
Kier is also working to expand its capabilities on leakage, which is another major focus for AMP7.
Since 2015, Kier has worked across three Anglian Water alliances, including Integrated Maintenance and Repair (IMR) Water with Clancy Docwra, which handles water network pressure management, finding and fixing leaks, lead replacement and repairing burst water mains.
For AMP7, the IMR alliance has been handed additional responsibility for leak detection as Anglian seeks to meet a stretching 17 per cent reduction target by 2025.
"We're challenging ourselves along with our clients to ensure we can drive real efficiency in the end-to-end process of managing water networks, and leakage detection is a core part of that," Dyer says.
"Historically, that business was outsourced to another company, but that's been brought into the alliance so that Kier and Clancy Docwra can be accountable not only for fixing the leaks but also detecting them in the first place.
"We're looking at a whole range of things. We're installing a substantial number of noise loggers, and we're looking at opportunities for how to use fibre technology to make sure leakage detection is more accurate. We're doing quite a lot of work with a number of organisations just to explore where the emerging technologies are coming from."
Dyer, who returned to Kier in March 2018 after a spell as CEO of Thames Water's Infrastructure Alliance, emphasises the need to ensure the firm has a workforce capable of handling the industry's evolution.
"Gone are the days where we just employed people to dig holes and fix pipes," he says. "We need a greater level of digitisation and automation in our business. We're moving towards that, but that demand requires a different workforce and a different skillset.
"That's something my team are working on right now – how we encourage people to work in our sector and give them the right skillsets to operate emerging technologies and the complexities of water networks, as well as a sense of career value in what is a very exciting area."
Kier is working with clients including Anglian to gain an understanding of how best to engage with local educational establishments and businesses to identify emerging trends and connect with the next generation.
The aim is to coordinate efforts to invest in a training academy that can teach people not just traditional operational skills relating to the industry but also digitisation skills.
"It's about engaging with people and raising the level of interest in our sector," Dyer says. "Hopefully that'll spark their imagination and their interest to come and join us."
Kier is currently working to secure further frameworks for AMP7, in addition to its work for Anglian's alliances and a contract on Severn Trent's civils-led capital delivery build-only framework.
"From a Kier Group perspective, utilities has historically been seen as a core market for us and water is a cornerstone of that," Dyer says, highlighting the utilities and rail businesses' £550 million turnover.
"We understand the market very well. We've been part of it for quite some time now. That's one of our strengths – that we're able to recognise the challenges and pressures that water companies face and we're able to work collaboratively with them, in the true sense of partnership, to support their aspirations and goals."
This article originally appeared in the June issue of WWT