Interview: Jerry Grant, Head of Asset Mgt, Irish Water
"We recognise that the support for the utility was not there in the beginning, but the change in public perception will come about through delivery."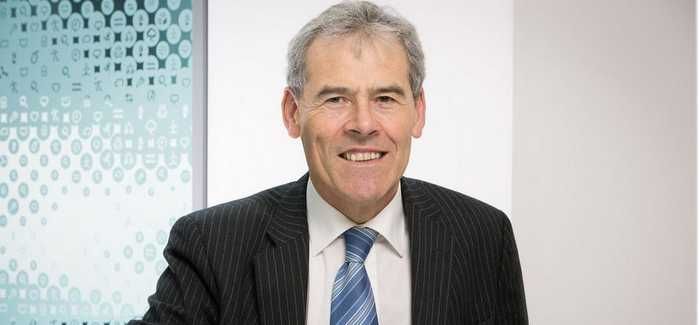 Jerry Grant CV
- Jerry Grant has worked in the water services sector in Ireland for over 35 years. An honours engineering graduate of University College Dublin, he spent most of his career in consultancy on water engineering and water resource management, leading the water consulting business of Irish firm M.C. O'Sullivan & Co for many years.
- When the firm was acquired by RPS Group in 2002 he became managing director of RPS Consulting Engineers, a role which saw him lead 600 staff engaged in infrastructure planning, design and supervision, and lead major water services projects in the Dublin region.
- He was involved in the transformation to Irish Water from the beginning, first as Business Lead for Strategic Planning and Capital Programmes, before being appointed head of Asset Management in April 2013. Irish Water took over responsibility for Ireland's water assets in January 2014.
- He is a Fellow of Engineers Ireland and vice president of the Association of Consulting Engineers of Ireland (ACEI).
- Jerry Grant is appearing at WWT's Water Northern Ireland conference in Belfast on February 25th (wwt-ni.net). You can also hear more about Irish Water's plans at WWT's Water Ireland conference in Dublin on April 21st (wwt-ireland.net)
by James Brockett
Irish Water has just celebrated its second birthday, having come into being on 1st January 2014, and nobody could accuse it of not making an impact in its first two years. As well as the sometimes painful transition of implementing its national water metering programme and new charging regime for customers, the utility has been grappling with the sizeable task of rationalising and unifying an asset programme previously carried out by 34 local authorities.
Major projects such as the upgrade of Dublin's Ringsend wastewater treatment works have been rethought, while the system by which water contractors have been awarded business has undergone radical changes.
While recognising that some of these moves may be unpopular in the short term, Irish Water's Head of Asset Management Jerry Grant is clear about their necessity and determined to see things through. He says that the aim of the organisation is to use its advantages of scale and expertise to drive two outcomes - better performance and lower cost – and is under no illusions about the challenges faced in terms of performance.
"When we took over the water services in Ireland, a lot had already been done but we had a couple of big ticket gaps," Grant tells WWT. "We have issues with drinking water compliance in respect of THMs in particular. Then we have very significant non-compliances in relation to the urban wastewater directive: 44 towns have no effective wastewater treatment at the moment, including seven relatively large coastal towns, and there is significant non-compliance with phosphorus and nitrogen standards for designated waters.
"In that context, the Ringsend project is hugely important, because the Ringsend plant caters for almost 2 million PE, or around 35-40% of the total wastewater treatment load of the country. Because it is non-compliant, that means that our statistics in terms of population compliance are very poor and it's a really big priority therefore to resolve it."
Treating most of the sewage from the Greater Dublin area, the Ringsend plant was originally designed for 1.64 million PE, but has been running over capacity since the day it opened in 2003. The plan which Irish Water inherited would have increased its capacity to 2.1 million and built a 9km sea outfall tunnel for the disposal of the treated wastewater. However, with the project set to consume a huge proportion of the new utility's total budget, and with a high risk of cost overruns, Irish Water went back to the drawing board.
It has since decided on a new solution based on the Nereda treatment process developed in the Netherlands, which uses granular biomass treatment. The process has been successfully installed at two smaller wastewater treatment works in County Cork, and pilot-scale testing has been carried out in Ringsend. The utility plans to retrofit Nereda into Ringsend's Sequencing Batch Reactors (SBRs) and then build the extension to the plant to incorporate the new technology, which should give the plant a significantly higher population equivalent than the project which was originally envisaged.
Grant says that the rethinking of the Ringsend project reveals how the Irish Water approach differs from that pursued by the separate local authorities in the past.
"We inherited 3 billion Euros worth of projects that were at concept stage or various stages of planning. Where those projects were very far advanced we proceeded to construction, but in relation to all the others we've essentially carried out a rescoping exercise and we found a number of things that allowed us to take cost out of the programme," he says. "One is to look at technology choices, the second one is to look at the scale factors – there was a tendency by local authorities, once they got approval for a capital project, to oversize plants to cater for a long horizon into the future and build in very optimistic growth scenarios. We have scaled those back to more reasonable timeframes, acknowledging that we can then go back and upgrade if we need to."
The utility is also seeking to bring about standardization - with similar technology choices made for similar challenges across the country, helping with the cost of maintenance - and has made some radical reforms where contracts are concerned. Where previously most water and wastewater treatment systems were put out to long-term design and build contracts with 20-year operating periods, D&B contracts will now have a two-year 'proving period' followed by an optional five-year operation & maintenance period, with the option of a three-year extension after that. This model gives Irish Water maximum flexibility, and there is evidence that it is driving competition and that contractors are responding positively to it, says Grant. Day-to-day operations of treatment works and networks continue to be handled by the local authorities under a service level agreement, and Grant says that this arrangement has so far been a success and has has accommodated considerable changes in approach.
"That has allowed us to drive out our capital programme, but also to drive our programmes of planned audit and minor programmes to deliver asset improvements on the ground. I would suggest that with such a big reform of the water services sector in Ireland, to have achieved this much in the first two years with no interruptions in services to customers resulting from it has been a very significant achievement, and the source of great credit to everybody involved in the water industry. The big challenge now of course is to move forward from that and transform the industry to a single way of working. And we see that as our number one target now and the biggest challenge for the next 2-3 years."
Where the transition to Irish Water has been more controversial is its metering programme, which has seen 800,000 domestic properties metered so far, a process which has proved highly unpopular with the public. Grant says he understands that it will take time for the new utility to win the trust of customers.
"What I would say is, we've seen the example of Scottish Water back in 2002-3 and we recognise that they went through a couple of very difficult years," says Grant. "The change in public perception comes about through delivery – we absolutely agree with that. We recognise that the support for the utility was not there in the beginning, but we believe that all the evidence tells us that as people see the improvements, around drinking water quality and reductions in interruptions to supply, they are beginning to recognise the value of the utility. But we also recognise that we have a journey to go yet before we have convinced the public that this is the right thing to do."
- Jerry Grant will be talking about the Ringsend upgrade project at WWT's Water Northern Ireland conference, 25th February 2016 in Belfast. Details: www.wwt-ni.net
-You can also hear more about Irish Water's plans at WWT's Water Ireland conference in Dublin on April 21st. Details: www.wwt-ireland.net