Interview: Jeremy Heath, Innovation Manager, Sutton and East Surrey Water
"ODIs have given us focus… it's simple to work out the tangible benefit of putting in a solution."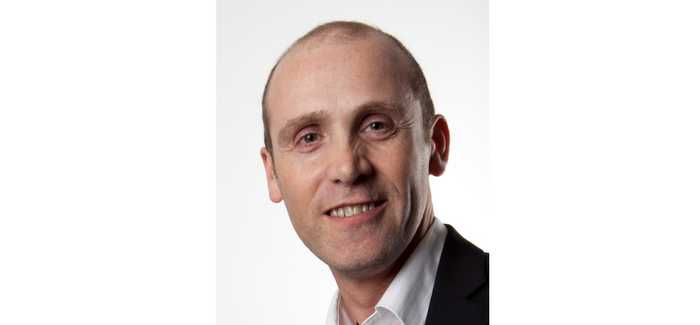 CV - Jeremy Heath
● After graduating in Mechanical Engineering from Queen Mary University of London, Jeremy Heath first worked in the water industry as a rehabilitation engineer for South East Water. He then joined Sutton and East Surrey Water in 1997 and has been at the company ever since.
● At SESW he first worked in mains rehabilitation before moving into metering; as metering manager he chaired Water UK's Revenue Metering Group, which has representatives from the metering operations of water companies across the UK.
● His various roles at SESW have included leakage manager and network manager; with responsibility for Geographic Information Systems (GIS), he was largely responsible for rolling out mobile working in the company, which was among the first in the UK to issue its mobile workforce with tablet computers.
● He was appointed SESW's Innovation Manager in October 2015. An experienced computer programmer, he works alongside the company's IT team to introduce new technology solutions as well and has recently rolled out a system for gathering innovative improvement ideas from the company's staff.
● Jeremy Heath is among the speakers at WWT's Innovation conference on November 29th.
-Interview by James Brockett
Where does innovation come from in the water industry? Academics, researchers, technology firms and the supply chain of course all play a part; but one source that's often neglected is a water company's own workforce. Who better to identify the need for a possible improvement than the people on the front line who are doing the job?
That's the thinking that Jeremy Heath, Innovation Manager at Sutton and East Surrey Water, has been seeking to apply recently at his company. The company has put in place a system dubbed ERIC – Employee Realistic Ideas Capture – in which staff can suggest improvements to their own jobs or the wider company operations. These are considered by Heath and other senior managers and either implemented or rejected based on discussions and cost-benefit analysis; ideas that are taken up can earn staff rewards and recognition.
"Your people are hugely important, because that's where your ideas come from," Heath tells WWT. "It's not even that people come up with innovation so much as they help you realise the problems, and the sort of things you might do to make it better. For years I was in charge of our metering teams, and I used to make a point of regularly going out and reading meters myself, because it's only once you've actually gone out there and done it you start thinking 'why do we do it that way?', 'wouldn't it be great if you could do this?', and so on."
The suggestions system has been accompanied by another training programme called 'inverting the triangle' which turns the traditional power structure on its head by encouraging managers to listen to and assist front line workers. Heath points out that while technological breakthroughs and disruptive innovations take the headlines, such improvements are extremely rare and most innovation - around 70 per cent – comes from small incremental improvements of the sort that could reasonably be proposed by the workforce.
However, while he is keen to capture such low-hanging fruit, Heath is also constantly on the lookout for the bigger, sweeping changes which could prove transformational. Five years ago, he was instrumental in equipping SESW's mobile workforce with tablet computers – one of the first water companies to do this – and changing their work habits to make the most of the new kit.
"That's been a huge change within the industry I think - we were very much at the cutting edge in terms of thinking tablets were the way forward, and we are very much tablet-based now," says Heath. "It was a sea change when we brought them in, for staff who had been using large chunky devices or using paper, to find that they could do so much more on these devices. We did an analysis with a meter fitter – where it's easy to measure his performance based on how many meters he is changing per day - and found that by giving him a tablet, there was a 17% increase in efficiency simply because he had a very good map on his tablet and he could see instantly where his next job was."
It's clear that being a smaller water company – Sutton and East Surrey serves 685,000 customers and employs around 250 people – has its advantages. Heath says he feels more in touch with the workforce than might be the case at a larger firm; in almost 20 years at SESW he has also been able to take on a wide variety of roles, giving him broad experience of the business.
He became Innovation Manager in October last year. "I've been working in innovation for about 25 years – it just wasn't called that," he jokes.
Heath talks excitedly about the potential of creating smarter networks, which will enable water companies to garner more and more information about what is going on in their pipes, and to have early warning of any issues before they develop to the level where they might affect the customer. However, he says that communication technology is the link in the chain that must be improved for this to be a reality.
"Out of all the layers that we've got – sensors, comms, processing, geo-display and mobilisation – the one that I'd most like to solve just by clicking my fingers would be comms," he says. "We have our SCADA systems on our treatment sites, which operate very well, but once you are off those sites, comms are an issue; we can have any number of sensors in our network which can give us great information, but it's about how we get that data to our servers, or even on the cloud."
He says that the two potential technologies he sees coming through to solve this are long range radio systems (LoRa) and narrowband IOT (Internet of Things) and Sutton and East Surrey are currently engaged in talks with suppliers about both. There is some potentially 'breakthrough' innovation out there, he adds; although one of the obstacles to be overcome is the lack of standardization between available systems.
Heath says he is 'quietly optimistic' about the positive influence of Totex in AMP6, but believes that it is the introduction of Outcome Delivery Incentives (ODIs) that has made the biggest difference so far to the prospects for innovation in this regulatory period.
"I think the ODIs are great," he says. "The beauty of them is that they give us a focus. Five years ago, I might have thought that an innovation was a great idea and that we should be doing it, but I would have struggled to quantify the costs and benefits. Now, you only have to look at the ODI and it's simple to work out the tangible benefit of putting in a solution."
This focus should also help potential suppliers, who have no excuse not to do their homework on a water company's ODIs before visiting them with a sales pitch, he adds.
He says that the advent of competition in the English water industry has already led to a change of mindset in that he has begun to see the technologies and initiatives that SESW are adopting as their "edge" in the market. While this is a good thing for driving the marketplace forward, he admits to some uneasiness that something of the collaborative culture of the water industry will be lost.
"My concern is, because we are now in competition with each other as companies, there will be a tendency to hold your cards close to your chest," he concludes. "Water companies have an ability to talk to one another that doesn't seem to happen in other industries, and like to share what they are doing, but there probably will be less of this in future. I can't see a way around that. Competition is driving innovation which is great, but by the same token it will hinder some innovations from being shared throughout the industry."
-Jeremy Heath will be speaking at WWT's Water Industry Technology Innovation conference in Birmingham on 29th November. Details: events.wwtonline.co.uk/innovation