Interview: Ian Kirkaldy, Chief Engineer, Southern Water
"We have to become an intelligent client… we are learning again how to be an engineering organisation."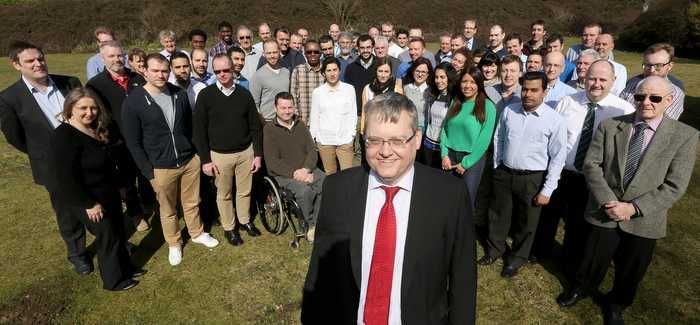 Ian Kirkaldy with Southern's engineering team
Path to the Top
1976-80 University of Portsmouth, BSc in Civil Engineering
1976-87 Engineer, Southern Water
1987-95 Engineer, Binnie & Partners
2002-3 Engineer, KBR
2003-13 Vice-President, Black & Veatch
2013- Chief Engineer, Southern Water
by James Brockett
Things are growing fast in the engineering department of Southern Water. When Ian Kirkaldy joined the company 18 months ago, he was an engineering department of one. Now, with a team of around 70 in-house engineers based at Southern's Falmer Office, and recruitment continuing apace, Kirkaldy jokes that he has almost got to the point where he struggles to remember everybody's names.
The rapid expansion is part of a fundamental shift in the way that Southern approaches its engineering projects. Kirkaldy was hired by CEO Matthew Wright to rebuild Southern's in-house engineering capability towards an 'intelligent client' model, as he explains.
"We had, probably through a series of very good business reasons at the time, got to the point where we had heavily outsourced our engineering and delivery capability in one form or another to the supply chain," says Kirkaldy. "As we moved towards this AMP, the feeling was that to achieve our customer commitments we had to become an intelligent client, able to optimise our assets and taking responsibility for their long term performance. Fundamentally, as a client organisation, we can't get away from the fact that we're building assets that last 20, 60 or 100 years, and we have to take responsibility for their long term performance for our customers."
Fast forward another 18 months and Southern expects to have 110 or 120 in-house engineers on board. But this does not mean the utility is cutting off its external partners – on the contrary, Southern's Strategic Solutions Partner, MWH, has around 70 engineering specialists embedded at Southern working alongside in-house staff, in what Kirkaldy labels a 'salt and pepper' organisation. He says that MWH is playing a crucial role in enhancing their skills, and that knowledge transfer between the two is essential.
"Our SSP is literally our partner, and part of that partnership is to help us build our own capabilities," says Kirkaldy. "For example, we are about to roll out our new CAD and IT tools - the first stage of that happened in June, and the next stage is in August - and they've helped us shape that, to decide how we specify, acquire, buy, and deploy it. So it's not just the hard engineering that they're offering, it's actually learning again how to be an engineering organisation. They are helping us along that road."
One advantage that Southern has, says Kirkaldy, in making such a rapid transformation from a low base is that the company can "leapfrog" stages of development that others have gone through and go straight to the most advanced thinking and practices. The new team is able to start working immediately with cutting-edge design practices such as 3D modelling and BIM, while putting in place efficient processes such as standardized off-site construction.
On the other hand, the biggest challenge is that the company has to undergo the transformation while at the same time as starting work on its AMP6 projects. "It's like running for the bus and getting dressed at the same time," quips Kirkaldy. He identifies bathing water quality and flood resilience as two important themes for their work over the next five years; another theme is building assets that are "data-rich" for the operator.
However, he adds: "For us, this AMP is not going to be about building any one, big, sexy thing. We've got Woolston Wastewater Treatment Works [worth £63M] which is one of our biggest projects, but it's actually going to be about lots and lots of comparatively minor interventions in a challenging environment, both in terms of the standards we need to achieve and of course the performance we need to beat."
The engineering team has managed to recruit effectively across the disciplines – electrical, mechanical, civils and process – and has drawn in some talent from abroad. Kirkaldy says that the biggest recruitment challenge is persuading experienced, mid-career engineers to relocate to the south coast; high property prices, as well as location, are a hindrance. He feels the solution for Southern, and perhaps for the industry as a whole, is to invest in the next generation.
"It will become a harder problem trying to pull that experience in, which is why, to create a sustainable organisation, we now need to start thinking about creating a pipeline for the future," he says. "We need to recruit graduates and apprentices, who in ten years from now, will become those experienced people. After all, part of the reason Southern Water is struggling now to find that experience is that we didn't create it ten years ago. We must start creating that now."
To this end, the company has opened up a programme for engineering graduates and is putting in place training agreements for the various engineering disciplines as well as forging links with local colleges and universities. Kirkaldy says Southern hopes to have an apprenticeship scheme in place to target next year's crop of school leavers. He says he is aiming to have a diverse team – in terms of specialism, demographics, and nationality – which can problem-solve in a multi-disciplinary way.
By taking on the job at Southern, Kirkaldy's career has in some respects gone full circle, as he started his engineering career at the organisation in the days before privatisation. But he says it is a very different place from the one he left in 1987.
"It's unrecognisable," he admits. "When I was here initially it had an engineering department, and I was part of that engineering organisation, albeit at a very junior level. To actually come back and find that it had divested itself of that over the years was a little bit sad; but it was a challenge I rose to, to recreate that engineering organisation that once existed and actually look to take it to the frontier of performance. I've worked most of my career for private organisations where the driver has always been to get to that frontier. I see no reason why a client engineering organisation shouldn't also have that same drive."
Kirkaldy's career has also acquired a neat symmetry in that he has gone from working for a client organisation to being a consultant, then working for a contractor, and now back to being a client again. It is a trajectory that has given him a broad perspective. In the early 1990s he was involved in the first outsourced engineering organisation in the privatised UK water industry - Thames Water's 'Extended Arm' – while more recently, highlights of his decade at Black & Veatch included international roles in Hong Kong and Singapore and work on Heathrow's Terminal Five. He says that whether it is in the water industry, the other utilities or the wider construction sector, he sees the intelligent client model gaining widespread traction.
"I think a client organisation has inherent advantages over the supply chain, in that it does understand its asset base, its customers, and its risks better than an external contractor-consultant could possibly hope to do. So it should be able to make better decisions."
Southern Water's offices in Falmer are currently being refurbished to accommodate the influx of new people, and with a new open-plan set-up and many people 'hot desking' it certainly has the appearance of a hive of activity.
"From where I'm sitting, you can just begin to see it work," Kirkaldy enthuses. "You can see the designers and the engineers coming up with new and clever ways of doing things, unfettered from the past. New technologies, new ideas are being applied and considered. You can see these solutions developing and growing. It's an exciting place to be right now."