Interview: Dermott McCurdy, head of WwT capital delivery, NI Water
"It's happening in the water, on the water and below the water. Why haven't people done this before," asks Dermott McCurdy, Northern Ireland Water's head of wastewater treatment capital delivery.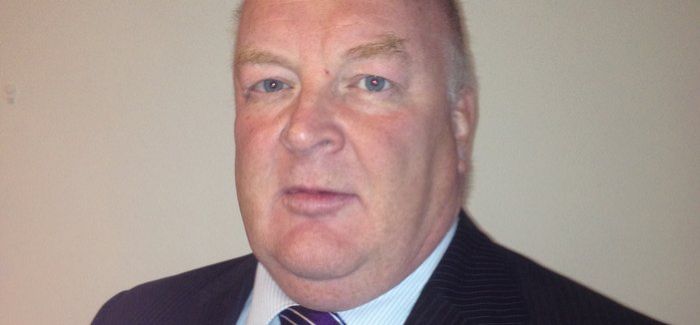 Dermott McCurdy
What you didn't know:
• My perfect evening is...
With friends having a nice meal
• I drive...
We have six cars! I have a 1950 MG TD; an Audi TT soft-top; a Volvo estate (my day car)
• My favourite TV programme is...
I like period drama, like Downton Abbey
• My greatest weakness is...
Food
• The person I've lost touch with is...
Gavin Bate. He's an adventurer and an old scouting friend of mine
McCurdy is talking about Integrated Constructed Wetlands (ICW), a subject that "fascinates me", and one he will be discussing at our Wastewater conference* next month.
Integrated Constructed Wetlands is a relatively new solution for municipal wastewater treatment that uses a natural ecosystem to break down and treat pollutants. It is a wetland approach that NI Water has piloted at Stoneyford in County Antrim, and which has already demonstrated savings in construction and energy costs.
NI Water has a complex financial governance model in that it is totally reliant on funding from the province's regional development department as it does not have an income stream.
McCurdy explains: "We're regulated by the Northern Ireland Utility Regulator but when it comes to funding, that's a different kettle of fish because we can't charge our customers in line with what the utility regulator has said we need. We're given an amount of money per year to deliver our capital works programme, and deliver our operational programme. That doesn't necessarily match what the regulator says we should be getting. We're at the half-way stage of PC15 [price control]. We know what we're getting this year. Financially, we don't know what we're getting next year..."
Funding for capital delivery this year is £146M, although a chunk of that will be spent on "other bits and pieces" such as operations, IT management and vehicles.
McCurdy is responsible for delivering NI Water's capital wastewater treatment programme, achieving efficiencies and cost savings along the way. "The drive at the minute are the company's energy costs, which are somewhere in the mid-£30M per annum. For a small company that's a lot of money and it's going upwards, as you can imagine. As technology increases so energy costs go up. Anything we can do to put a cap on that or reduce it is within my remit.
"There are a number of quality outputs where the circumstances on the ground change – an asset becomes outdated, it's failing to meet its quality parameters, there's population growth – so there's a reason to enhance the asset that's out there or replace it."
One such facility identified in 2013 was a wastewater treatment works at Stoneyford in County Antrim which was a traditional activated sludge plant that had "passed its sell-by date".
Stoneyford is small village with a population equivalent (PE) of 1,000. McCurdy takes up the story: "We had heard that our friends in the Republic of Ireland had started to build several small integrated constructed wetlands. We looked at one just over the border in County Monaghan at Glaslough."
When it came to the Stoneyford project, NI Water was fortunate in that it still owned a large area of land that had been the catchment to an impounding reservoir that was no longer in service. ICWs are shallow ponds within a 100 to 200ml depth of water but there's a huge area. The incoming flow takes about 90 days to get from inlet to outlet, whereas a traditional sludge plant will take 12-16 hours. This low technology process uses anaerobic bacteria activity to carry out the breakdown of the pollutants. This is a much slower reaction process and the operating costs are much lower than a traditional process.
"It seemed a very simple engineering solution – albeit it needs a big footprint but it's going to reduce energy costs because negligible energy is involved in the ongoing management of it," says McCurdy. Also, the project cost £800K, compared with £1.4M for a traditional treatment works.
"This was something new to us. NI Water's very tied into delivering outputs and wastewater quality and we've got to make sure we can deliver that and that it's going to work. As a company we're not that keen on being at the sharp end of innovation. We will be early adopters, but let somebody else experiment."
The Stoneyford ICW is the first of three that NI Water has in its investment programme and three more are expected to follow in around 18 months, two years time.
In order to make the Stoneyford project a reality, McCurdy and his team had to not only convince "our internal standards committee" but Northern Ireland's Environment Agency and, perhaps most importantly, the local residents. "Our biggest opposition was going to be local residents. We had a public meeting, which was quite aggressive, but we took a representation of them down to look at the Glaslough site."
Like the internal standards committee and Environment Agency, the residents "bought into it". McCurdy says the common reaction has been: "This isn't what I expected. We had come down here expecting to see flies, manky smells but there's nothing like that." He adds: "We had a group of planners there just last week. We were standing looking and they said 'are you going to show us the treatment works now?' We said 'you've been looking at it for 15 minutes – it's right in front of you'. They couldn't believe it."
McCurdy concludes: "You can walk round it, take your dog for a walk round it or push a pram round it. You'll see dragonflies, ducks, different birdlife and it's a pleasant place to walk round. I'm not saying I'd have a picnic there – it is screened raw sewage – but we're doing something very positive."
*Dermott McCurdy will discuss Integrated Constructed Wetlands at our Wastewater conference at the National Motorcycle Museum, Solihull, on January 28, 2016.