Interview: David Rose, Energy and Carbon Manager, South West Water
"Certification has really helped staff engage with the energy agenda; I feel we've got a framework to work with."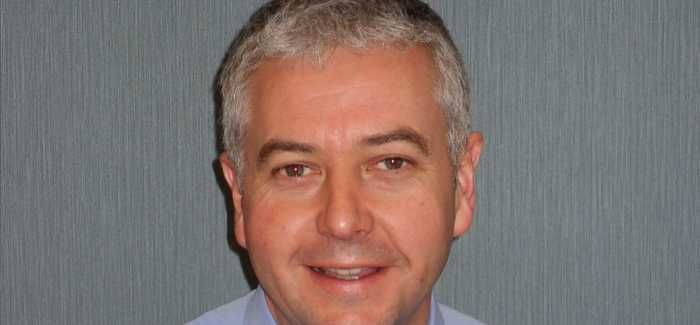 CV: David Rose
-After completing an environmental engineering degree from Cardiff University and an MSc in Environmental Science from Bath University, David Rose chose to specialise in energy, first working as a Research Associate at Imperial College's Centre for Energy Policy and Technology.
-Since joining South West Water in 1998 as an energy analyst, he has been promoted several times and took over in his current role of Energy & Carbon Manager in 2013.
-A chartered engineer and chartered environmentalist, his role includes responsibility for the strategic and tactical management of carbon along with managing the company's energy efficiency and renewable energy programmes.
-He is also chairman of the Devon and Cornwall Energy and Environmental Management Group, which provides development, knowledge sharing and networking for South West energy and environment professionals
-South West Water has committed to getting 20% of its energy from renewable sources by 2020, and has 56 existing renewable energy generating projects.
-Interview by James Brockett
As the sector's most significant overhead cost, managing energy use in water companies has never been more important - but ensuring that it remains front of mind in a large business with hundreds of sites and thousands of staff is a complex challenge.
So it was a big step when South West Water decided to seek ISO50001 certification for its energy management practices in mid-2015 – committing the company to a continuous improvement process in reducing and managing its energy and carbon consumption.
The international certification requires a comprehensive year-round approach to energy saving, going much further than the requirements of the government's Energy Saving Opportunities Scheme (ESOS) which involves audits every four years which may or may not be acted upon.
However, David Rose, Energy & Carbon Manager at the Exeter-based utility, is in no doubt that it was a step well worth taking.
"The reason for us to go down this route rather than just do the standard ESOS audit was that we wanted something that was a bit more permanent, something that gave us a framework for energy management," says Rose. "With ESOS audits, the danger is that you do them and put them on the shelf and everyone forgets about them until four years' time - and we definitely didn't want that to be the case. With ISO50001 it is a continuous improvement process; it's working away in the background all the time."
South West Water's parent company Pennon Group had also just acquired Bournemouth Water, with the intention of merging its operations with SWW, so the timing was good to implement a single certification process for both companies. An initial certification audit in September 2015, which led to certification in December 2015, was just the start of the journey, because the utility needs to demonstrate that it is making continuous progress to manage down its power use through an improvement plan.
One of the central elements of South West Water's ongoing plan is rolling out submetering, in order to gain more data about energy use at its sites and identify opportunities from this. The utility has 1800 sites in total, of which 450 have a main half-hourly meter; the biggest 100 of these sites account for 75-80% of its energy use. At these large sites, SWW plans to fit a sub-meter to each asset or process defined as a Significant Energy User (SEUs) under ISO50001. Many pumps and aerators fall into this category and at larger treatment sites the number of SEUs can run well into double figures.
"We are working our way through those sites putting in submeters on all the SEUs that we identify, so we will have much better data," says Rose. "We are at the very start of that journey - we've submetered six or seven of the sites to date. In fact, our initial plans may have been a little ambitious: we thought we could do about 15-20 sites a year, so that over a five-year period we would have the complete set of 100 sites. But as it turns out, on some sites we've identified up to 30 SEUs, so putting a submeter on each of those SEUs is more expensive and time-consuming than we thought.
"But once in place, the submeters give us much better visibility of data. We can interrogate that data, look at the nominal efficiencies of those units and we can intervene at much earlier stages to refurbish bits of kit or replace them if they are completely beyond repair. That's a big advantage in terms of energy efficiency."
The second major benefit of ISO50001, says Rose, is the effect on staff engagement with energy saving. In the 19 years Rose has been at South West Water, he has seen and used a variety of methods for getting operational workers on board with the energy agenda, and implemented other accredited standards; in his experience, committing to a formal programme with regular dialogue and an element of external oversight tends to be the most effective approach.
"We've had staff engagement programmes for many years prior to having ISO50001, but they can die away once you stop promoting them and then you have to reinvigorate it and start again. The advantage of ISO50001 is that it gives you that structured framework behind the programme, so that you can go and say that we need to do this because we are certified to ISO50001 and this is what it tells us we should be doing. I've been pretty impressed with the staff reaction: they've really bought into it, and to me it is a much more powerful tool than just doing an ad hoc energy efficiency campaign."
As for its wider energy policy, South West Water has been an enthusiastic adopter of renewable energy generation schemes, with an AMP6 target to get 20% of its energy from renewable sources by 2020. However, since the severe reduction last year of the incentives available under the Feed-in-Tariff (FIT), solar and wind power installations have largely ground to a halt. SWW has not approved any further solar projects since the FIT changes, and of 22 wind projects it had previously identified as financially viable, only two remain likely to go ahead. Rose says that even the most attractive wind power installations can now be expected to pay for themselves in 8-10 years rather than the 3-4 years that might previously have been the case.
He admits to being frustrated by the uncertainty of government policy in this area, but says the company has been able to look at different options in pursuit of its energy and renewable goals.
"We are still going ahead with a few own-and-operate projects, like the wind turbines, but beyond that, we are looking at third party private wire opportunities, and community energy," says Rose. "We are looking at buying in energy from our partner company Viridor under a green tariff; we are looking at all the options really.
"We have capital available for investing in renewable energy, but not necessarily the projects to invest it in any more. So we are also looking at other alternative methods of energy security. Battery storage is something that we are pretty interested in."
He says that recent price changes in peak periods by Western Power Distribution – the local distribution network operator in the South West – have made the financial case for batteries less clear cut, but he believes they could have a role to play in frequency response and also in building resilience of supply. On demand response, he says that South West Water is involved in the STOR scheme at several sites, and also participating in the capacity market, but is more cautious at the prospect of frequency response and other initiatives that involve third party control of assets.
Overall, he feels that ISO50001 has helped raise the profile of energy management initiatives in the company, but insists that awareness of energy issues has always been strong amongst SWW colleagues.
"It's a bit of a stretch to say that the company has gone through a cultural change, but it has helped operational staff engage more with the energy agenda and I feel now that we've got a bit of leverage, a bit of a framework as well to talk to operational managers and staff," he says. "It's well understood that energy is the second biggest cost to the company next to salaries… and when I go out on site and talk to people they have bought into it, which is really encouraging."
David Rose is speaking at WWT's Water Industry Energy Conference on June 13th in Birmingham. Details: http://events.wwtonline.co.uk/energy