Interview: Cathryn Ross, Ofwat
"We are on a real journey with Totex... PR14 was just the start of that journey."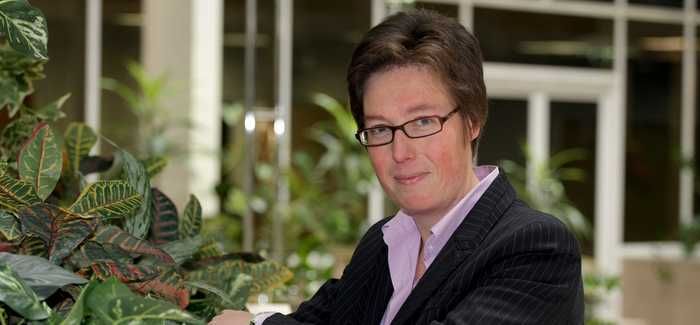 Path to the Top
2013
Cathryn Ross became Chief Executive of Ofwat in October 2013.
2011-13
Executive Director of Markets and Economics at the Office of Rail Regulation (ORR)
2008-11
Director of Markets and Economics, Ofwat
2003-08
Director of Remedies and Business Analysis, Competition Commission
2002-03
Head of Competition Economics, Office of the Rail Regulator
2000-02
Economic Adviser, Oftel
1996-2000
Senior Consultant, Oxecon Ltd
by James Brockett
With bills reducing in real terms across the board, and business plans that were oriented towards a Totex-based approach, the recently concluded price review will be remembered for a number of things. But the most revelatory element about PR14 has been the way that the water industry has reconnected with its customers, according to Ofwat chief executive Cathryn Ross.
"I think that the way the companies have stepped up to the challenge on customer engagement has been one of the most amazing things about this price review – it's been a massive step change from what has gone before," says Ross. "In total, the water companies spoke to more than a quarter of a million customers directly in the process of their customer engagement, which is undoubtedly the biggest customer conversation the sector has ever had."
Ross was speaking to WWT on the day before it was confirmed that 17 of the 18 country's water and sewerage companies had accepted their final price determinations from the regulator; only Bristol Water has opted to appeal against its determination to the CMA. The sector will now start the process of putting their five-year business plans – with targets based on all those customer conversations – into action.
Ross says that she thinks engagement exercises with customers have been "a real eye-opener" for many of the water companies. While the basics of what customers want - security of supply, affordable bills, a swift resolution of problems – will come as no surprise to anybody, some interesting regional differences have been revealed. For example, Welsh Water's customers wanted them to take action on social tariffs to make bills cheaper for the less well-off in society, a move that the utility is now implementing; yet customers in other supply areas, such as Yorkshire and Northumbrian, were less convinced by the idea.
Customer engagement
As a positive example of engagement, Ross also cites the example of Affinity Water, which gave its customers a real choice on how to meet its future supply-demand imbalance. Confronted by a menu of alternative approaches, customers indicated they were happy to see an emphasis on reducing water consumption; a choice that should give the company a high degree of buy-in for the demand management measures it is implementing in 2015-20.
It is the first time that water companies have been able to be so responsive to their customers in drawing up their business objectives. Ross also believes that the very process of publishing clear, individualised targets will make the sector more accountable before customers for their performance.
"What's going to be really interesting over the next five years is the effect of transparency," she says. "We've now got more than 500 performance commitments across the sector, which are really clear and transparent, and the companies are going to be reporting back to their customers on how they are doing against those performance commitments. So the pressure is on now to deliver. For the companies that do well, it will be much more obvious that they are doing well, but for the companies that aren't doing so well, they will also get that exposure."
Totex challenge
The other key departure for PR14 was the challenge to the water companies of framing their spending plans in terms of Totex (Total Expenditure), shunning the traditional distinction between Capex and Opex. Ross says that this should be seen as the regulator "taking the shackles off" the water companies, giving them the flexibility to come up with the most cost-efficient way of achieving customer outcomes. The shift should encourage innovation as the companies "ask themselves different questions," says Ross.
However, she acknowledges that it will take many years for the Totex approach to become embedded, and that some of the water companies are further along this road than others.
"We are on a real journey with Totex, and what you saw with PR14 was essentially just the start of that journey," she says. "When you looked at company business plans in PR14, some of the companies had really done their business plans on a Totex basis, starting with the outcomes and thinking back across all the different options - you could see that they challenged themselves. Other companies have struggled with that, and you could see that they'd started off on traditional lines of Opex and Capex and almost put a Totex overlay on at the end.
"Of course, as we move on now, it's not about business plans, it's about real delivery, and I think delivery in a Totex environment is a step further than business planning in a Totex environment. It's harder."
Ross says that traditional alliance agreements with the supply chain - based on risk-sharing between partners to jointly deliver a Capex scheme - will have to be rethought if solutions that are truly Totex and outcome-orientated are to take root.
"It's not just a culture change for the companies, it's also a culture change for the whole supply chain," she explains. "I think the supply chain can actually help some of the water companies in terms of really understanding risk and risk management really thoroughly to deliver that real genuine operation of Totex. Now that will take time. The next five years, I suspect, will be a real learning curve, and it will probably be ten or even fifteen years before we start to see this really thoroughly embedded in a business-as-usual way.
"My suspicion is that water companies will find some of the supply chain ahead of them, because I think in other industries this sort of approach is not unusual. When I talk to people in the supply chain, some of the people I speak to see themselves very much as in the risk management business: they don't see themselves as contractors who will deliver you a Capex scheme, they see themselves as risk managers. They are quite keen I think to have conversations with the companies about what they can offer in terms of risk management."
Strategic vision
Last month saw the publication of Ofwat's new strategy, Trust and Confidence in Water and Wastewater Services. Ross describes it as a vision for the sector, and says she is confident that its central touchstone - winning the trust and confidence of customers – is one that resonates with those who work in the industry.
The strategy envisages a less interventionist role for the regulator, as the water companies build on the customer engagement they have carried out so far to become more directly accountable and responsive to their customers.
"We are asking them to really step up and take ownership of that, and to create a conversation that is much more between companies and their customers and stakeholders than it is between companies and the regulator," says Ross. "We are not retreating in any sense, but we are adopting a slightly different role. If we do need to intervene, we will, but it is not going to be Ofwat's default position - we are going to do it as and when we need to. That means that our interventions in themselves become a signal."
Ofwat itself will be given a reduced budget from the Treasury from the next financial year onwards, so does the regulator's new hands-off stance represent more than just a pragmatic response to having more straitened finances?
"Our strategy is the right thing to do, regardless of the budget, because it's in line with our statutory duty and responds to what customers and society are looking for," Ross answers. "The way in which we do this obviously has to be conditioned by the funds we have available, and one of the things that you will see us doing over the next few years is working much more in partnership, placing much more responsibility on the sector to step up. Yes, there is an aspect of that which relates to our budget, but even without the budget constraint I genuinely think this is the right way to do things, because as the regulator we do not have all the answers."