Interview: Black and Veatch's Mark Kaney
Black and Veatch's new director of asset management for Europe, Mark Kaney, tells Robin Hackett how the company hopes to drive efficiencies for the water industry through data, technology and global insights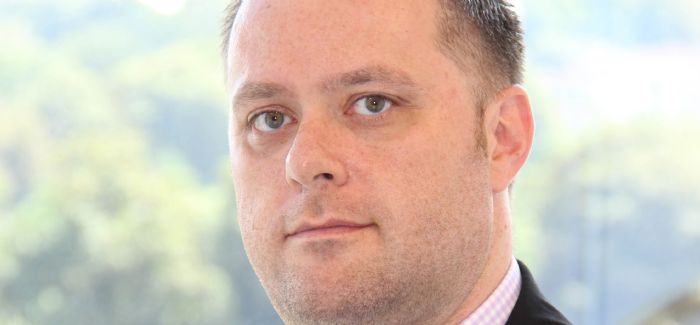 For water companies to meet and exceed expectations in AMP7, resilience must be at the heart of their thinking. Ofwat's call for a step change in long-term 'resilience in the round' – alongside excellent customer service, affordable bills and innovation – demands a focus not just on consistent operational performance but on corporate and financial aspects too.
Mark Kaney believes Black & Veatch, an engineering, consulting and construction company with over 100 offices worldwide, can play an important role in meeting these challenges.
He became the company's director of asset management for Europe in July and says his role will involve helping demonstrate Black & Veatch's potential to make a "real difference" as the industry seeks to maximise the performance of its existing investments.
"We basically have three main facets to our business in Europe: a design consultancy business, a design-and-build business and an asset management business," Kaney says. "You can think of it as a consult, deliver and manage whole-asset lifecycle business model, and my responsibility is to run the asset management component of the European business.
"When you look at the skillsets we have, the services and the products we can provide, we want to grow our market share within the asset management marketplace. It's about looking at the things we have to offer that we feel can help move industry forward in terms of efficiencies and how businesses perform, their cost to serve, total cost of ownership, improved asset performance and improved service performance."
With cost efficiency set to be high on the agenda in AMP7, Kaney wants Black & Veatch to establish itself as a "trusted advisor" within the UK and then Europe over the coming years.
"We know that, in the UK, the regulator is not looking for any significant increases in billing, and we understand that the years of asset base growth have led to increasing operating costs for companies and that the regulator wants to bring that down," he says.
"Historically, since privatisation, you could argue that asset management has been mainly focused on strategic investment, optimising major capital programmes, growing the RCV [regulatory capital value]; you had large-scale asset management departments but they've mainly driven into the strategic planning space.
"What I see now, with the regulator moving utilities more towards a Totex model, is about moving that right across the business into operations, so it's not necessarily just about looking for new and interesting things to create or build, it's about being smarter with the things you already have.
"I see asset management becoming more pervasive throughout organisations, or needing to become more pervasive throughout organisations, if they're going to succeed."
It is a period of rapid technological change, and options for implementing effective asset management are growing. Black & Veatch hopes to help companies navigate the new environment and is working with a number of strategic partners to gain a more complete understanding of their technologies and how they can best be utilised.
"There's a lot of companies coming up with some really interesting concepts and ideas, so I see a real opportunity here with the skills that we have to harness some of those concepts and ideas and to be able to help our clients deploy them in a way that gets value for them," Kaney says.
He cites leakage among the areas where advances are being made, with satellite imagery, in-pipe drone usage and artificial intelligence among the recent developments.
Data, too, is a significant growth area although, as Kaney points out, the real benefits come in being able to sift the information and obtain instructive insights.
"It's becoming way more cost-effective to obtain – some may argue we're drowning in seas of data," he adds.
"In our asset management business, one of our key functions is our information management and analytics team. We're doing a lot of work right now looking at the different sources of data that companies have available and understanding how we leverage value from that.
"The key thing for me is how we use it to enable companies to see how things are working – test assumptions, test scenarios to understand outcomes – and to give them the insights into how to best manage their assets."
In May, Black & Veatch won the contract for Workstream 69, an asset management programme encompassing Yorkshire Water's entire asset base.
It is a lean reliability-centred maintenance (LRCM) programme, designed to assess what a process is intended to do, what factors stop the process from delivering, and then work to mitigate those factors. RCM works on the principles used in aviation industry, where asset failure can have the most severe consequences.
"We believe some of our projects we're working with our customers to develop are bringing new ways of working in terms of looking at smart maintenance in terms of how we can actually leverage data and predictive maintenance to move more maintenance into the proactive planning space," he says.
"We've got a large programme of works with Yorkshire Water across their asset base where we're enhancing their datasets and organising them in terms of structured asset data hierarchies, creating good policies and governance structures for them so they can continually manage this flow of data in an effective and efficient way.
"In terms of some of the successes we've seen already, we're seeing between 20 and 30 per cent efficiency savings on some of those new reliability-centred proactive maintenance plans. It's really about uptime – keeping assets performing with the right level of risk management attached to them."
Kaney hopes to see Black & Veatch established among the leading players in the UK asset management field in the coming years, and will look to use the company's strategic partnerships to bridge gaps within the supply chain and ensure water companies can get to grips with new developments.
"Success for me would be for us to be seen as one of those trusted partners, a highly digitally enabled asset management consultancy with a strong network of strategic partners that can help link that technology through the data to improved performance of their asset base and their company outcomes," he says.
He hopes Black & Veatch's international presence can help to set it apart, too, as the industry seeks new answers to longstanding problems.
"Different territories offer different approaches to business, and also different approaches to how to solve problems," he says. "Having access to those skills and different approaches gives us a more diverse range of thinking – and that's really what our customers are saying.
"It's that old adage: if you approach the same problem the same way for 20 years, you'll probably get the same outcome, more or less.
"They're looking for some lateral thinking, some progressive thinking, and I do think the reach that Black & Veatch has globally really accesses some markets where in some areas they'll be ahead.
"If we can really bring all of the strength of that to bear for our customers here in the UK and across Europe, they will really value that capability."
Hear more from Mark Kaney at our 4th annual WWT Smart Water Networks conference, taking place on 21 March 2019 in Birmingham.