Interview: Ben Jeffs, Chief Executive, MOSL
"The whole industry has really mobilised around market opening, and the water companies deserve credit for that."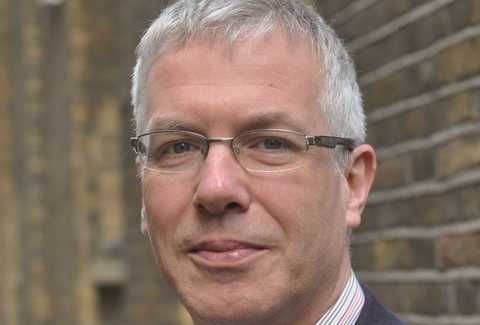 CV: Ben Jeffs
- A geography graduate who went on to complete an MBA from the University of Newcastle, Ben Jeffs spent his early career at British Gas, Transco and National Grid, before later becoming Chief Operating Officer for First Utility, a challenger brand in the energy supply competitive market
- Described as a high-impact executive specialising in transformative change, his positions have included running the energy Buying Solutions team for the Office of Government Commerce, meaning he has experience of leading both public and private sector organisations
- He became chief executive of MOSL on its formation in July 2015, tasked with seeing through water market opening; he recently said he will continue in the job until summer this year before handing over to a permanent successor
- Earlier this year he was named one of the top ten transformative individuals in utilities by WWT's sister publication Utility Week; he is also speaking at Utility Week Live on May 23rd in Birmingham
-Interview by James Brockett
Ben Jeffs, the chief executive of Market Operator Services Limited (MOSL), is leading an organisation with transformation at its heart. As the body tasked with developing the mechanics of the new non-household water retail market which is opening in England this month, MOSL has developed the IT and systems architecture that will allow 1.2 million business and public bodies to choose their water retailer, reforms that will open up a market worth an estimated £2.5BN and are expected to drive profound change across the water industry.
One of MOSL's central tasks has been delivering the central marketing operating IT system (CMOS) which carries customer data and enables switching to take place; this has had to be developed in tandem with systems projects within the companies participating in the market. Other core work has included publishing a full and acceptable market code, and delivering an ongoing market operator capable of supporting the functioning market.
At the time of our interview – eight weeks before the big day - Jeffs is about to sign off a letter to the government declaring that MOSL is ready to go for market opening.
"We are on track. The market participants' letters of assurance have indicated that they are broadly ready to go as well, and they are happy to operate with the central system," says Jeffs. "So we are in good shape. Would I say that we have delivered every single milestone on our original plan and that we have cleared all potential defects from the system? No, but in terms of known quantity and known quality, I think we are broadly there."
An experienced leader who came to water from the energy sector, Jeffs spent his early career at British Gas, Transco and National Grid, before later becoming Chief Operating Officer for First Utility, a challenger brand in the energy supply market. This experience of being a new entrant has stood him in good stead for his current role, where the goal is to establish a level playing field for water sector incumbents and new entrants alike.
MOSL was formed in July 2015 with the active backing of three water company leaders – Steve Mogford of United Utilities, Peter Simpson of Anglian Water and Heidi Mottram of Northumbrian Water – and Jeffs said that it could not have made the progress it has since then without the constructive attitude and practical input of the industry.
"The whole industry has really mobilised around this market opening, and I think the water companies deserve credit for that. This hasn't been about the Open Water Programme imposing change on the industry and the industry fighting at every stage; this has been about the industry stepping up. By appointing MOSL and supporting me in this role, I think that they've enabled a market opening which involves significant changes, and large systems implementation. How many of those across the world are delivered on time, on cost, and within the scope? It's quite an achievement in just 18-20 months."
In April last year, the incumbent water companies supplied MOSL with data from 2.4 million eligible premises – a number which has since risen to 2.6 million – after which the organisation spent several months ensuring that this data was loaded into the system in a way that was compliant and usable for the requirements of the market. Jeffs says that this part of the process went better than expected, with the data appearing to be highly compliant, although he admits that the acid test will come when large-scale switching takes place. MOSL has been able to draw not only on the experiences of the energy sector but also the water market for business retail in Scotland: Alan Sutherland, chief executive of Water Industry Commission for Scotland (WICS) has been a key advisor to English market development, and Jeffs says that he highlighted data quality as a central issue.
"Will there be data issues? Undoubtedly – but the real judge of market success is actually how well companies are able to jump on those issues and resolve them quickly. The ideal objective is to get to a point where, not that we have no issues, but that those issues are sorted out first time, every time, which is the real challenge for any service-based organisation."
From October 2016 the 'shadow market' began, which tested the ability of the system on key functions such as registering and deregistering premises, adding or exchanging meters and their readings, and calculating the payments due between wholesalers and retailers. This phase has also gone without hitches and Jeffs says has given everybody confidence in the system.
While it is impossible to predict what switching rates will be after market opening – estimates have ranged from 1-2% in the first year to 10% - MOSL's business plan envisages that switching will take some time to get going, with the first 18 months being a learning experience for everybody involved. The third year after opening – 2020 - will be when it is likely that market activity will have reached a 'steady state', according to this prediction.
Jeffs himself will not be around to see this: having been engaged on a project basis to see through the transition to the new market, he will step down in the summer of this year to allow a permanent chief executive to be appointed. However, there is no doubting the effect of his work at MOSL on transforming the industry: earlier this year he was named one of the top ten transformative individuals in utilities by WWT's sister publication Utility Week.
So how will the market architecture established by the Open Water Programme bear up when – as expected – domestic competition follows in the wake of that for businesses?
"As a programme we have put quite a lot of effort into things like customer codes of practice which deal with microbusinesses – premises like a corner shop that might just have a toilet and hand basin," says Jeffs. "From a regulatory framework perspective, a lot of those regulatory building blocks are in there to allow for domestic competition, and the systems, processes and governance arrangements we've built would cope quite well with being extended into domestic. Of course, it's a public policy decision to do that, but it is worth saying that what we've done is extendable should the politicians decide that they want to go down that route: of course, it would be a different order of magnitude, but it would not be something that is fundamentally different to what we have built to date."
- Ben Jeffs will be speaking at the Utility Week Live Keynote conference on 23rd May in Birmingham. Details: www.utilityweeklive.co.uk