Interview: Ben Earl, Water Efficiency Manager, Southern Water
With the completion of its compulsory metering programme, Southern Water committed to an ambitious target to help customers reduce water consumption. How is it getting on? WWT spoke to Southern's Water Efficiency Manager Ben Earl to find out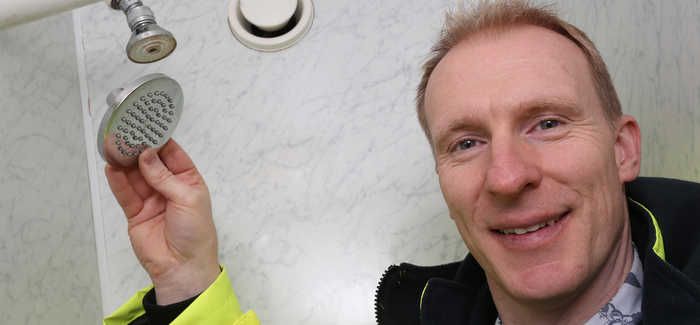 Ben Earl has led Southern Water's water efficiency efforts since 2013
Ben Earl - CV
● After completing a degree in Environmental Studies, Ben Earl spent over a decade working for environmental organisations including The Woodland Trust, the Earth Trust and the Forest Stewardship Council.
● Between 2008 and 2013 he worked for retailer B&Q, dealing with energy and water efficiency, sustainability policy and the company's response to government environmental initiatives.
● He was a member of South East Water's Customer Challenge Group in 2012-3, joining Southern Water in 2013
● In his role at Southern he has collaborated with the five other south east water companies to set up 'Save Water South East', a jointly-funded group that helps communicate water saving messages to the public, in conjunction with Waterwise.
● He is the independent chair of Water Label, a steering group working towards universally-understood labelling of products making clear how much water they use
● He also chairs the Biosphere Delivery Board, a group delivering environment projects in Brighton & Hove, and Future South, a public-private sector initiative backed by 11 local authorities which promotes green projects
● He has advised the Liberal Democrats on environmental policy, writing a section of the party's 'Green Book'.
Interview by James Brockett
Southern Water's recently concluded compulsory metering programme has made it something of a test case in the UK water industry where water efficiency measures are concerned. With over 90 per cent of customers now metered, and Southern putting significant funding into a water efficiency programme for AMP6, the rest of the sector is watching with interest to see how the south coast utility seeks to persuade its customers to reduce consumption, and how its customers respond to these efforts.
Reflecting the fact that it operates in a water-stressed area of the country, Southern has committed in AMP6 to achieving a reduction in its customers' water consumption from 148 litres to 133.7 litres per person per day, and has an outcome delivery incentive from Ofwat to match.
The man tasked with achieving this goal, Southern Water's Water Efficiency Manager Ben Earl, is clear that the metering programme has affected the way all its customers think about their water, but says that a more targeted approach is now required to reach those customers that require extra help.
"We know that 60% of our customers are better off after going on to a meter, and 40% are worse off," Earl tells WWT. "So the majority are better placed, but for that 40%, who in a lot of cases went on to the meter quite reluctantly, there is a real challenge. We need to come up with some tools to help those customers make a real difference to their family finances by careful management of water. We know that water isn't the highest on everyone's list of priorities - energy costs are higher - but when you factor in the fact that nearly a quarter of your energy bill is hot water usage at home, then water efficiency is very important."
Southern recently commissioned a study from environmental think tank Green Alliance showing that the average household can save £78 per year on water and energy bills by implementing simple water efficiency measures, such as fitting water-saving devices on showers and toilets and not overfilling the kettle. This might not be as much as can be saved by switching energy company, for example, but the important message for customers is that such changes are easy and need not make any difference to your life, says Earl.
"We are not asking people not to have a bath, or not to use water on their garden or anything like that," he says. "They can cut out the waste and still have everything they want in terms of how they manage their property. It is an appealing message, but it does take a bit of thought."
Earl dislikes the blanket approach of sending out free products in the post – the only products which they send out like this are save-a-flush bags for toilet cisterns, which are reasonably cheap – and instead uses tailored visits and advice, delivered with contract partner Aqualogic. These 'audits' are free for customers and the devices fitted are free as well; the personal touch ensures that the kit and the usage advice given are appropriate for that particular property. However, the key to delivering this strategy is to identify houses of high usage; not as easy as one might think, because water companies struggle to get hold of occupancy data.
"You could be looking at two houses, both with 40% above the average usage, but one might have two people living in it and one might have six people living in it," says Earl. "From our perspective, it's the one with two people that's likely to have showers and toilets that are using more water than they should. So it's about how you then get in front of that customer, have that conversation, so they see the need for a visit and then actually get into that home to do that. It's not the easiest of journeys, and you don't always get those customers by putting out wide appeals for them to come to you."
School and council partnerships
Partnerships with local authorities, particularly Brighton & Hove City Council and Eastleigh Borough Council, have allowed Southern to prioritise visits to social housing tenants, where savings can make the most difference financially to the customer. The University of Sussex has been engaged to carry out a specific study on the difference water saving can make to social tenants in Brighton & Hove.
In more affluent areas, where householders typically pay by direct debit and are less motivated by saving small amounts, alternative approaches have been tried, such as linking local water saving goals with attractive community projects and stressing environmental benefits.
Southern has also been targeting primary schools in this AMP period, auditing and retrofitting as many of them as possible, and providing a package of curriculum materials - accredited by the Eco-Schools initiative - for teachers to educate the youngsters about the water cycle and the importance of saving water. Earl is proud of their approach which has allowed them to reach many more schools than previously because it has required buy-in from teachers for the educational element - a 'we will if you will' approach.
Another innovation has been to incentivise developers to specify water-saving products in their new build properties by offering them a 50% discount on the company's infrastructure charge.
Competitive priorities
The efficiency programme is split into four areas - domestic, SMEs, schools and community, and with Southern already announcing that it will exit the non-domestic retail market with the onset of competition in 2017, there will inevitably need to be a "resetting of priorities" going forward, says Earl. So will competition be a help or a hindrance for water efficiency efforts in the water-stressed areas of the country?
"If you look at the Scottish market, water efficiency has been an important part of the package on offer to customers," he says. "The retail margin is so small that those taking part in the services want a bit more from the providers, and water efficiency is one of those services that has been latched on to. Clearly all businesses want to cut their cost base. What isn't clear at the moment is how the suite of different services will pan out, and whether any of the retail arms will make more of a name for themselves by doing things differently. I think it's a really good opportunity, but it remains to be seen through this period of substantial change and upheaval how much water efficiency remains on the wholesale agenda for the water companies."
Nevertheless, Earl is confident that Southern will be able to hit its efficiency targets, and in so doing, set a benchmark for what can be achieved by other water companies keen to build resilience by pursuing the same path of reducing consumption.