Interview: Alastair Moseley, Future Water Association
Alastair Moseley, water industry consultant and chair of the Future Water Association's Innovation and Development Group, talks to WWT about the association's Water Dragons competition and what it reveals about innovation in the sector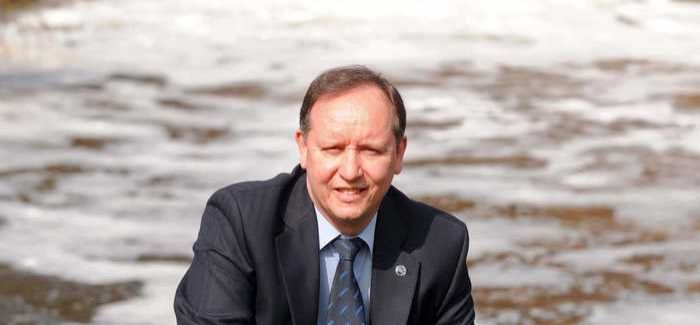 Alastair Moseley, chair of the Future Water Association's Innovation and Development Group
by James Brockett
It's not difficult to see why the television programme 'Dragon's Den' is a popular format: when those with innovative ideas and products get the chance to make their pitch to the people that matter, it can lead to some great business deals as well as being compelling viewing.
In the water sector, it has spawned an established imitator in the form of Future Water Association's 'Water Dragons' competition, the latest edition of which will be held at Utility Week Live in Birmingham on May 17-18.
Among the water company directors and experienced industry hands who will be acting as dragons on the day will be Alastair Moseley, consultant and past president of CIWEM who chairs the Innovation and Development Group for the Future Water Association. The value of such a competition, says Moseley, is that despite the priority that innovation now has in the sector, it is still relatively rare for innovators to get the chance to pitch their potentially game-changing technologies to figures who are senior enough to make a difference.
"The trouble is when pitching into a business, you are very often not pitching at the senior directors, you are talking to middle managers and people who have got day jobs to do," Moseley explains. "Often they just don't have the time to notice what it is you are bringing to them or to put it into place. Bringing new technology online is very hard work, and in the water company's world, time is limited; they are doing more work and have more targets than they've had before. But when you've got a senior director sitting in front of you, who can see that something could transform the operation and could instruct his team to bring it online, then the whole picture changes, doesn't it?"
Unlike Duncan Bannatyne and his television colleagues, the Water Dragons do not put their hand in their pockets to personally invest in any of the technologies pitched, but they are individuals who can wield significant purchasing power for their water company and act as advocates for an innovation in the wider industry. Previous entrants which have impressed Moseley have included technologies that use satellite imaging for spotting invasive species in the environment, a new type of lifting device for bringing pump sets out of wet wells, and a host of communication technologies that can give utilities speedy information about their assets.
While many Water Dragons participants have already had their products trialled by water companies, Moseley says that individual water companies insisting on their own trials is one of the major barriers to innovation in the industry.
"It's a huge obstacle. For the supplier company it's so frustrating: you get one approval come in, and then you have to go through a completely different set of hoops to get another one. It really does stifle take-up. No matter how different water companies are, if there is an advanced technology that helps to manage one company's water assets, by and large they'll all be able to use it.
"At the Future Water Association we are desperately trying to break down those barriers and look at ways of getting greater collaboration, not only between the supply chain and water companies, but between water companies themselves.
"What we really miss in this country is a standard testing house. We used to have this in the old days, when WRc was the Water Research Centre, and there's a real need to return to something like that to really get technologies to take off in this country properly."
Despite these barriers, there is a lot that innovators and would-be suppliers can do to help themselves and to give themselves the best chance of success. With this in mind, the Future Water Association has recently teamed up with the University of Sheffield's Sheffield Water Centre to provide training for supply chain companies on every aspect of bringing their products to market. Moseley says that many owners of water tech businesses could improve on the way they build a business case and harness financial information, as well as dusting up on more general presentation skills. Having a good idea that works is not enough, he stresses - you need to ensure that everything you say about the kit is linked to the needs of the water company, and that innovations make economic sense when they are scaled up across a large business.
Asked what advice he would give to potential Water Dragons entrants, he says: "My main advice would be that if you come up with an idea and you are excited about it, just reality check it first. Make sure there is a need for it, and also think about how much of that product might be needed: if water companies only want to buy one or two of them, that might be your business case gone. It's business cases that are the biggest failing, not understanding what the client actually needs to conduct his business over the five-year AMP and beyond."
Having worked for over 30 years in civil engineering and water & environmental management, leading major consultancy businesses and latterly his own consultancy H20 WEM, Moseley describes himself as a business development consultant for the water industry. Having worked for many years with water company and contractor clients, he has a good appreciation of their needs both in terms of networks and treatment. In addition to his work at Future Water Association, he is a fellow at CIWEM (where he was president between 2008-9) and is running a major water-focused youth education programme for them. With FWA, He is also helping to run a junior version of Water Dragons aimed at GCSE-level teenagers, which aims to promote water sector careers through mentoring.
"Over the years I've seen a lot," concludes Moseley. "I pride myself on being an observer who looks and learns, and is able to reflect that back to people in terms of critiquing what they are doing. And I encourage people to take ideas forward. Personally I'm all about encouragement - I'm a glass half full man."
- The Future Water Association's Water Dragons heat is one of the attractions taking place in the exhibition hall at Utility Week Live, Birmingham, May 17-18. For details see: www.utilityweeklive.co.uk