Intelligence is the key
Any advancement in actuation providing intelligence that pre-warns about potential problems will be embraced by the water industry. Ian Sully explains what is now available to operators and how the technology works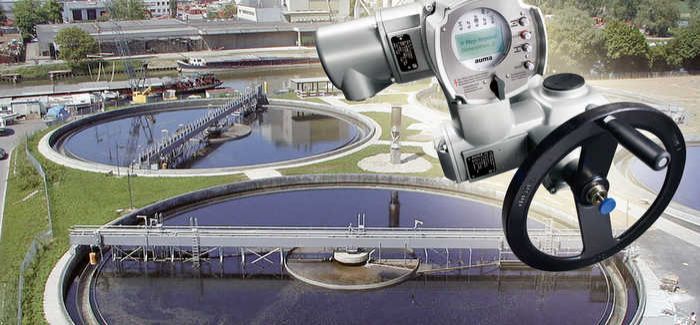 Advancements in actuation aid preventative maintenance in the water industry
Put simply, a plant's assets should be utilised to achieve best performance, and key to achieving this is preventative maintenance. Rather than retrospectively remedying problems, proactive diagnostics and systems are put in place to anticipate, address and prevent problems.
It is well established that the management of a plant's physical assets has a significant impact on the utility's operational performance. It is also understood that assets need to be maintained to maximise output, and this has been defined as asset management. The importance of the science is growing in the water industry. As one example, utilities are monitored by the Environment Agency (EA) for release of sewerage put into a river. If actuation technology fails and a valve stays open resulting in discharge, significant fines are levied.
Therefore, any advancement in actuation providing intelligence that pre-warns about potential problems will be embraced by the industry.
Historically, actuators have supplied very little data to contribute to the precautionary measures necessary for effective asset management. However, this is changing − increasingly, fieldbus systems have been used to provide a level of asset management. And, with the introduction of a new generation of actuation technology, actuators' role supporting asset management has been taken to a new level.
The issues of preventative measures, service life and maintenance were central in AUMA's development of its Generation .2 range. Key focus was placed on the integration of intelligent self-monitoring and diagnostic capabilities to enable targeted maintenance routines.
Self-monitoring enables the actuators to provide information about performance status in a manner exceeding data provided by conventional fault systems. The operator is informed in a timely manner about any potential problems. Previously, only basic signals were provided – today, actuation technology can supply detailed diagnostic information with 'maintenance required' indications.
Torque trending has also been addressed. The new generation of electric actuators provide two analogue output signals relating to valve position and torque required by the valve while the actuator cycles from open to close. Using this information, increases in operating torque can be identified and preventative maintenance carried out should significant increases be indicated.
Recognising that measurement is key to management, enhancements have been made to provide advanced recording capabilities including logging setting / switching procedures, alarms, faults and operation times in a time-stamped event report.
The first process undertaken by an actuator is setting the number of operating cycles produced before maintenance. Advancements in actuation mean the field device can be monitored, resulting in alerts that advise, after a specified number of operating hours, that maintenance is required.
Additionally, if the actuator is used for flow control regulating purposes, a flag can be set within the software. The actuator can only operate up to its maximum number of starts per hour and, if the control system gives commands in excess of design specification, an out of specification warning will be issued.
The diagnostic functionality described is already available. A further feature due for introduction, addresses instances when an actuator is on a valve that is vibrating. Using vibration sensor technology, the actuator will sense its operating environment is vibrating in excess of what the unit is designed to accept. A warning will be given to the control system and, importantly, the operator will be advised.
A second development which will support asset management, is a warning signal that will be issued if the internal temperature sensing in the gearbox starts to rise.
If this situation occurs, an alert will be given and the actuator can be stopped before the grease starts to break down due to high temperature.
Bluetooth connectivity also aids asset management. If a problem is encountered with an actuator on site, programming parameters for the actuator can be downloaded and emailed to the actuator supplier. The support team can then study the operating file, assess if there is a potential problem and, if changes are necessary, modify the file and email the customer who can download straight into the field device. This is a 'green' solution that is also highly responsive, enabling the actuator company to work remotely to help solve the on-site problem.
Practical assistance can also be given to plant operators by actuator manufacturers through referencing – at AUMA, key components are given unique numbers which aids both asset management and tracking.
As recognition grows within the water industry of the advantages of asset management, specialist departments have been established and the actuation industry is responding with sophisticated advancements. But this hasn't been an overnight initiative, the development has been a gradual iteration as microprocessors have been integrated into actuator/field device controls.
Acknowledged as essential in helping the plant achieve 'whole life optimisation', a groundswell of managers and operators in the water industry are giving serious consideration to asset management, including the contribution that can be made by electric actuators in the automation of essential valve processes.
Ian Sully is AUMA UK's sales and product specialist. www.auma.com