Innovative survey technology helps CWA pipeline project
A £10M project that saw CWA add a duplication main in North Lanarkshire involved the use of PureTech's PipeDiver technology to assess damage to the original main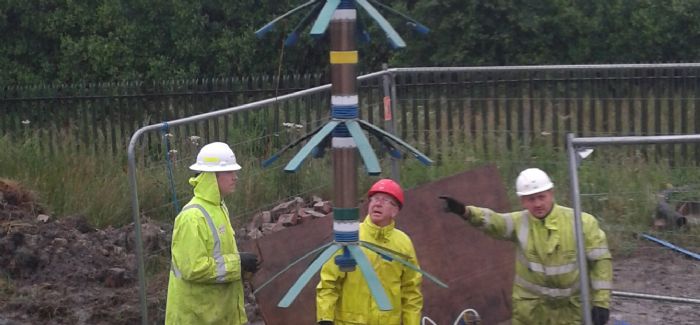 The team extract the PipeDiver following its survey
Caledonia Water Alliance (CWA), a joint venture between Morrison Utility Services and AECOM, has successfully delivered its first large-diameter pipeline project on behalf of Scottish Water.
At a cost of approximately £10M, the Dalmacoulter Resilience scheme in North Lanarkshire involved the design, construction and installation of a new 1,000mm-diameter High Performance Polyethylene (HPPE) water main that brings network resilience and improved continuity of supply to around 200,000 Scottish Water customers, running roughly from Cumbernauld to Airdrie.
The new main was designed to operate in tandem with an existing 42" (1,066mm)-diameter water main and involved highly complex connections into two existing operational assets.
"The need is for an alternative way to feed the area and so a duplication main has been built," Project Manager Graham Waley said. "This provides resilience in supply should the existing main need shutdown for maintenance or if there is an unplanned event."
He said the decision to use HPPE was down to its performance qualities in terms of surge, longevity and resistance to corrosion and was the most economical option, adding: "In this case, it's future-proofed for repairs and connections because shutdowns are possible on the dual main system."
The design, development and main works took place between June 2015 and May 2017; after the new main was up and running, work continued on the connection into the pump station, with the new main supplying the network.
The connections were a particularly complicated phase of the works, due largely to the restricted footprint of the existing operational sites and the existence of multiple live utilities below ground and routed across the site.
Once the dual water mains were installed and operational, CWA's project team undertook an inline structural integrity survey using PipeDiver technology, designed by PureTech, to profile the structural condition of the entire length of the original live iron main.
The PipeDiver solution is free-swimming and comprised of three parts – a battery module, electromagnetic module and a tracking module. The electromagnetic sensors are located on each fin and collect a magnetic signature for each pipe section to identify anomalies produced by distressed pipe sections. The data gathered can be used to highlight any damage that could compromise the structural integrity of the pipe, providing valuable baseline condition information for future asset management and targeted maintenance and repair intervention.
Many months of collaborative planning ensured that there would be no risk to supply for Scottish Water customers during the survey works. Research and modelling was undertaken into the risk points along the main such as passing through reduced bore (900mm diameter) butterfly valves and bends. An inline survey using PureTech's SmartBall technology was first undertaken to locate unknown fittings or connections, pipe joints and any leakage locations.
With the operational risks mitigated, calibrations were undertaken and a series of scans were completed where the PipeDiver was passed through the original iron main proving neutral buoyancy of the tool within the pipeline in the local potable water conditions.
Without the PipeDiver and SmartBall, Waley said, the "element of the project to intervene on the existing main would have required costly, and carbon-heavy, traditional construction and diversion works".
Going forward, he said those technologies could be used "wherever there is deemed to be a benefit to either early scope definition or to intervention definition later on".
He added: "PipeDiver and SmartBall allowed a data-based approach to be applied, which resulted in the main being found to be in good condition and a 'no-build' option could be considered. The deployment of the technology was a smooth process, but only after many months of planning, modelling and pre-investigation work."
With Scottish Water involved throughout, the CWA team was able to collaboratively plan the launch and retrieval methods to ensure no risk to supply for Scottish Water customers during the survey works. CWA's design and construction approach incorporated the planning of complex connection and commissioning works under the new main construction – knowledge that was applied to the integrity survey planning.
The survey results were compared with as-laid drawings from the pump station upgrades in the 1970s. This meant that isolated pockets of pipe degradation could be correlated with pump station alterations that took place around 45 years ago. Calibrated surge modelling helped to confirm the pump station alterations as a root cause contributor to one of the failed pipe sticks.
Waley said: "Preliminary results indicated that only two of approximately 1,100 pipe sections showed notable deterioration requiring further assessment, and the survey data gathered will enable more targeted intervention for maintenance and repair requirements. This 'no-build' option represents a saving of around £800,000 and the process has provided Scottish Water with baseline condition information on the existing main for future asset management. Thanks go to all those who have had input to the project to date for their efforts in successfully delivering the first of CWA's large-diameter pipeline projects into supply."
The survey involved onsite personnel from across the supply chain including CWA, WRc and Scottish Water. Personnel on the ground were drawn from the US, Canada, Mexico, Scotland, England and Ireland – all of which required significant coordination.
CWA Chief Operating Officer Peter Carolan said: "As the first large-diameter project to be completed on behalf of Scottish Water, the Dalmacoulter Resilience scheme was something of a landmark for the CWA. Innovation and collaborative planning with Scottish Water asset planners and operational staff and strong stakeholder engagement all played a key role in the delivery of this Scottish Water investment that will provide its customers in this region of North Lanarkshire with improved network resilience and security of supply."
CWA is working on a number of projects relating to the Scottish Water's large-diameter trunk mains, and the intelligence and experience gathered from this project is already being carried forward to future projects.
"Our delivery of the large-diameter mains programme for Scottish Water is giving CWA the opportunity to champion the use of innovative technologies, such as PipeDiver," David Sanderson, Head of Major Projects for CWA, said. "This enables true-risk-based decision making, which not only reduces current project cost but also makes a significant contribution to future investment and business planning."