Innovation Zone: Waterfall out to make a splash
Fitted near a building's stopcock and supplying cloud-based, accessible information about water use, an 'intelligent water solution' developed through a partnership between SES Water and Creative EC could offer the key to unlocking some of the industry's biggest challenges.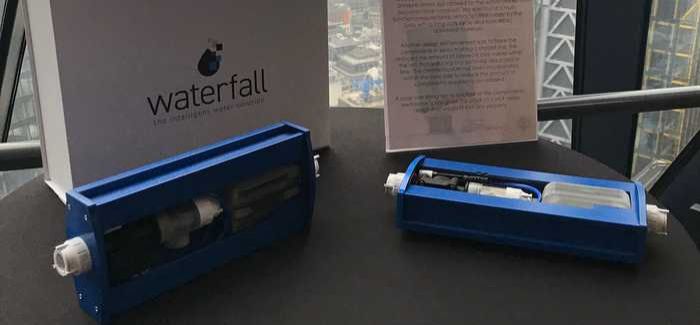 The device has been developed by Creative EC in partnership with SES Water
by Robin Hackett
If the smart meter revolution has yet to take hold of the UK water sector, SES Water and Creative EC are hopeful that Waterfall is the intelligent solution the industry has been waiting for.

Their cloud-based device has been developed collaboratively with the aim of providing answers to major challenges including leakage, consumption and network management.
"There's nothing like this out there at the moment," Jeremy Heath, innovation manager at SES Water, says. "This is a game-changing technology for the industry."
Waterfall shares many features with the latest smart water meter technology but is already capable of delivering more, and the team are still trying to open up every avenue to understand its full potential.
The device is installed next to a premises' stopcock and incorporates a Titan ultrasonic flow meter; it collects data such as temperature, pressure and flow and makes use of machine learning, AI and data analytics to deliver insights via the cloud.
The system develops 'signatures' that can identify the source of water use – the kitchen tap or upstairs toilet, for example – and can relay that information, along with the exact amount of water used, almost instantly via an app.
Customers can view their consumption data over the course of a day or longer periods of time to gain an understanding of which particular aspects of their water use are driving up their bills, with usage levels and monetary values given against each water source, opening up the possibility to provide 'nudges'.
If the data indicates a minor leak – and its machine-learned signatures are designed to distinguish leakage from water use with similar profiles, such as loft tanks refilling – it will alert the customer and offer an indication of the potential cost if they fail to rectify the issue. Significantly, it also gives the user the ability to shut the water off at the mains via the app, preventing serious water damage.
The partnership between SES Water and Creative EC emerged after Heath began talking at conferences about how there was a gap in the market for suppliers of sensors, comms and data solutions to help create a smarter water network.
He was contacted in May 2017 by Phil Riddles, Creative EC's Internet of Things business development manager, with an e-mail that sparked his interest.
"Phil basically spelled out what he was working on, and at that stage it was very much about a valve and a meter and combining them," Heath adds. "I realised it was really interesting – your mind starts to race as you think of all the possibilities.
"As time went by, my interest grew and grew. As I started to talk to others at SES Water, like our leakage manager and water resources manager, the interest just went up and up and up and up."
The two parties worked collaboratively to develop the product, with Heath articulating the problems facing the water industry and Creative EC working on solutions.
"When the problem within the water industry was articulated, our response was: 'We can solve that'," Keith Ali, Creative EC managing director and co-owner, says. "All we've got to do is think cleverly and use the technology, use the opportunity that we have in front of us with regard to our skills and knowledge around innovation, technology, AI, machine learning.
"It's just snowballed into trying to solve as many of the challenges that the water companies have as possible."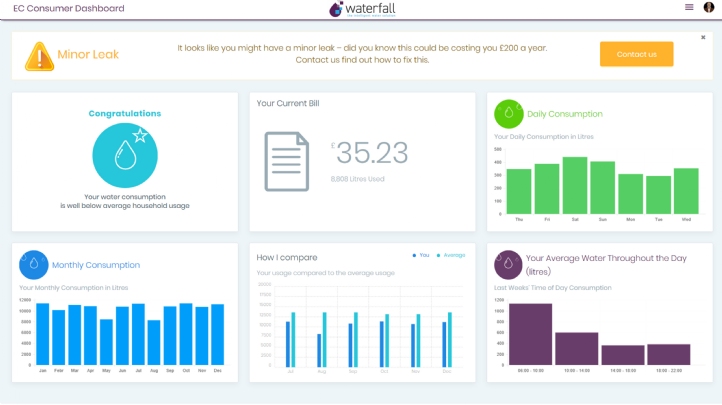 Waterfall's interface is easily understood and provides prompts for customers
In November last year, Creative EC employees volunteered to have the trial devices installed in their homes to test their effectiveness in a live setting for the first time. The testing has proved successful and, at a special event at The Gherkin in London on 24 January, SES Water and Creative EC presented a live stream from one of those pilot installations to show the product in action. Representatives from water companies all around Britain were invited to the event and tasked with identifying as yet unidentified uses for the technology.
"In the water industry, I cannot recall any time when we've got so many different companies together to discuss potential solutions to a problem and how can we build this solution together," Heath says. "People picked up on so many use cases with the sensor technology we've got at the moment."
Creative EC's Riddles adds: "People in the workshops looked at the existing sensors and how they could be combined to give additional insights into the water network, for example measuring water temperature to warn customers of the potential for a freeze event. There was also discussion about other sensors, eg water conductivity, that could be added wirelessly in future to provide additional information."
Waterfall was developed in collaboration with the home insurance industry, who are looking for innovative products that will prevent water damage to properties, and are willing to reduce premiums for properties with such devices. With Waterfall's ability to allow customers to shut off supply in the case of significant leaks – as well as freeze-thaw events – it is easy to see the appeal for the insurance industry, which pays out an estimated £2.5 million every day across Britain to rectify water-damaged properties.
Over the coming months, the team will work to establish a more comprehensive library of signatures and look into tweaks to the product before making it available for wider use.
"For the three months we've been piloting it, we've not had a single issue," Ali says. "The actual device itself has exceeded our expectations, but it's been an incredible learning process in terms of what you do with the data, working out what we want to see and being able to provide it in a way that's useful for the water companies and the customers."
While there is still work to be done to explore the potential benefits, Heath is confident that it is already capable of making a major impact.
"At the very least, it will transform our networks and our understanding of data with the pressure information and the insight on customers," says Heath. "At the very most, you will potentially change customer behaviour throughout the country, and wasting precious water will become as socially unacceptable as smoking in a pub.
"People will no longer boast about how powerful their shower is – they will want to hide it, because they will suddenly be aware of how much water is pouring down the drain. This is the moment where suddenly a customer understands how much a shower uses and its relationship with their water bill, their energy use and their carbon footprint. That's game-changing."
-This article appears in the March 2019 issue of WWT magazine.