Innovation Zone: UIS Transmatic Coiled Pipe Pushing Trailer
In the first in a WWT series examining innovative technology, we look at a pipe-pushing coiled trailer that can speed up trenchless tasks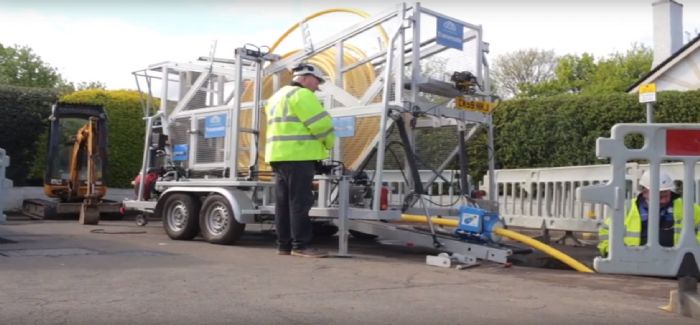 The Transmatic incorporates a pipe pusher and comes with its own power source
What is it?
The Transmatic, made by Utility Innovations Solutions (UIS) is a coil trailer that can transport up to 500m length of polyethylene (PE) pipe and feed it into place using built-in 'Pipe Pusher' technology. It is ideal for the speedy insertion of pipes through a narrow opening, for example, when using a trenchless technique to rehabilitate an old or damaged water main.
What's innovative about it?
It's the first trailer to incorporate a pipe pusher, replacing the need for a separate pushing device, and it comes with its own power source. All operating parts are covered by appropriate safety guards, so set-up time is minimised: the trailer can be parked, positioned and ready to insert pipe in under a minute. It is able to hold pipes from a diameter of 40mm up to 125mm, and the pushing action can also be set into reverse to re-coil the pipe for further use. The trailer is self-anchored so does not need to be connected to another vehicle during operation.
What benefits does it bring?
By making the insertion of pipes by trenchless means quicker and easier, the equipment replaces the need for potentially expensive digging, involving significant labour and the hire of excavators; it allows insertion to be completed at lower cost of time and labour while ensuring safety by keeping operatives away from moving parts and the need to work in confined spaces.
How was it developed?
The Transmatic was invented three years ago by Cheshire-based UIS, and followed the development of the UIS Pipe Pusher, which is also marketed by the company as a stand-alone product. Recognising that the Transmatic was a clear improvement on coil trailers that are in existing use, SBWWI (now the Future Water Association) awarded it the Water Dragons Best Innovation Award in 2014.
Who is using it at the moment?
Severn Trent, Anglian Water and Balfour Beatty are among the big name companies to have used the Transmatic on a trial basis, and Thames Water has also recently announced a trial. Several large companies in the gas sector are already using it.
What associated technologies are available?
In addition to the Transmatic and the Pipe Pusher, UIS's other products include the Click Stick (a mechanical solution for breaking in-situ cast iron pipes), Pipe Handler (an attachment for the safe handling of large diameter pipes and ductings), and the PE Pipe Recoiler, (static equipment for recoiling and storing PE pipes). Info: www.uisltd.co.uk
Future Water Association will be holding a heat of next year's 'Water Dragons' competition for innovative technologies at Utility Week Live, Birmingham, 17th-18th May 2016. Enter before 1st Feb 2016. Details of how to enter can be found at: www.futurewaterassociation.com/events