Innovation Zone: Reducing supply interruptions
Supply interruptions are one of the biggest sources of frustration for customers, but there are solutions that can help tackle the problem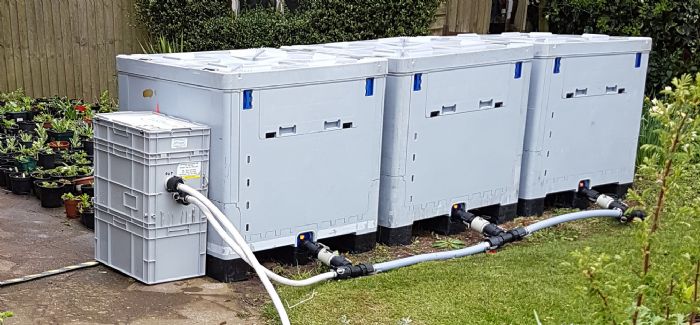 A long-standing supply deployment for houses in Cheshire of Arlington's Always in Supply system
By Robin Hackett
While previous Innovation Zone features have examined solutions that can help detect, predict and reduce leaks and bursts, water companies must also have solutions in place to minimise disruption caused by supply being interrupted, either through emergencies or for planned works.
Ofwat's common performance commitments for PR19 include reducing the number of supply interruptions greater than three hours.
Here we assess some of the options available to keep supplies running as well as to speed up repair work.
Overland Supply Service (Aquam)
Aquam offers vehicles that each contain all the equipment required to restore drinking water to households. Though originally planned for emergency situations, the system can also be used during scheduled repair work to prevent loss of service.
A single Overland Supply Vehicle (OSV) will contain all the hoses, fittings, tools and equipment necessary to build a bespoke water network for 24 houses, as well as the signage, barriers and ramps required for streetworks legislation.
Each vehicle is manned by two trained technicians and features an Overland Supply Manifold (OSM), which becomes the hub of the temporary network. The OSM – the section onto which smaller pipes are connected – is a solid machine-cut nylon device, designed to be significantly more adaptable and robust than traditional manifolds. The OSVs also contain pressure-reducing valves, which can be used to help ensure supply is safe and stable, while water meters can be fitted to measure usage and avoid it being classed as 'unaccounted for'.
Designed by Roman Boryslawskyj, a former Yorkshire Water operations manager in water supply and networks, the Overland Supply Service was developed to ensure companies could keep disruption to a minimum amid growing regulatory pressure to keep customers happy.
Alternative and Emergency Drinking Water Supply Equipment (Arlington Water)
This flexible, modular system can be used to address both planned and unplanned events and includes as standard the Arlington Emergency Water Tank (AEWT) – a 1,000-litre capacity water supply tank – as well as the Always in Supply (AiS) variable speed, digitally controlled pumping unit.
The AiS, developed in conjunction with Thames Water and is now in widespread use by a number of UK water companies, is able to pressurise almost any section of isolated pipework and can be used to deliver water in a range of situations from individual properties to entire housing estates, factories and villages, as well as being used to boost low-pressure areas.
The AEWTs can either be used on their own as gravity-fed static tanks or in conjunction with the AiS. Known as 'bag-in-box' tanks, AEWTs feature DWI-approved liner bags, which are replaced for each deployment, minimising cleaning requirements. The tanks can be filled from a hydrant, boundary box or stopcock in the case of a planned interruptions, from tankers or delivered full to site in the case of emergencies. Tests have shown that the water quality is maintained within the AEWT for well over a month, although utility company internal deployment standards will probably apply.
The basic AiS system – which includes the pump, tanks and the required power sources – can be brought to site in a single van, but its modular nature means it can be made significantly larger if required, with the AEWTs able to be stacked five high.
In addition, Bluetooth connectivity in the AIS units means they can coordinate across a large area, with several infusion points set up on a single area of network, which allows the units to work as a single system to maintain the desired flow and pressure.
Pipe Puller (Kobus)
The Pipe Puller system offers a means of replacing water or gas supply pipe with minimal disruption. Kobus says it can be used to replace water supply pipes in 25 per cent of the time of traditional methods, and that the whole process can be completed in as little as one or two hours under suitable conditions.
The Pipe Puller requires two excavation holes no larger than 12" by 12" to winch the old pipe out while at the same time pulling through a new service pipe. It works by feeding a calibrated steel cable through the pipe to be removed, which is filled with a special locking solution, KOBITE, forming a composite rope with the lead pipe. The cable is attached to the new MDPE pipe and, as the old pipe is pulled out, the new pipe replaces it.
Pipe Puller can be used to replace lengths up to 25m in a single pull, with diameters up to 1-1/4", but the system features a computer that calculates the viability of each operation once key data – pipe length, outer diameter and soil shear strength – is entered.
The Pipe Puller system itself is not new but the Integrated 400 Series version of the technology – originally developed for the replacement of gas services and available as of August – has recently been successfully trialled for use on water service pipes. The 400 series machine operates from a mini-excavator and is powered by the auxiliary hydraulics of the excavator itself, while the 300 series uses its own hydraulic power pack.
Leica DD SMART utility locator series (Leica Geosystems)
The Leica DD SMART utility locator series, signal transmitters and DX Shield software work as a system to improve detection and mapping of utilities.
The DD220 Smart and DD230 Smart locators use digital signal processing to detect utilities and underground assets deeper, faster and more accurately, potentially saving valuable time on repair work.
The devices feature on-board locate alerts, an automatic locate process and video support to help reduce time spent locating buried utilities and prevent damage.
The locators – which include Bluetooth to connect to field controllers and mobile devices – can be used alongside the DX Manager Shield software to provide reports showing an overview of where and when the locators have been used.
"We developed the new DD SMART utility locator series with the latest digital signal processing technology so users can identify the smallest utility signals, even in congested areas, in an intuitive and automated way," Andrew Allen, product manager at Leica Geosystems, said.
"Paired with DX Shield software solution, users of DD SMART utility locators have an overview of where, when and how their detection tools have been used, demonstrating compliance, managing competence, and helping users to protect their staff, assets and reputation."
DD220 Smart offers depth estimation up to 7 metres, while the DD230 Smart – which provides additional tracing frequencies – offers up to 10 metres.