Innovation Zone: Protect against sewer flooding
At a time when building flood resilience is a national priority, innovative technologies can help keep sewer flooding under control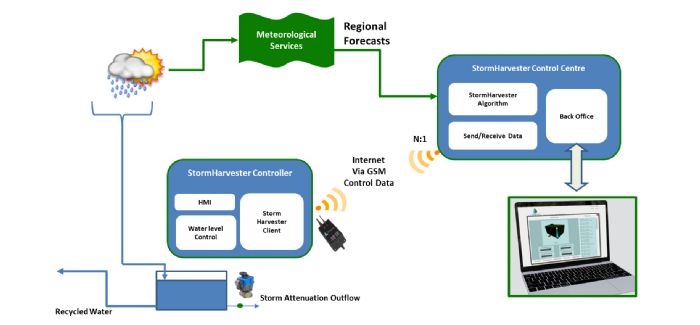 This diagram shows how the StormHarvester system works
The rise in extreme rainfall events, in addition to challenges around sewer capacity, leaves the water and sewerage companies with a sizeable task in preventing sewer flooding.
Ofwat's 14 common performance commitments for PR19 include both reducing the number of internal sewer flooding incidents per year (Goal 7) and protecting against floods (Goal 10), a risk-based resilience metric for wastewater measuring the potential for sewer flooding in a storm.
Here, we've picked out a selection of solutions that can help keep things in check.
StormHarvester (StormHarvester)
StormHarvester's forecast control system allows optimisation of large drainage networks at a fraction of the cost of large capital infrastructural upgrades. Essentially, it controls water and wastewater levels within drainage networks based on rainfall forecasts by the operation of valves, pump sets and floodgates.
The system, which is being trialled by some of the UK's leading water companies, uses machine learning to analyse live and historic short-term radar rainfall forecasts and site information to predict future network performance at specific pumping stations and CSOs within the network. Once predictions of future network performance are made, the system can control pump sets to optimise network performance and reduce flooding and pollution.
StormHarvester can reduce CSO spillages as well as energy usage and enables more accurate predictions on likely flooding and pollution incidents while identifying pump failures and network blockages in real time.
StormHarvester can also be used with the rainwater tanks used for flood prevention in new commercial, industrial and residential developments. The active attenuation system determines levels in the tanks and, using the forecast control system, can empty as much water as is required to create capacity for heavy rainfall events; at other times, it maximises the amount of water that is retained to allow it to be recycled for various uses such as flushing toilets, washing floors and washing vehicles.
SMART Sewer (Environmental Monitoring Solutions Ltd)
SMART Sewer is used to detect the development of sewer blockages before they lead to flooding events, using wireless-communication-enabled level monitors, an AI-based analysis engine and a web-hosted dashboard.
Based on level data from key points within the wastewater network, a Fuzzy Logic algorithm is used to assess the presence of any developing blockages.
The system, which can differentiate between rainfall events and blockage formation, is designed to be low power, low maintenance and low cost and is intended primarily for use in known risk areas of the network. SMART Sewer can also be used for the optimisation of sewer cleaning programmes, and is an example of the growing presence of smart technology in wastewater networks.
BDT (Radio Data Networks Limited)
The BDT is a wireless sewer-level alarm device designed for simplicity, reliability, durability and adaptability, eliminating the need for software and programming in the field.
The technology moves away from the convention of measuring sewer level using ultrasonic level transducer and GSM for communications, which – due to battery constraints – had only been able to provide measurements at 15-minute intervals and upload the data daily.
As an ultra-low power dielectric contact probe, the BDT can both measure levels and transmit the data every 2.5 seconds while still offering a 10-year battery life. As such, it can provide warnings over high levels in real-time so that, in addition to offering a sewer blockage alarm system, it can also be used for real-time control projects.
The BDT is capable of communicating to local gateways that can convert the high/low level readings into relay contacts for interface to existing telemetry/SCADA. BDT data has been successfully collected via satellites, permitting monitoring even in areas devoid of cellular coverage or power.
CENTAUR (EU Horizon 2020 project)
Described as an intelligent autonomous system for local flood risk reduction, CENTAUR boosts capacity within the existing sewer network through 'virtual storage', using a gate to control the flow.
It is designed to make use of the existing storage capacity within a wastewater network: when the level rises at the area intended for protection, the gate will modulate upstream to utilise the storage further up the network.
It involves the installation of transducers at key points within the sewer network to monitor water levels and communicate that information to modules placed on lampposts or in manholes, over a radio protocol.
The modules then communicate with a central hub, which uses Fuzzy Logic-based artificial intelligence to control when and to what extent a gate installed within the network should allow water to pass through.
It is designed to be used in conjunction with other flood mitigation measures, such as sustainable drainage systems, to maximise benefits.
Intellistorm (Waterscan)
Created for use by developers, Waterscan's Intellistorm system combines water efficiency with the potential to significantly reduce discharge to drain. It offers rainwater harvesting, attenuation and intelligent data gathering so that sites can maximise water reuse, collecting rainwater for non-potable applications, as well as reducing the load on surface water sewers.
The system will actively discharge supplies in accordance with weather forecast data to create the specific amount of storage space required to receive the incoming rainwater.
"Designed to enhance flood resilience while reducing water consumption, this attitude-changing technology is a major step forward in alleviating issues surrounding the widespread uptake of water reuse systems," Barry Millar, operations director at Waterscan, said. "By combining rainwater harvesting and attenuation systems and using intelligent data, we can offer considerable savings and environmental benefits."
6" Buffalo Valve (The Flood Company)
The 6" Buffalo Valve, which can be retrofitted to any clay or plastic 150mm/6" pipe, offers protection against sewage back water, vermin and insects to commercial and residential properties.
The valve, which follows the award-winning 4" version, includes a steel reinforced plate to guard against pests such as rats and a lockable flap to allow for essential maintenance.
Hydro-Brake (Hydro International)
The Hydro-Brake series offers surface water, fluvial, foul/combined water and sewer network flow control. Its internal geometry allows water to flow through without restriction under normal circumstances but, once the water reaches a predetermined head, a self-activating vortex is triggered.
Initially launched in the 1980s, in recent years the series has grown to include four products: the original Hydro-Brake Flood, which provides large-scale protection at the watercourse level; Hydro-Brake Optimum, which manages low, moderate and high flows to deliver sustainable drainage from single sites to large networks; Hydro-Brake Agile, which reduces upstream storage and manages flood risk at sites with stringent discharge consents; and Hydro-Brake Orifice, which manages moderate flows and delivers sustainable drainage at site and development level.
Severn Trent used the Optimum for a project in a Leicestershire village that was seeing increased stormwater runoff from new developments nearby. The company designed a 310m3 stormwater facility that used the vortex flow control device – which was designed at 183mm to meet the site's needs – to regulate flow, ensuring a maximum discharge of 40 litres/second to the local watercourse treatment works.
Hydro describes the Optimum, which requires no power and has no moving parts, as self-cleansing and virtually maintenance-free.
The Agile, launched in 2015, uses a float-arm-operated gate to control flow and is designed for engineers, developers, planners and water companies to achieve efficient surface or foul water attenuation. It offers a constant rate of discharge, minimising upstream storage volumes, and is ideally suited to applications with constrained discharge requirements or where the flood storage area available through attenuation is very limited.
This article originally appeared in the October issue of WWT magazine