Innovation Zone: Pesticide protection
Metaldehyde cannot be removed effectively with standard drinking water treatment processes, but there are technologies that have the ability to treat the problematic pesticide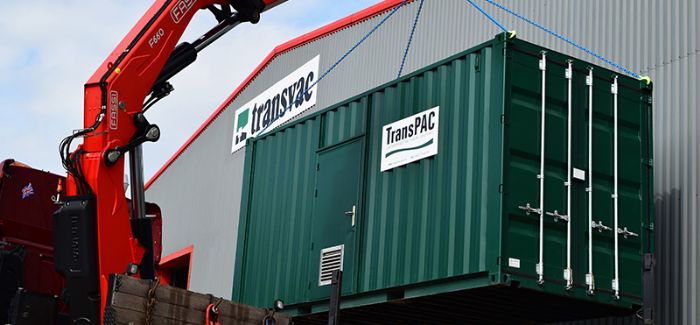 With the European Drinking Water Directive (DWD) limiting individual pesticide levels to 0.1μg/l and total pesticides to 0.5µg/L, water companies face a difficult task in controlling hard-to-treat pesticides such as metaldehyde.
Many water companies have been working to reduce the prevalence of the chemical, which is used for slug control, through catchment management approaches, and they may also use controlled abstraction processes whereby an affected raw water source is taken out of use when pesticides are detected.
Even so, treatment can at times be the only option, but metaldehyde is not removed effectively by standard drinking water treatment processes such as chlorination and ozonation. Granular activated carbon (GAC) can be used, but the GAC beds require regular regeneration to do so. Here, we detail some of the systems that may be used to address the issue.
TransPAC (Transvac Systems)
Powdered activated carbon (PAC) can be used to adsorb most pesticides, including metaldehyde, without the operational issues associated with GAC. Transvac's TransPAC system is a fully containerised PAC dosing system that can be taken from site to site to treat issues as they arise, such as metaldehyde, algae bloom or taste and odour problems, with no requirement to involve M&E contractors.
The system, which is custom-designed and comes with bulk-bag and silo feed options as standard, also features an HMI control panel so that the PAC dosing system can be adjusted to match the works flow.
It has been created with the ambition to be hassle-free and low-maintenance, and its once-through inline dosing means there are no batch mixing tanks, while it flushes the lines clean on shut-down.
The technology inside the secure container includes an intermediate hopper, 800-litre header tank, HMI control panel and Ejector dosing system.
Actiflo Carb (Veolia)
While the technology has been in use for around a decade, Veolia recently announced that – in a global first – it is to use its Actiflo Carb technology for the specific purpose of metaldehyde removal at an Affinity Water treatment plant after successful trials with the utility.
Actiflo Carb combines the fast flocculation and sedimentation performance of Veolia's Actiflo high-rate clarifier with the adsorption capacity of powdered activated carbon. The process sees the raw water initially entering the PAC contact tank to adsorb pollutants resistant to chemical clarification before going through coagulation, flocculation and sedimentation basins. A recirculation circuit with a specific hydrocyclone recovers clean microsand, returns the PAC to the contact tank and purges excess sludge from the process.
Where used for drinking water, it treats non-organic matter resistant to clarification, pesticides, emerging micropollutants and micro-algae, as well as flavours and odours.
There is also the option – depending on raw water composition and treatment objectives – to use the Actiflo Twin Carb: a dual-stage treatment involving an Actiflo clarification stage followed by an Actiflo Carb refinement stage. The Twin Carb version can cut total organic carbon (TOC) from 15 mg/l in the raw water to less than 2 mg/l in the treated water.
The Affinity treatment works will use prefabricated Actiflo AS5 Carb and Multiflo MS1 FE lamella thickener technologies together with Actisand and PAC and dosing equipment to treat the metaldehyde at one of the boreholes from which the plant abstracts water.
Nyex (Arvia Technology)
The Nyex treatment system is used to reduce hard-to-treat organics, micropollutants and colour from water and wastewater streams. The containerised units can be scaled to the application required, and Arvia has already reported successful results in removing micropollutants including metaldehyde to below 0.1µg/L.
As well as drinking water treatment, Nyex has various other uses. For example, it can be added to the process train of a municipal wastewater treatment works to carry out a tertiary stage prior to discharge to the environment, or sited at a pesticide manufacturing plant to capture residues before they are released within effluent discharged to surface water.
It is designed to combine the advantages of adsorption and oxidation within a single unit – water flows from the top of the unit through a bed of Nyex media. Contaminant organics are adsorbed onto the Nyex surface and a low voltage electric current is passed through, causing the adsorbed organics to be oxidised. Treated water flows from the bottom of the unit where it can either be safely used, re-used in-process or discharged to the environment.
As it targets the organic rather than the entire body of water, treatment cost is proportional to the organic load.
After Anglian Water established Nyex's effectiveness in removing several trace substances from wastewater final effluent in trials, Scottish Water this year undertook the world's first long-term trial of the technology on drinking water at a specially established pilot plant in West Lothian, seeking to assess the effectiveness of the system in removing organic material from raw water. Bench trials have shown the Arvia system could remove 68 per cent of organic material from water.
CarboPlus (Saur)
Specifically developed to address pesticide issues, CarboPlus is an activated carbon treatment process for a broad range of micropollutants including metaldehyde, as well as precursors to trihalomethane (THM) and pharmaceuticals. It is a compact system that is located upstream of the final filtration stage and integrated into new or existing treatment units.
The water is placed in contact with a large quantity of carbon, with new carbon regularly added in low quantities under a principle of continuous renewal, and the system's reactor separates the water and carbon using gravity, with the treated water exiting via ducts at the top.
As well as a powdered activated carbon option that uses a small amount of polymer and Ferric chloride, CarboPlus can also be used with microgranular activated carbon, which requires no chemicals at all.
Based on technology that was originally patented in 1995, CarboPlus is in use within industrial, wastewater as well as drinking water systems and has been adopted in over 20 different sites in France.