Innovation Zone: Landia GasMix
This month, we look at a mixing system for anaerobic digesters which improves the efficiency of biogas production while being easier to maintain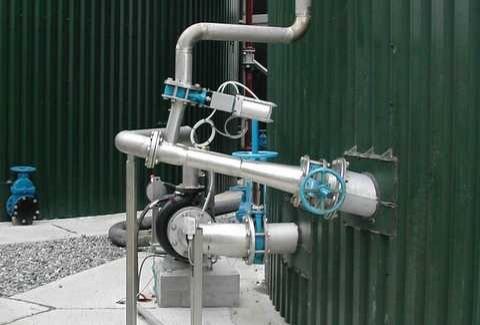 The Landia GasMix fits on the outside of the digester
What is it?
Landia GasMix is a mixing system for use in anaerobic digestion (AD) plants, which fits onto the outside of the digesters. By ensuring that the contents of the digester are well circulated, it boosts biogas production and reduces the maintenance burden associated with these assets.
How does it work?
The system employs an externally-mounted chopper pump which draws thick liquid from the bottom of the tank and chops up any solids. This liquid is then mixed with biogas aspirated from the top of the tank, and reinserted into the tank's upper half. A second stage of the mixing process then sees liquid injected into the lower half, meaning liquid and gas continue to circulate throughout the whole digester.
What's innovative about it?
Traditionally the mixing function has been performed by mechanical moving parts inside the digester. Because all of the components of the Landia GasMix are located outside the tank, there is no need to open or enter the tank to service the system.
What benefits does it bring?
The heightened efficiency of the system can increase the yield of biogas by around 11% compared to mechanical methods; it also uses less power. In terms of maintenance, the system takes around an hour and half for a six-monthly service, compared to eight hours for in-tank mixers: since this does not involve emptying and entering the digester, it is a simpler and cheaper process, not requiring the use of specialist equipment, and is better from a health and safety perspective.
Who is using it at the moment?
Since the first prototype was installed in 2011, it has been used in continental Europe, China, Australia and the USA, predominantly in AD plants with food waste and agricultural feedstocks. The first municipal wastewater plant in the British Isles to use it was Irish Water's Tullamore WWTW, which installed it in 2014; this application was nominated for the 'Innovation in Sewage Treatment Through AD' award at the recent UK AD & Biogas awards, organised by the Anaerobic Digestion and Bioresources Association (ADBA).
What difference could it make?
Many anaerobic digesters owned by UK wastewater utilities are poorly maintained and therefore inefficient. With the coming deregulation of the sludge market expected to sharpen the focus on the efficiency of sludge treatment, equipment such as the GasMix could help utilities to keep their digesters in good condition and operating efficiently, while placing a lower maintenance burden on the workforce operating them.
What associated technologies are available?
Danish company Landia is perhaps best known for its chopper pumps, which it has produced and developed since the 1950s, but it markets a wide range of pumps, mixers and aerators to customers across the globe.