Innovation Zone: Inline leak detection
In the first in a new series of innovation specials, we take a look at inline leak detection - small hi-tech robotic devices which can enter pipes to locate leaks and other potential issues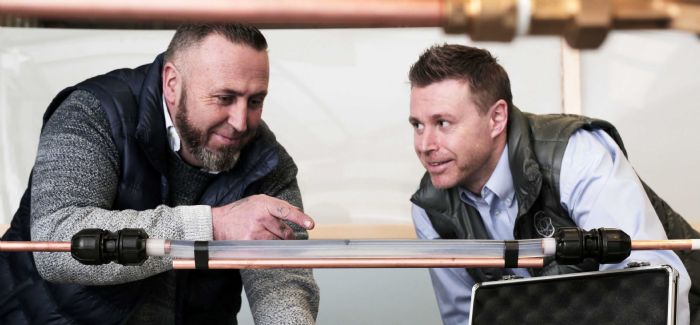 Qinov8's Michael and Mark Quinn demonstrate the AquaPea system
Leakage is a major issue for water suppliers throughout the world, particularly for those in water-stressed areas. In Britain, there are numerous methods of detection in current use, including listening tubes, drones, satellites, sniffer dogs, acoustic logging devices and smart meters.
For leak detection surveys, though, inline devices may well be the future. By travelling through the pipeline, they can pinpoint leaks – and sometimes even areas of the pipe that are vulnerable to leakage – and there is the potential to provide video footage and additional sensors to detect and locate impurities.
Here, we take a look at in-pipe leakage detection systems present and future.
SmartBall (Pure Technologies)
Southern Water is currently trialling Pure Technologies' SmartBall, a bowling ball-shaped device that can be used to tackle leaks in both water and wastewater.
A foam casing houses an acoustic sensor that can detect variations in flow in a pipe, with signals sent to monitoring devices that are installed along the pipeline prior to its journey. The SmartBall is propelled by the water pressure, travelling through pipes for up to 12 hours, with preliminary leak locations provided 48 hours after the inspection. The device requires a minimum pipe diameter of 250mm, and does not disrupt pipeline operation.
SmartBall, which has been in use for several years and was originally developed for the oil and gas industry, also contains an accelerometer and gyroscope - which track the movement of the ball and can be used for pipeline mapping - and a magnetometer, which measures the magnetic field coming off the pipe wall that can be used to find features in the pipeline including joints.
The device offers typical leak location accuracy of around 1-2m and has detected leaks as small as 0.11 litres/min in optimal conditions. It can be inserted through a variety of means due to its flexible foam exterior, ranging from hydrants and 4-inch (100m) taps to reservoirs.
PipeDiver (Pure Technologies)
Pure also offers the PipeDiver, which is used for water and wastewater pipelines with a diameter of 300mm to 3,000mm and consists of a navigation-aid battery module, a tracking module and an electromagnetic sensor module. Its 'fins' help to centre it and propel it along, and their flexibility mean it can navigate most butterfly valves, bends and tees.
The sensors on each fin create electromagnetic fields that interact with the pipe wall and collect a magnetic signature for each section of the pipe, providing comprehensive data on areas of damage. It is also equipped with cameras, which help provide further help in condition assessment. All the data is then downloaded and assessed by the company's analysts on behalf of the clients.
PipeDiver can pinpoint areas of distress within the pipeline: for pre-stressed concrete pipes, it can identify and locate broken wire breaks, while for metallic pipes, it can locate and detect areas of corrosion and cylinder defects. There are also multiple methods of insertion and extraction, requiring a 12-inch (304mm) access. The technology was first used in the UK by Scottish Water in 2015 and, like SmartBall, does not disrupt operation of the pipe.
AquaNav (Qinov8)
Qinov8 has announced that it is in talks with all the major UK water suppliers, including Southern Water, Affinity Water, Thames Water, Welsh Water and Yorkshire Water, as well as international companies for its new leak detection technologies.
Its AquaNav system is used inside large plastic water mains and features a transmitter enclosed in a buoyant spherical carrier around the size of a tennis ball. It freeflows through the pipe, drawn by the force of the escaping water, as an above-ground operator follows AquaNav at walking pace with a handheld receiver.
Once the AquaNav reaches the source of the leak, the device is drawn to and plugs the hole; as there is then no moving water, it is held in place and sends a signal to the receiver to notify the operator. The AquaNav, which can be inserted and extracted via hydrants, can identify leaks as small as as 20 litres/min and provides a location within 2ft (0.6m). It is aimed at mains located up to 16ft (4.9m) underground, although Qinov8 can offer a larger transmitter for a depth range of 45ft for the larger diameter trunk mains.
AquaPea (Qinov8)
Qinov8's WRAS-approved AquaPea system, meanwhile, works on a similar principle but is designed to repair leaks in smaller, domestic water pipes – when the AquaPea is drawn to the hole, the material hardens and repairs the crack from the inside. It has been tested on copper, lead and polyethylene pipes between 15mm and 90mm and the company is working on using it on larger diameter mains.
PipeGuard (MIT)
Internationally, there are several inline leak detection systems in the works. It was announced last year that Massachusetts Institute of Technology (MIT) researchers were working on PipeGuard, a small robotic device resembling a shuttlecock, with its soft rubber 'skirt' – the membrane sensor – filling the diameter of the pipe. The device, which can operate in water or sewage pipes, logs its position as it travels through, detecting small variations in pressure via the pull at the edges of the skirt.
Using that information, which is collected upon extraction, Pipeguard Robotics uses a cloud-based analytics platform to create a Google Map of leaks, offering information on their location and size. Field test data shows PipeGuard can detect leaks as small as 1 US gallon/minute (3.785 litres/min) to within 1ft (305mm).
Each robot is developed to fit the size of the pipeline it will be inserted into, although they can adapt to pipe diameter changes of up to 20 per cent, and the developers have so far built robots for pipe diameters ranging from 50mm and 300mm. PipeGuard, which can be inserted and extracted through T junctions and hydrants, requires a minimum pressure of 0.8 Bar (or 10 psi) and minimum flow speed of 0.3 ft/s (0.1 m/s).
PipeFish (USC Viterbi)
PipeFish, from researchers at USC Viterbi's Information Sciences Institute (ISI), operates in similar fashion – moving passively with the water flow and inserted via hydrants – but captures real-time video using a 360-degree camera that records at a minimum of 30 frames per second, as well as using sensors to collect data and log its position.
The robot features an onboard microcomputer that controls lights, sensors and the camera. The developers plan to include further sensors to collect additional information, including flow rate, air pockets and chemicals, while the PipeSnake – several PipeFish tethered together – has been used to handle the twists and turns of more complex water networks.
Creator Wei-Min Shen began working with the Los Angeles Department of Water and Power (LADWP) to develop and test the robot around 18 months ago, and as of May they were performing 'wet tests' with pipes that are submerged in shallow water in the ocean.
This article first appeared in the June issue of WWT