Innovation Zone: Fighting the FOG
Our innovation specials continue with an examination of new measures to improve sewer health by tackling fats, oils and grease (FOG)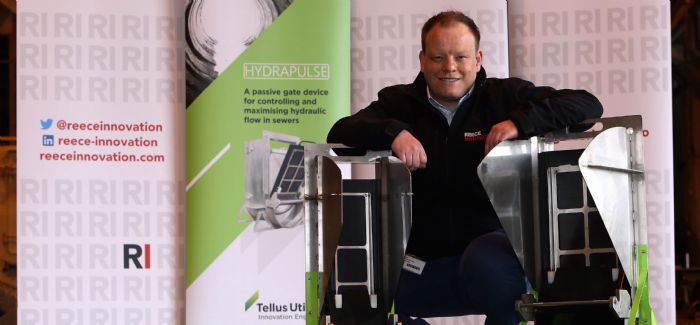 Reece Innovation operations manager Alistair Kitching with the HYDRAPULSE
As fatbergs continue to make headlines, water companies have been trying to make the most of the opportunity to get the message across to the general public about the dangers of clogging up their drains.
Public education remains pivotal to dealing with FOG, and the government's vow to tackle wet wipes could ultimately make a major impact if successful, but fatbergs are an international problem and there is a growing market for measures that water companies can use themselves to cut the problem down to size.
Here, we look at some of the options on the market.
HYDRAPULSE Flusher Gate (Reece Innovation)
The HYDRAPULSE Flusher Gate tackles FOG by using the power of water to blast through congealed debris.
Developed by engineers at Newcastle-based Reece Innovation, the device is installed in manholes and holds effluent in the adjacent stretch of sewer. Once sufficient water pressure builds up, the gate opens and closes rapidly to send turbulent fluid through the downstream sewer, providing sufficient power to help flush and cleanse deposits. The system also results in constant changes in effluent level upstream, which helps to cleanse both sides of the gate.
The system features an override facility to ensure continued operation during peak periods and it is designed to be resistant to jams caused by rags. When installed in appropriate locations, the gates can be fitted with wireless instrumentation to monitor its effectiveness, but Reece Innovation says it is made for a long, unmonitored service life.
Northumbrian Water recently held a successful 12-month trial that saw reduced levels of FOG as well as silt, without the need for manual jetting, and the gates are now being exported to Australia and North America.
In addition to the Flusher Gate, Reece Innovation has been working with Northumbrian Water Group to develop further measures to help keep sewers clear, using Internet of Things (IoT) technology to develop 'smart sewers'. Among the products it is working on are an updated version of the TRAP – a sampling device that is placed in a sewer manhole chamber and used to identify the source of items that cause blockages in sewers, such as non-flushable wipes and silt – and ORCA, an acoustic system that uses sound to detect blockages or potential fatbergs within minutes.
eco-tabs (eco WMT)
eco-tabs are solid, sustained release tablets that provide oxygen, nutrients and non-pathogenic bacteria. Instead of softening FOG so that it can be moved downstream, the bacteria consume organic sludge, including natural oils and grease, and reduce hydrogen sulphide.
eco-tabs allow water companies to tackle FOG without high-pressure jetting, which eco WMT says cuts annual cost by around one-third while also removing the associated risk of sewer damage, foul odours and disruption.
Northumbrian Water dealt with a problematic section of its sewer in Stowell Street, Newcastle, in 2016 using eco-tabs and the company's sewerage support manager, Alison Wilson, said the process was "cost effective and definitely speeded up the process". United Utilities eliminated FOG that had caused flooding in an area of one of its sewers under Bolton within three weeks using eco-tabs.
The tablets can be dropped directly into the required location – such as drains, sewers or grease traps – and remove the need to send operatives underground. eco-tabs are also available in powder form.
Next FOG STOP (Next Filtration UK)
Rather than introduce foreign enzymes and bacteria, Next FOG STOP is designed to stimulate the indigenous bacteria within the sewer to control hydrogen sulphide and rapidly break down fats, oils and grease.
The product has been shown to eat channels through fatbergs and, while there is an inevitable variation in performance depending on the conditions in which it is applied, Next Filtration UK says when used holistically in the collection system it has seen 30 per cent reductions in MLSS sludge production on a consistent basis at the WWTWs.
The company says the treatment's Molecular Kinetics technology – a liquid formulation containing an optimised array of fermentation-based yeast proteins, micronutrients and highly specialised surfactant chemistry – needs to be dosed at only a few parts per million to stimulate the pre-existing bacteria in the sewer and accelerate the natural bio-degradation.
It cites increased dissolved oxygen, reduced effluent nitrogen, phosphorus and BOD levels, improved sludge settling and greater throughput as additional benefits alongside savings in energy consumption.
Described as particularly beneficial in those sewers that contend with a high volume of fast-food restaurants, the treatment has already been used globally, including North America and Brazil, and more recently it was successfully evaluated by a UK water company.
nuron (nuron)
nuron is a 'sewer nervous system' utilising optical fibre sensing technology that can detect blockages, fatbergs, damage, infiltration and misconnections before they cause flooding or spills.
It involves the installation of the optical fibre sensors within a sensory containment system along the length of the sewer network.
It continually fires short laser pulses into the optical fibre sensors from one end and, as the light travels through, some is backscattered by imperfections in the fibre and time of flight gives location.
Active components above the surface record all the sewer network data and, by analysing the backscattered light using a sophisticated algorithm, nuron can determine flow rate, depth and temperature.
While conventional sewer monitoring using 'spot' sensors can leave much of the network invisible, nuron is designed to provide the information at all times and from all locations within the section it covers.
The system, designed to be retrofitted to existing sewers, includes capacity for the integration of existing sensors and telemetry to create a comprehensive management network.
It senses flow, depth and temperature every 5m and its designers say that, by combining multiple parameters at the same time, it allows incidents to be identified and located quickly and accurately.
In addition to FOG detection, it offers further advantages including real-time detection of burst water pipes and real-time alerts on sewer collapse, as well as facilitating intelligent control of combined sewer overflows.
It takes up less than 1 per cent of the space available in sewer pipes and can be installed into small diameter pipes thanks to robotic installation.
The system also offers an intriguing double purpose: nuron, which is designed to be maintenance-free for over 20 years, contains a containment system that can deliver fibre optic broadband through the sewer network.
In June, nuron announced that Northumbrian Water had signed an agreement to become the first water company in the world to install the monitoring technology in a live sewer system.