Innovation Zone: Diamox
This month's Innovation Zone article looks at Diamox, a packaged treatment solution which uses boron-doped diamond to tackle highly contaminated industrial wastewater streams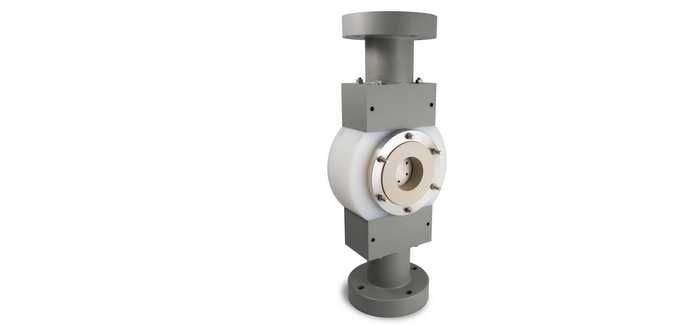 Diamox uses a stack of BDD electrodes to treat tough industrial wastewater
What is it?
Developed by Element Six, part of the De Beers group of companies, Diamox is an electrochemical oxidation cell for wastewater treatment which uses electrodes of Boron Doped Diamond (BDD). It is effective at treating highly contaminated industrial wastewater that cannot be treated by biological methods.
How does it work?
When heavily doped with boron, diamond becomes a metal-like conductor, while retaining all of its physical properties; this makes it the most chemically inert and robust electrode material available. BDD electrodes generate hydroxyl radicals and many other oxidizing species, enabling advanced oxidation processes that can mineralise dissolved pollutants in wastewater streams.
What's innovative about it?
Electrochemical oxidation through BDD is not itself new, having been researched and developed over the last two decades, but Diamox promises to take it to a new level of capacity and accessibility. The product features an increased electrode area with 20 electrodes and an increased power density which means that it has five times the oxidation capacity of earlier generations, and it is being marketed as a packaged reactor, which should make the technology affordable for many more users.
What benefits does it bring?
A recent pilot project using Diamox to treat highly contaminated spent caustic streams, such as those generated by refineries, found that it could reduce the chemical oxygen demand (COD) of such waste streams by over 90 percent, to a level that is safe to discharge into the environment. The technology has also been shown to be effective for the treatment of pharmaceutical wastewater and textile dye house wastewater, and provides a cleaner alternative to approaches such as deep well injection, incineration, or hydrogen peroxide advanced oxidation. The BDD electrodes have a field lifetime of several years, in conditions where other electrode materials would only be able to withstand a few hours.
What they say:
"Element Six is continuously pushing the boundaries of the properties of diamond to achieve ever higher levels of performance for our customers. By harnessing diamond electrodes for the efficient electrochemical advanced oxidation process, we have filled a market void for our customers with a commercially feasible and longer lifetime solution," says Steve Coe, executive director, commercial and marketing at Element Six. "This new generation of Diamox offers an innovative and inherently safe method of advanced water treatment technology. Its strength against even the most formidable industrial wastewaters has triumphed, which is underscored by the impressive results achieved by our partners."