Innovation Zone: AIR-VAC micro vacuum excavator
The AIR-VAC micro vacuum excavator was built for excavating around congested buried live utilities in areas with limited access space. Robin Hackett hears how the Water Industry Award-winning technology is helping Morrison Utility Services overcome major challenges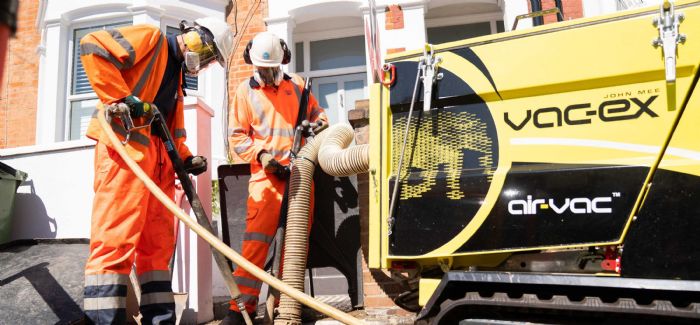 In 2017, Morrison Utility Services began searching for a vacuum excavator that would allow it to tackle the challenges it faced on a daily basis as part of its work in central London.
Installing smart meters for Thames Water, MUS was having to contend with highly congested roads with limited parking above ground as well as highly congested utilities below ground.
Vacuum excavation offered a solution. The technique involves using an air lance to inject compressed air into the ground while a powerful vacuum removes the loosened soil and, compared to traditional excavation methods, the risk of service strikes is significantly reduced.
"Footpaths in the UK are very challenging because there are so many services," Dan Tonkin, operations manager at MUS, says. "Other than vacuum excavation, the Health and Safety Executive's guidelines say the only safe way to dig when you have the risk of service strikes is to hand-excavate.
"At the peak of this programme, we had something like 40 dig teams digging eight holes a day by hand, and that is backbreaking work – there's not only the risk of service strikes but also all of the risks around personal injury as well."
The issue for MUS was that vacuum excavation machines have historically tended to require significant space to operate, often mounted on HGVs that need to be parked close to the work area.
"Vacuum excavators go up to about 32 tonnes, but in a congested city centre you can't get the machine near enough to the hole because there are parked cars, bus stops, cycle lanes and other things in the way," Tonkin says. "They're great if you have a road closure, and you can use them if you can find a place to park and run a hose down the street, but it's not conducive to a positive customer experience on the fast-moving metering programme to be closing roads and disrupting customers' lives."
Seeking a viable option, MUS began trialling a number of vacuum excavators in the summer of 2017 but found they either lacked the required power or were too big to operate in London's streets without road closures or parking-bay suspensions.
Tonkin recalled that a UK-based company named Vac-Ex Design and Manufacture had offered a small-scale vacuum excavator called the AIR-VAC that might have been better suited to the task, but it had since been decommissioned.
"It wasn't powerful enough and it wasn't robust enough," Simon Bedford, UK business development manager at Vac-Ex, says. "We sold a couple to people abroad who had some success, but for the UK utilities market it was not a viable option."
Fortunately for MUS, though, Vac-Ex had been working on designs for an improved machine with the same name.
"We had the new AIR-VAC on the drawing board, but we were tentative about pushing forward into development because we didn't know if there was a market for it," Bedford says.
"We already had a machine that was about twice the size of the AIR-VAC called the T-VAC and we were successfully marketing that. When Morrison Utility Services contacted us, we realised there was definitely a market for a more compact machine and that gave us the confidence to push forward. The partnership with MUS meant we could benefit from valuable feedback from a major end user."
MUS provided input on some of the practical aspects of the design, such as the length and diameter of hose, the flashing beacons and alarms, but ultimately the core requirements were around size and power.
"The key benefit we needed from the AIR-VAC was to get it on the footpath, which means there aren't cars in the way," Tonkin says. "It allows you to put the machine right next to the hole you need to dig. It does require you to close the footpath most of the time but, so long as you've got a permit condition that allows you to do that, you can get the excavator right next to it."
In late 2017, Vac-Ex put on a demonstration day to showcase the AIR-VAC prototype and MUS immediately ordered three units.
"This was the best outcome," Bedford says. "We often get approached by customers requesting development of innovative solutions but are reluctant to commit financially early in the process. Thankfully, Morrison Utility Services placing an order allowed us to move forward."
MUS began using two units on the Thames Water smart metering contract in the summer of 2018 and, a year on, has yet to have a single service strike with either.
The AIR-VAC has since been adopted more widely, with a number of other UK water companies and major contractors now using the technology for a variety of tasks, including minor leakage repairs and lead renewals.
In addition, the AIR-VAC saw Thames Water, Morrison Utility Services, M-Group Services Plant and Fleet Solutions and Vac-Ex take the Alliancing and Partnership Initiative of the Year prize at the 2019 Water Industry Awards.
"Interest in the AIR-VAC has really taken off," Bedford says. "Eventually they'll become a common sight around the country. Where operators can't dig by hand or with mini diggers, due to the high concentration of live services, they now have an option that takes some of the manual strain out of hand digging and virtually eliminates risk of the inconvenience, cost, injury or even death that can result from striking a pipe or cable."
This article originally appeared in the September issue of WWT