Industry Round Table: Totex - the shackles are off
For the first time in AMP6, water companies have been encouraged by regulator Ofwat to frame their plans in terms of Totex rather than within the constraints of Capex and Opex. How is the industry adapting? Participants in WWT's special round table event got to the heart of the issues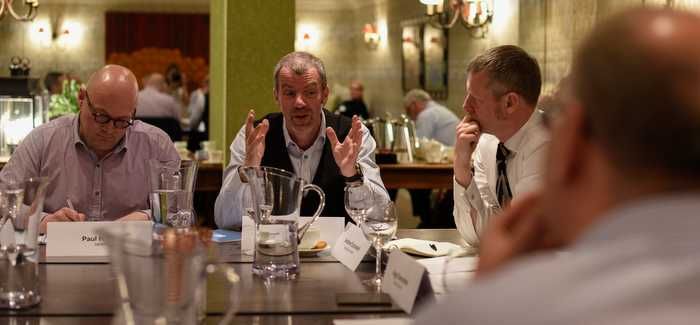 Participants in WWT's round table event on Totex got to the heart of the issues in a lively discussion
Event Partner Perspectives
Keith Hayward, Hydro International:
"Has the water industry signed-up to Totex? After WWT's excellent event, it's clear that delivering whole-life asset efficiency is enthusiastically-embraced as the right way to deliver greater consumer value in future. Procurement and contracting practices simply have to change to allow capex and opex investment to be evaluated together. Then, innovative technologies can be accepted based on delivering whole-life performance, rather than on the cheapest up-front costs."
Nigel Earnshaw, Black & Veatch:
"Black & Veatch was delighted to be a partner for this round table discussion on Totex. The concept of Totex is that excellent customer value is achieved by taking into account both capital costs and operating costs; water companies are embracing the Totex environment in innovative and exciting ways. This roundtable event enabled senior figures in the water companies and their supply chain to meet to exchange views and best practice so that our customers benefit."
Mark Higham, Siemens:
"We feel it is absolutely vital that we engage with the industry from a technology perspective as we enter what can only be described as a new era for the UK water industry. AMP6 will herald a new settlement for maximising efficiency and investment – but perhaps more critically competition will radically alter the water market landscape in the coming years. Siemens believes that technology holds the key to unlocking the successes our water companies need to thrive."
by James Brockett
One of the key regulatory changes that water companies in England and Wales are adapting to for AMP6 is the requirement to present their spending in Total expenditure (Totex) terms, breaking down the boundary between Capex and Opex which has traditionally been central to their business plans.
Ofwat has presented the move as one which will 'remove the shackles' from water companies, challenging them to come up with fewer asset-centric solutions, assets that are cheaper to run and maintain, and ultimately a more efficient, better value service for customers. But this also comes with a number of challenges: does the industry have the right data and evidence to make the correct Totex-led decisions? Can it reach any consensus over the way Totex is defined and calculated? And what process and cultural changes are necessary?
These and other issues were discussed at length by the participants in WWT's round table event on 'Totex and its Implications for the Water Industry'. Held last month in London, the round table was supported by event partners Siemens, Black & Veatch and Hydro International, with the discussion chaired by Paul Horton, Chief Executive of the Future Water Association (formerly SBWWI).
Sarah McMath, Head of Strategic Business Planning at Thames Water, describes Totex as "a bit of a regulatory red herring – it's just the way that you have to calculate something, at the end of the day." More important, she says, is the new approach that it symbolises from Ofwat – on the one hand, water companies will have more freedom to achieve customer outcomes in the way they see fit, via capital and operational spending; on the other hand, such freedom comes with responsibility.
"We've had very tight business plans for the past 25 years which were fairly prescriptive," says McMath. "You got given a list [of capital schemes] and you went away and ticked them off and if you didn't deliver them you had to give the money back to customers. With the move to an econometric modelled approach, effectively what Ofwat are saying is: it's your company; you need to invest in those assets as you like in order to maintain a level of customer service which is acceptable to your customers. I think there's a fundamental shift in responsibility on to companies to think about long term investment, so I'm hoping it will really push us to think about whole-life cost and really investing in those assets for the longer term."
What Thames is focusing on, she says, is ensuring it makes good decisions based on value to the business – and core to understanding that value is asset data. Whenever the company is investing - whether it be via Opex, Capex or Totex – it has to be sure that it is making the best decision on behalf of its customers, both in the short term and the long term.
Whole-life calculations
But what constitutes the long term? This is the key question when it comes to calculating whole-life cost, yet it is not one which has been satisfactorily answered, with different companies using different models and methodologies.
Anglian Water has chosen a relatively arbitrary figure of 40 years as a timeframe for which to run a cost-benefit analysis for its asset decisions, although Graham Fulton, Totex Programme Leader at Anglian, admits that this figure is relatively arbitrary.
Fulton says that the utility formed its thinking on Totex through carrying out a benchmarking exercise with various industries which already use it, including electricity and gas, rail, airports and others.
"What we learned quite quickly was that Totex is just a door that opens to a whole range of different ways of operating your business," says Fulton. "We also learned some key things around asset data and information. Fundamentally, you have to know your asset base to be able to make better decisions and ultimately make Totex worth it. Some of the businesses we saw spent hundreds of millions on their data strategies. It makes you think 'wow, this is quite important'."
Fulton says that too often decision-making in the water sector is short term, with a tendency to "throw things over the wall" into capital spending without taking the time to properly evaluate an asset decision in terms of whole-life cost. He encouraged his colleagues to adopt a more analytical approach called the "blue box" – a name that emerged from a blue box he drew on a flipchart one day in a meeting – when taking such decisions.
"The blue box is effectively this: before you throw stuff over the wall at the word capital, put it in the blue box, think about what it is you want and what's driving the root cause of the issue before you go anywhere near spending any money on it," says Fulton. "It's about really getting under the skin as early as possible before you make any decisions about what you want to do."
This kind of calculation, using the 40 year figure, has become 'business as usual' at Anglian over the last year, and Fulton estimates that the company has made around £27M of savings merely by instilling this approach.
Andrew Eastwood, Programme Office Manager at Northumbrian Water, also believes that water has much to learn from other sectors. He joined Northumbrian six months ago with a background in big capital programmes – he has worked on both the Olympics and HS2 – and he cites some of the design and build decisions for the Olympic project as exemplars of Totex-led thinking.
"The best example is the basketball court, where building a new centre would have meant too many stadia left on the site," says Eastwood. "Some bright spark said, 'why don't we just put a tent up?' So the actual basketball stadium was just a big, glorified tent. That same tent went to the Commonwealth Games in Glasgow, and has now gone to Rio. Someone had the foresight to question why all that money should be spent on an asset when there was a smarter solution, and that's exactly what happened."
Smarter maintenance
One lesson he feels the sector needs to take on board is greater consideration of what happens to an asset once it is built, especially where repairs and maintenance are concerned; other industries routinely engage with the supply chain to establish the maintenance costs for a new asset many years in advance. While the uncertainties of the five-year regulatory cycle do act as a constraint in the water sector, he says he would like Northumbrian to work with its supply chain more on such matters, possibly via the use of longer-term framework agreements.
"We're quite arm's length with our supply chain at the moment. I don't think we're going to innovate and embrace a Totex world unless we start pulling our supply chain closer to us," says Eastwood.
Nigel Earnshaw, Asset Management Director at Black & Veatch, says that capital delivery partners have a strong role to play when it comes to the future maintenance of assets.
"Something we are passionate about is making sure we create assets that are maintainable," says Earnshaw. "So often, when I was in an operations role, you would come to pump sets that had been put in and there was just no way of turning the spanner to undo the bolts because the wall was so close to the bolt, or it was dangerous because it was at a high level or down in a confined space. So I think the contractor partners who are actually creating these assets for the water companies need to have a mindset that says 'this is going to be here for 40 years'."
But if the supply chain are to be brought onboard with the task of reducing whole-life cost, they will need some certainty about the length of whole-life expectancy that is being considered, and the factors that are being used in calculating the cost, says Keith Hayward of Hydro International.
"Thus far, almost every water company I talk to has a different expectation, a different model and a different way of measuring it," says Hayward. "And as a supplier in the middle level of the supply chain, I can make any one of my products work properly in every kind of model, depending on what I factor in and what I don't. Which probably leads to a conclusion that, actually, none of the models we have at the moment are right."
A whole-life-cost approach also requires a shift in the current thinking about procurement, says Hayward. Currently, the emphasis is usually on squeezing the up-front cost in the procurement process, which hinders the supply chain from being engaged in a collaborative, long-term way.
"Many assets are in the condition they are, and have the difficulties they have, because of a saving that was made when they were first purchased," says Hayward. "It was built in such a way that it would have a slightly lower cost, or so it could be done slightly earlier; and you're now finding how much that saving cost you. You might be able to build it for £100k less, but how much is that £100k going to cost you in five years' time? It's a good question, and it's something that is at least slowly being talked about."
Greater standardization within water companies – if not yet across the industry – is one necessary step for better asset management in a Totex world. United Utilities is currently taking steps to 'hardwire' its operations and maintenance standards across the company, so that all the company's pumps, for example, will be maintained to the same standards which will be under the control of a specific range manager. These standards will feed into training, for apprentices and others, at the company, says Helen Samuels, Director of Engineering at UU.
"That's where we're moving towards - asset management standards, operations and maintenance standards, rather than relying on our contracting partners to come up with an O&M manual and handing it to us and it's different from all the other ones," says Samuels.
"The complexity of decision making in AMP6 is going to be much, much greater than anything we've experienced before. It is about making the correct whole-life cost decision, and certainly, we are now incentivised to do that, but there are so many other factors that impact our decision making. How do you roll in the impact of ODI [Outcome Delivery Incentive] pain and gain within that decision? How do you roll in the increases in environmental fines, and customer willingness to pay? Should we choose to spend more than our company business plan to avoid being penalised under an ODI, when our customer might not have signed up to that as something they are willing to pay for? It's really, really complex."
Getting to grips with data
More data and evidence is often seen as the key to better decision-making in this complex environment. However, it is not just more data about assets that is required, but useful information that management can then make decisions on, says Mark Higham of Siemens. "I think there's still some way to go in terms of getting the right data from what is obviously an enormous installed base, at various different stages in its life cycle, and getting all that data in a usable form," he says. "We're talking to customers about cloud-based services that would enable that sort of asset interrogation to be performed."
Information should enable smarter condition monitoring and asset optimisation, says Higham. This means preventative maintenance, rather than just "sending a person in a white van" out to an asset that has an alarm signal to establish what the problem is. He says that Siemens is currently collaborating with SAP to be able to offer a data services platform which can present monitoring data in the form of smartphone apps, facilitating a proactive approach.
"You've still got far too great a number of assets being run in manual rather than automatic and that's just a symptom of some of the issues that are underlying," says Higham.
And if asset decisions are complex, then an evidence-based approach becomes even more difficult where non-asset solutions such as catchment management are concerned, points out Neil Wilson, Head of Risk and Investment at Wessex Water.
"It's very difficult to measure the incremental change that you make a decision based on, if it's not a 100% certain treatment solution," says Wilson. "You could take catchment management as being a Totex decision - by the first AMP, second AMP, that's all Opex cost. So, you've made a decision for the long term that hasn't got certainty. The regulators can't be clear about it other than to say that it continues to be an issue how to measure performance. As an example, that's the kind of challenge, but tenfold, we need to consider."
Wilson says that AMP6 may end up being a transitional AMP, as the utilities get to grips with the choices offered by Totex at the same time as aspirational ODIs and tight cash constraints. He also feels that the five-year cycle for price determinations remains an obstacle.
"We're trying to smooth the investment programme, and looking forward 10 years into AMP7, you can probably get a feel for what 70-80% of the programme is going to be. But the main thing you're still constrained by is what period the regulator wants to set the bills. And you obviously need to separate out those two things: the bill setting piece and your actual decision making about your assets. And until we do that, the owner, the finance director and the board more generally will struggle to commit to longer term decisions because they don't know that they'll definitely have the means to support them later."
There is no doubt that Totex will require and enable different ways of working, but perhaps the biggest challenge that water companies face is bringing about a change in culture to make those ways of working happen. David Widdowson of Yorkshire Water says that it is only in the last 18 months that the company has carried out asset management as a 'joined up activity'; it has concluded that it needs to build more in-house engineering capability in order to understand its assets. But above all the shift required is one of mindset.
"We need to do more thinking at the front end about what the longer term solution is," says Widdowson. "Let's not just go back to the thing that we've historically always been funded to do, which is to build our RCV and to cut our Opex. That's the model that we've been financed to follow and that culturally we're familiar with. We have to fundamentally change the way we operate, and to my mind, this is just one step along the way."