Industry leader: Scott Aitken, MD European Water Division, Black and Veatch
"The UK water sector is demanding innovation from its supply chain. We serve the customers, who want high levels of service at an affordable price, so the water companies simply have to be innovative"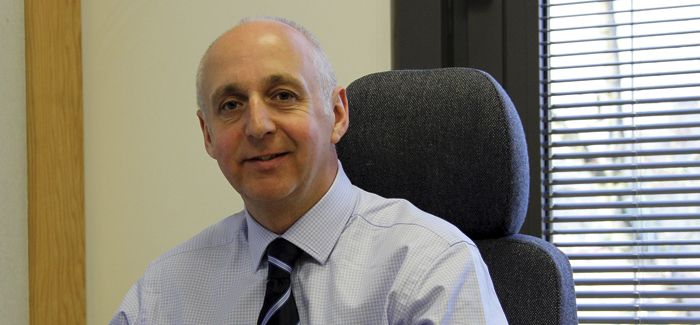 Path to the top
March 2014 – present
MD European Water Division, Black & Veatch
2012 – 2013
European Water Utilities Director, CH2M Hill
2010 – 2012
Director, Water & Energy, Grontmij Group
2008 – 2011
Chairman of Water Special Interest Group: ACE
2007 – 2011
UK Water Expertise Area Director: Grontmij
2000 – 2007
Water Divisional Director, Scotland and Ireland: The Carl Bro Group
1997 – 2000
Technical director, member of water management team: The Carl Bro Group
1987 – 1997
Chartered, then senior engineer: Crouch & Hogg
The new MD of Black & Veatch's European water business, Scott Aitken effectively sums up the focus of the new AMP6 regulatory period which begins next April, through which he'll be steering the company while aiming to double its £155m turnover by 2020.
The key to doing that will be helping water companies deliver good value for money to their customers in ways that make efficiency savings using innovative operational solutions.
"The industry is in a cycle of capital maintenance at the moment. Its needs are mainly focused around a lot of smaller interventions, but at the same time there's a balance between that and the need to make investments that get the results that customers demand, so that their bills remain affordable," he explains.
"The skills that we bring to the table, with about 1,000 staff in our water business here and 200 in energy and telecoms, in consulting, professional services – design, build and delivery, and in asset operation and maintenance will be hugely pertinent to AMP6 and 7. The only thing that will remain constant in AMP6 is change, and I think it'll be quite a dynamic period, perhaps more so than the industry has ever experienced before."
"We can often solve a number of problems for water companies at the same time. This might be raising a dam to increase the capacity of water available, for example, but we might also improve the amount of hydro energy that can be generated.
"Something like that provides a great outcome for clients and their customers, and it also means we can bring our expertise in dam engineering, water resources and power generation to bear as well in order to maximise the power that's produced for the grid.
"We're also doing some important research into water trading and abstraction, where we can draw on experience from around the globe so that we have a detailed insight into the full water cycle and integrated catchment management.
"As we approach this very dynamic AMP6, and towards even further changes in AMP7, these are areas where we can help to ensure that water companies, their CEOs and boards stay ahead of the game," he adds.
Against the background of B&V's US-headquartered global business aiming to double its entire revenue to £4.1bn, the 47 year-old Glaswegian civil engineering graduate is bringing a wealth of experience to the table as he eyes a host of potential business opportunities throughout the UK.
For instance, the company already works with Thames Water on its AMP5 programme and is talking to them about its infrastructure alliance and AMP6.
It has a framework agreement with Yorkshire Water in AMP5 that is being rolled over, and it's talking to Anglian Water about supporting them in AMP6 and about its data and analytics capability. It is also looking at potential opportunities to provide professional services to Bristol Water, Wessex Water and Scottish Water.
Aitken has joined B&V after a 13-month stint as water utilities director at CH2M Hill, prior to which he spent five years based in his native city heading up the UK and Ireland water and energy business of Dutch consultants Grontmij.
There he led a reorganisation of the renewable energy section of the firm, comprising renewable energy solutions, asset management systems and asset solutions.
Doing the same with the water business – dividing it into water asset design, water consultancy and water environment divisions – he also grew it from one key account to six, increasing revenue and profits every year. His achievements therefore suggest he'll be a very safe pair of hands in guiding the company towards its £310m revenue target.
Will he be reorganising his division of B&V in a similar way? It's too early to say, and it'll depend how effectively the organisation works in the months ahead, he affirms.
Given the success of the strategy he pursued at Grontmij however, it's conceivable that he may decide to shake up his new employer's water business, given that it is by far the largest part of its UK operation.
"I think we're very well known out in the marketplace for what we do in water. But what I see is a particular demand for an understanding of the interconnectivity between our three areas of expertise: especially water and energy, but also telecoms as well," he observes.
One way in which this is demonstrated is in the area of smart integrated infrastructure, involving the ongoing integration of data analytics with the automated technology on the operational side of the water business.
"Data management is a hugely exciting area for us. The data science, analytics and software skills are becoming an ever-more important part of the business, rather than just a bolt-on."
"At the moment we've got the retail competition coming through in the Water Bill, while further changes will happen to upstream services as we approach AMP7. Data management will be ever more critical in terms of how water companies understand their customers and their needs, as well as their assets from both a cost and performance point of view."
The firm has a core team of about 30 professionals in smart analytics-related roles, with around another 1,000 in its global telecoms business who will work on some aspect of this specialism.
An example of a project where these cutting-edge skills were essential was in a new, multi-million pound membrane water filtration system.
Smart analytics are used to monitor its performance in terms of cleaning effectiveness and spot issues that, if undetected could lead to a costly requirement for the membranes to be replaced.
It involves monitoring long-term membrane system performance, including permeability and cleaning events; and balances the tradeoffs between cleaning, fouling and efficiency losses.
Although the company may be vying with rivals that include Aitken's previous employers CH2M Hill and Grontmij, as well as others such as MWH for contracts involving this kind of work, seeing these kinds of projects through to completion is what he and his staff at B&V find most enjoyable and exciting about their jobs.
He describes several other projects that strike a chord with him. While the company is looking at small-scale solutions in the 50-kilowatt range for using biomass from sewage treatment waste to produce renewable energy, it has also worked on plants at the other end of the scale, such as a 12-megawatt one for United Utilities.
The firm has also designed and installed hydro turbines in a number of large water supply pipes at raw water and treated potable water locations for Scottish Power.
These helped to reduce its operating costs while efficiently and reliably producing renewable power.
It's also looking at ways in which treatment capability could be scaled down where required. "It could involve micro engines or scalable activated sludge processes that could be brought to market and used as a method of power generation. I can't go into too much detail before they are further developed, but this shows how we try to be at the cutting edge," he enthuses.
"We're also looking at using micro gas turbines in the water network. It's possible that we could install the right type and size of turbine that would reduce pressure in areas of high pressure in the pipes, where pressure-reducing valves are currently used, while also producing a small amount of power for the grid.
"The expertise we bring in this kind of work is knowing what's appropriate, scalable and affordable so that it provides the right return on investment for the client. That's where we really count," he concludes.