Industry 4.0 - how to build a digital twin
Chris Steele, head of information management and analytics at Black & Veatch Europe, runs through the steps required to create a water utility digital twin.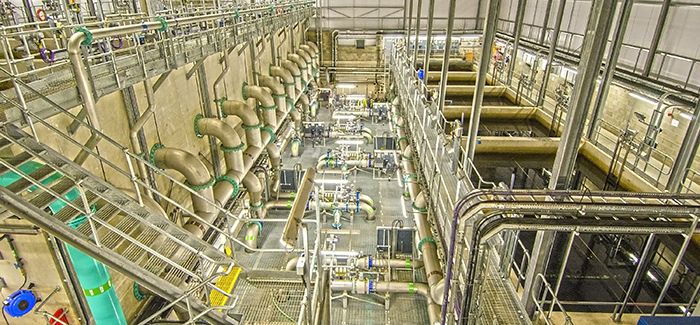 A digital twin is an integrated digital representation of physical assets which provides historical, current and predictive analysis in near real-time. What separates the digital twin from a traditional model is that the twin is in constant dialogue with its physical counterpart through combining information technology (IT) and operations technology (OT) enabling its users to simulate and scenario options before actioning them in the real world. The most widely known use of a digital twin is probably the system developed by GE to support users of its GE90 jet engine, or McLaren for their ability to place drivers at the heart of their virtual car to test multiple racing scenarios.
For a water utility a digital twin offers the prospect of helping enhance customer experience, without increasing bills to fund improvements, by optimising performance of existing assets and increasing the efficiency with which they are operated and maintained. A digital twin supports this by facilitating systems thinking - combining multiple internal and external data sources across the asset base with predictive analytical techniques served through multiple functional views. This enables improved insights that support better decisions, leading to better outcomes in the physical world.
For example:
A digital twin can support water quality and supply teams by integrating weather and raw water quality data with asset availability from SCADA across the network - creating a predictive view of operating scenarios and performance deterioration; and root cause identification allowing users to intervene before a reactive event occurs. 
A digital twin will take near real-time condition performance data from critical sludge treatment assets to predictively determine maintenance activities; giving biosolids teams the ability to plan for alternative disposal or planned operating regimes to ensure maximum generation capability.
Outside of the operational phases of the asset lifecycle a digital twin will be able to dynamically inform risk-based investment decisions that support carbon sustainability, improved catchments and resilience planning for the availability and carriage of water.
A digital twin for the water industry, and infrastructure sector more broadly, is a fledgling concept. The scope will change over time as business outcomes, technologies and processes evolve making the correct architecture of the twin key to facilitating new requirements and integrations. The digital twin Black & Veatch is creating with Anglian Water, however, offers the clearest roadmap to-date for the creation of this powerful resource.
Anglian Water's digital twin will be made up of the following components, developed in alignment with the Gemini Principles ensuring purpose, trust and function - which form the framework for the future development of a digital twin of the UK's critical national infrastructure. 
Sensors — Sensors and/or instruments distributed throughout the asset base will provide the data that will enable the twin to capture real-time performance of the physical assets, systems and processes and the context they operate within the real world.
Data — Dynamic asset data is then aggregated and combined with data from other systems across the water utility, such as cost, workforce management, asset specifications and hydraulic data. Connections to external data feeds, such as weather and social media from customers, will be included.
Integration — Sensors and external data feeds are interoperable between the real world and the digital twin via integration tools - ultimately giving the digital twin supervisory and control capability.
Analytics — Machine learning and wider artificial intelligence will provide users with the ability to scenario options across the asset lifecycle - assisting in complex decisions on multiple complex systems giving actionable insights.
Visualisation — Analytical insights will be produced in a way that any user can visualise them in a contextual, consistent and intuitive form.
Action — If an intervention is required in the real world based on analysis, the digital twin will initiate the action by way of control logic, which may require user approval, that will ultimately make a change on the physical asset or system.
The approach to digital twin implementation will be iterative and use agile methodologies with the following key phases:
Agree the Vision – what are the outcomes we want a digital twin to meet and for whom.
Discovery – User research, discover and establish data requirements and define analytical and visualisation requirements.
Proof of concept – to establish and demonstrate value in a time-bound and controlled environment.
Enterprise implementation – a phased rollout prioritised on cost, risk and benefit. Requirements of the digital twin will be integrated from design ensuring maximum value can be obtained from a digital twin over the life of the installed asset base.
A water utility digital twin will have aims aligned with business outcomes across operational, tactical and strategic time horizons. These aims are in recognition that the digital twin will iterate over time in terms of applicability and functionality. Achieving these aims will ensure the digital twin offers tangible benefits across the asset lifecycle from acquisition to disposal in a cyclical form.
The aims can be segmented into two functional business groups, below, recognising that a function may reside in one or both groups:
Enabling business function group
Align where practicable to business benefit and any relevant industry standards and methodologies as and when they emerge.
Comply and help facilitate any relevant internal and external governance and audit processes including clear ownership and accountability of policies and procedures.
Provide by business function and role a defined means of interacting with analysis outputs that meets user requirements utilising available technology, software and data.
Inform and validate through quantitative and qualitative means descriptive, predictive and prescriptive analysis of performance and efficiency across assets, people, treatment processes, business processes and projects.
Enable existing business systems and/or their outputs dependant on business need to be interoperable by means of master data management methodologies and application programme interfaces.
Provide a representation of business-wide data sources - either directly or indirectly - that meet defined data quality performance measures of completeness, accuracy, reliability and timeliness.
Facilitate an initial environment of greater data sharing, visibility and accessibility and provide an insight into longer-term data sharing opportunities with external organisations as the development of digital twin asset management grows.
Consuming business function group
Single point of truth for a defined set of outputs by business function and role giving holistic coverage of the organisation.
Provide a level of detail suitable for the decision or insight being sought.
Ability to undertake various analysis methods including scenario modelling against a variable set of options encompassing assets, people, treatment processes, business processes and projects.
Access to internal and external datasets to enable informed evidenced based decisions including forecasting of asset and treatment performance, efficiency and events.
Ability to share and interact analysis with internal and external stakeholders via multiple mediums and formats in an intuitive way.
Facilitate evolving requirements over time giving flexibility to existing and emerging business functions.
Data quality is key to understanding and managing the corporate risk process. As such data is an essential and fundamental component to any successful digital driven organisation seeking to optimise the use of technology to manage an asset base which continues to grow in complexity and optimisation opportunities. To add structure around data quality for a digital twin a Data Quality Framework/strategy is necessary for understanding current data quality/issues and how data enhancement will be made over defined time periods.
 An essential component of the Data Quality Framework is the development of a data quality scoring process and mechanism.
A digital twin roadmap is designed to bring the concept to fruition through iteration and learning at each stage, starting small in scale in areas that are deemed to offer best value for the effort applied, then increasing this scale as the digital twin matures and develops to enterprise level. Through implementation of the roadmap we will be aiming to provide benefits as early as possible to business functions and their users.