In Focus: Social value and procurement
With social value becoming a key issue across the water sector, how do contractors ensure they measure up?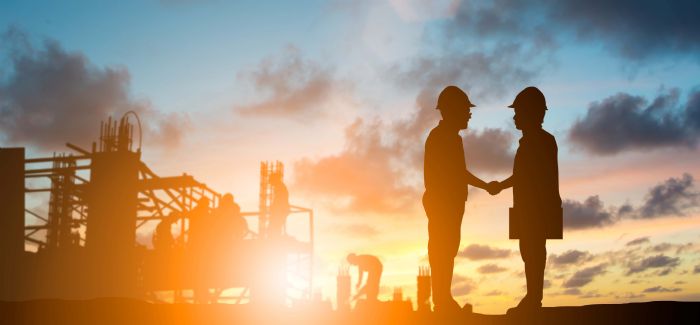 By Robin Hackett
At a time when expectations on the water industry are intensifying, there is a growing need for companies to demonstrate what they can deliver for the people they serve.
The idea of social value is not new, but it is growing in importance, and water companies are well placed to recognise the added benefits they can bring to their communities through recruitment practices, educational programmes and projects that help to regenerate local areas or improve the environment.
Many contractors will already have extensive experience in delivering social value but, as AMP7 looms, the idea is becoming more integral to the procurement process and, increasingly, members of the supply chain will be expected to document and measure their commitment.
SOCIAL VALUE
Social value, which forms part of the broader idea of corporate social responsibility or corporate citizenship, has been gaining ground for some time and involves the identification of added economic, social or environmental benefits.
It might include seeking a more diverse workforce that better represents the community it serves, or giving up time to visit schools, or raising money for charity, or implementing a sustainable drainage project that not only improves flood resilience but also enhances the local area, or recycling materials onsite to reduce carbon footprint as well as traffic through the area.
"I think all major contractors are looking at this and have been for a number of years now," Alasdair Reisner, chief executive of the Civil Engineering Contractors Association (CECA), says.
"At the end of the day, we're moving from a world that focuses on the cheapest way of doing a job to a world where, hopefully, the focus is on how we can deliver the best possible outcomes."
It is likely that many working in the industry are implementing some of these practices without any real awareness. That's partly down to a cultural shift that has seen several approaches established as business as usual for the leading companies; it's also partly because many of the ideas, such as driving recruitment within local communities, are just good sense.
"It's part of our MO. It's what we do," Kier head of group corporate responsibility Gareth Rondel says. "We do so much of this stuff day in, day out and a lot of our teams don't even realise what they're doing. It's just ingrained into them."
With growing concern about climate change and the industry facing a skills crisis, there are plenty of reasons for the wider focus on social value, and it is reaching a stage where some shareholders and investors are beginning to take a keen interest.
The Social Value Act, which came into force in 2013, has also played an important role, requiring people who commission public services to think about how they can also secure wider social, economic and environmental benefits.
"We've seen a much stronger drive on this across the broader infrastructure sector in the last few years, partly driven by the Social Value Act," Reisner says. "I think this drive for social value just starts to make that idea of helping local communities part of the wiring of the industry – it means it happens by default rather than by accident."
One of the most straightforward ways the industry can boost communities is through the local multiplier effect: the more localised the relationships in the supply chain, the more money will recirculate in that area.
"Companies contribute to the local economy through local jobs – employing people who don't drive hundreds of miles to come to the work site," Reisner says. "It's the classic example of the worker going into the local pub on a Friday night, getting the wages from the work to stay in that local area."
Kier, which was nominated for the Government's Promoting and Mainstreaming the Social Value Act Award in 2016, has made real efforts to ensure these ideas are at the forefront of its thinking with its Shaping Our Communities umbrella strategy, which incorporates a wide range of initiatives.
"Our operational businesses do these things all the time," Rondel says. "Why do we do it? Because people care. They think it's the right thing to do."
ADDING WORTH TO WATER PROJECTS
With UK water companies able to operate from permanent regional bases, the advantages of giving added value to their communities are obvious.
"In my experience, the water companies really understand and value the key role they play in the communities they serve, and I think that's reflected in their vision and values," Stantec operations director Ben Clark says. "Increasingly the word 'legacy' is coming in – what's the legacy of the work we do in those communities?"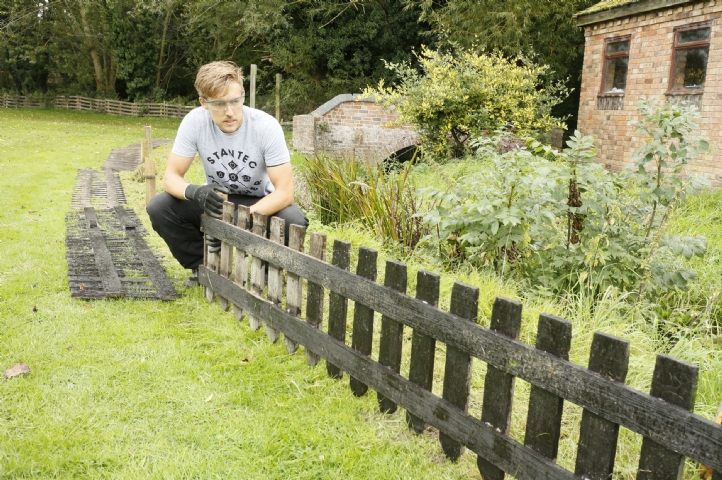 Stantec wastewater network modeller Rob Greenwood helps with renovation work at Ashorne Cricket Club as part of Stantec in the Community Week
He highlights Ofwat's change in focus towards outcomes in AMP6 and how that has resulted in a wider focus on the impacts that projects can have on communities and the economy, but he doesn't believe the regulator is leading the change.
"It might be a catalyst, but I don't think the focus is regulatory driven," Clark adds. "It's a much broader manifestation of the desire across companies and their supply chains to build reputation. I've worked with Northumbrian Water for a long period of time, for example, and this is an absolute priority for them."
Northumbrian Water – which won Best Contribution to Corporate Responsibility at last year's Chartered Institute of Procurement and Supply Awards – has helped to embed the idea of social value throughout its supply chain through its Responsible Procurement Strategy.
"For every pound we spend, we want to see the maximum value we can generate, whether that's giving up time working with local schools, working with social enterprises, students visiting construction sites or highlighting STEM in schools," Northumbrian Water procurement category manager John Murray says.
Fellow procurement category manager Laura McMain says the strategy emerged after the introduction of the Modern Slavery Act in 2015.
"It required us to have a bit more of an insight into our supply chain and to ensure we were doing everything we could in terms of eliminating modern slavery," she says. "We realised we weren't where we wanted to be and that it was a bigger piece of work – it wasn't just modern slavery, it was about bribery and working with local businesses."
At the same time, the company had a sustainability policy that did not match its ambitions, so they developed the strategy with the aim of bringing everything together and ensuring the whole supply chain had a clear understanding of expectations. A vital part of the strategy was the AIME programme, covering awareness, identification, measurement and enhancement.
"Under each part of that we had a set of objectives," McMain adds. "One of our objectives on enhancement was increasing social value on contracts – how we were going to do it, what our timescales were, what the outcomes were."
That has helped focus minds on delivering social value across a range of schemes, from SuDS projects to educational and recruitment programmes.
"Our capital partners are really good at this," Murray says. "They come to us with ideas, they want to drive this with us, they appoint champions. They look at the projects and how they can add value. They've really bought into it."
MEASURING UP
Such approaches yield such obvious benefits that, inevitably, there is now a trend for water companies to ask contractors to demonstrate their commitment to social value as part of the procurement process.
The Esh-Stantec joint venture was formed in 2015 to deliver Northumbrian's water and wastewater infrastructure programme and, even at that stage, there was a desire to ensure the social aspects would be a core part of the contract.
The joint venture produced a set of KPIs that cover issues such as reactive legacy projects, charitable funding and award successes in addition to several skills-related programmes, ranging from primary school engagement via STEM Water Kit to new apprentices and graduates.
"It's not a bolt-on – it has to be embedded in an organisation," Stantec's Clark says. "I think that's a benefit for delivery but also for the people who work for the organisation because everyone likes to be involved in giving back to the community. It's a very positive thing for employees."
Kier, meanwhile, has developed a Sharepoint-based tool to measure its commitment to corporate responsibility.
The idea was developed over the last couple of years and brings together the company's various activities in the field, using the cost-benefit analysis approach recognised by HM Treasury to put a figure on the worth of each element and then produce an overall score.
"It allows us to express it in a simple, very easy-to-understand number, but the thing that's important with this is the narrative," Rondel says. "If you turn it just into a number, I think that's a blunt tool.
"The storytelling that goes with it is really important because you need to understand how you get to it – the skills, the wellbeing, the positive impact it has on people's lives. The number just lets you demonstrate you the scale of the impact."
CECA is also carrying out work to determine the value such work can provide. In December, it published 'The Social Benefits of Infrastructure Investment', a report largely focused on housing and transport to better establish the contribution to improving people's lives.
"Our job is to make the case for investment in infrastructure," Reisner says. "Part of that is the economic case and that's something as an industry we've been very good on for a number of years, talking about: 'If you spend £1 on infrastructure, you get £2.84 back in terms of additional value.' That's well understood – you go to the Treasury and they get that.
"However, you don't build anything because it has a good business case. You build things because they change people's lives, hopefully for the better. We felt that there was a weakness in terms of ability to demonstrate what those social outcomes are when you do invest in infrastructure."
On the back of the report, CECA hopes to create a framework so that – regardless of whether it is a water project, a power project, a road, a railway or a housing development – the social value will be measured in the same way.
"It's still at the very early stages, but I'd like to think in the next year or so we'll start to see some development on that," he says.
MOVING FORWARD
As AMP7 approaches, one of the major themes across the water industry is likely to be the growth of multi-stakeholder engagement.
"The whole hierarchy of approach to these things has evolved," Clark says. "From AMP5, we've really embraced a move towards sustainable solutions, to community solutions, where we've sought to identify the broader benefits.
"Through doing that, we've introduced true partnership solutions with the Environment Agency, local authorities, local action groups and community groups. The outcome from that has been really, really powerful."
Stantec's UK business is now making use of 'charrettes', which are common practice for their North American counterparts. The term, which means 'cart' in French, refers to an intense period of design work after which, in its original usage, a group of student architects would apparently be gathered up in a cart along with their models to be taken to the design jury as the deadline approached.
In the modern usage, though, the emphasis is simply on community design events with a collaborative focus.
"This is absolutely business as usual in some areas of the globe," Clark says. "It's a managed, well-facilitated process that brings in all aspects of the stakeholder community's input. There's a far greater understanding of the issues to be addressed and, as you work through the process, you develop the design collaboratively and get something that has buy-in from all.
"Before, it was more about developing an engineering solution for the community but only engaging with them as you told them what was going to happen. The benefit of a charrette approach is we move to co-creation and real buy-in from the community."
The water sector may also have to invest more thought into community impact while carrying out everyday projects such as pipe repair.
If the only time a customer thinks about their water company is when they're late for work because of a trench in the road, or after being stuck behind heavy plant transporting materials to and from a work site, perceptions will be negative.
While Ofwat is still finalising its C-MeX methodology, it is certain to demand improvements to the customer experience. For one thing, it is expected to look beyond direct complaints and seek to sample opinion more widely, which could mean someone who tweets a complaint about streetworks while passing through another company's region is categorised as an unhappy customer in that area.
To deliver on expectations and add value to their brand identities, companies will need to find ways to minimise disruption and communicate more effectively.
"One of the things we've done collaboratively with clients is to develop a customer engagement tool that helps to quantify the impact of the work we do," Clark says. "It's very important that, as a delivery team, we understand not just the design but the impact it has.
"That might mean using trenchless technology rather than an open-cut, or rerouting plant, or positioning the compound differently – we can look at all of those fundamental decisions through this tool and make sure we have not only the best outcome in terms of performance but the best outcome in terms of minimising disruption and impact."
Given that the Government estimates that roadworks cost the country £5 billion a year in traffic closures and disruption to businesses, a cost-benefit analysis approach might well indicate that using trenchless technologies can ultimately deliver significant savings. Similarly, many customers might simply be willing to pay more to avoid the hassle.
"The real progress-leading companies in this area think about outcome delivery," CECA's Reisner says. "It's not about spend but what you can deliver to customers and stakeholders. What they value is not the price they pay in terms of their water bill so much as not wanting to be disrupted or knowing that things are going to happen. I think organisations are starting to focus a lot more on these bigger outcomes and we will see significant change in this area."
With customer expectations changing and social media providing greater to scope to voice opinions, the demand for social value approaches is set to grow, and it will be essential for the industry to show it can respond.
"We run into it more and more, not just in water but right across our operations," Kier's Rondel says. "Even in the private sector we're seeing more and more direct and upfront enquiries asking how we as a principle contractor are going to deliver that positive impact as part of our operations.
"I was at a property seminar recently with some big private-sector organisations, and to hear them talking about how they want to deliver and communicate what a difference they make is really encouraging to hear. If the private sector understands this, we're going to see some real traction."
SHAPING OUR COMMUNITIES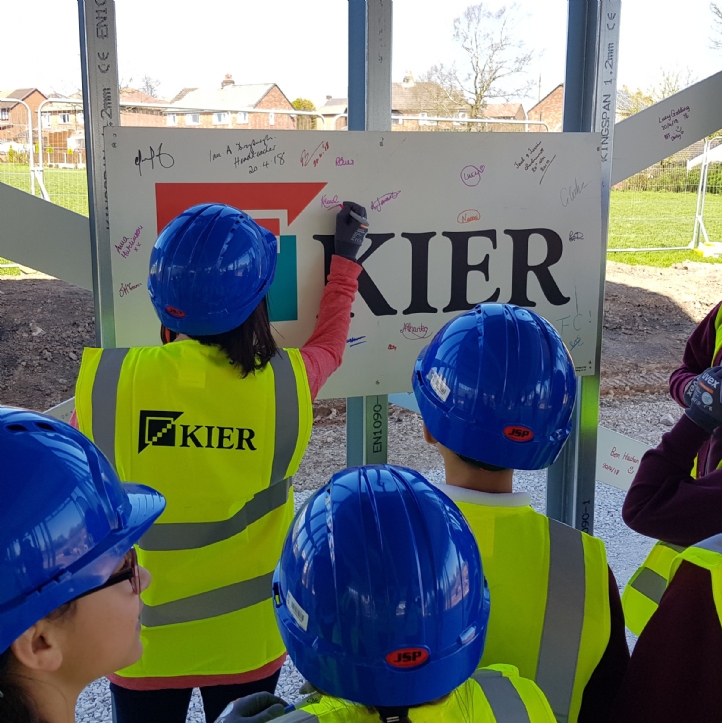 Engagement with youngsters as part of the Shaping Your World initiative
A core aspect of Kier's Shaping Our Communities approach involves making use of its 80 regional offices around the UK to work with local SMEs and boost the local multiplier effect, but its efforts go far beyond that and include a range of specific initiatives.
For example, S-Skills was created to help its highways business address recruitment issues in Surrey, where unemployment levels were particularly low. The scheme sought to identify people who found themselves out of work due to wider issues, such as multigenerational unemployment or issues with alcohol, and give them an opportunity.
"A number of people have progressed through that scheme and are now working for Kier – the benefit that gives them as an individual is massive," the company's Gareth Rondel says.
"One of the things we know from apprenticeships is that if you're a working person, you tend to be in slightly better health and less likely to be involved in crime. By putting someone into work, you're taking the strain away from other sections of the state. You're not paying unemployment benefits and you're slightly reducing the strain on the NHS and the police force."
Kier is also working with charities including End Youth Homelessness, which aims to give young people homes, support networks and the skills they need to work, and OnSide, which provides 'youth zones' that offer people aged 8 to 19 years old (or 25 for those with a disability) somewhere to go to develop social and life skills.
Its Working Roots programme, meanwhile, aims to reintegrate vulnerable young people back into the community, and Shaping Your World has seen 450 Kier ambassadors work with more than 20,000 school children to promote awareness of career opportunities in the sector.
NORTHUMBRIAN WATER SCHEMES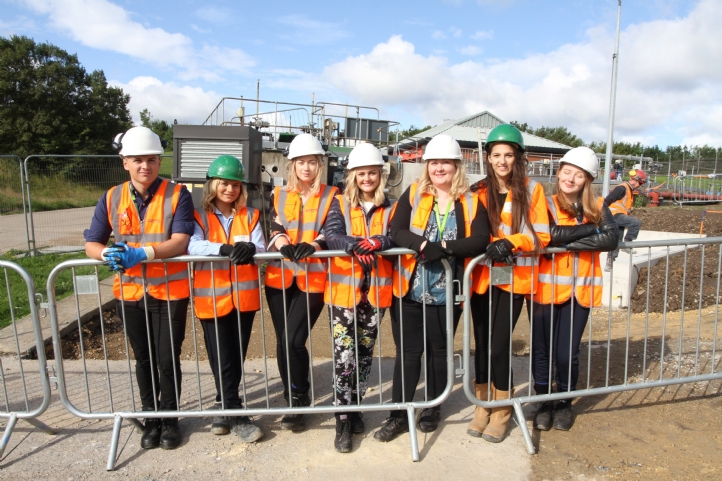 Students from the Run2 Academy's 12-week shared summer placement in 2018
Northumbrian Water has ramped up its efforts to deliver social value in AMP6 and has delivered added benefits to a range of projects.
For example, the company has worked alongside North Tyneside Council and the Environment Agency to manage surface water at Killingworth Lake, recontouring its south bank, planting new trees and shrubs, and improving wildlife habitats and biodiversity.
As part of the Whitburn Spill Reduction work in Sunderland, meanwhile, the company provided Roker Public Park, two schools and several public open spaces with water features, planting and landscaping in return for space to store water as well as rainwater planters within schools that provide amenity benefit and an educational opportunity for involving schoolchildren.
"A lot of the projects we deliver under the frameworks will have associated social value with them, looking at how we can benefit the community," Northumbrian Water's John Murray says. "Whitburn is one that we're pretty proud of."
Northumbrian is also working with all its framework partners on the Run2 Academy at their co-located base in Seaham, County Durham.
"Students will come in and spend some time with our construction partners and our consultant partners," Murray says. "That really gives them a good experience of the water industry as a whole and not just one element of it.
"What we're trying to achieve is to attract the best talent into the industry – if it's working for Northumbrian Water that's brilliant, but if it's just working in the water industry then that's good enough for us. It's trying to open those doors to get the best people."
This article originally appeared in the March issue of WET News