In Focus: Health, safety and wellbeing at Lanes Group
Having introduced an array of creative solutions to improve health, safety and wellbeing, Lanes Group is showing the breadth of benefits that can be delivered when a business devotes its energies to improving workers' lives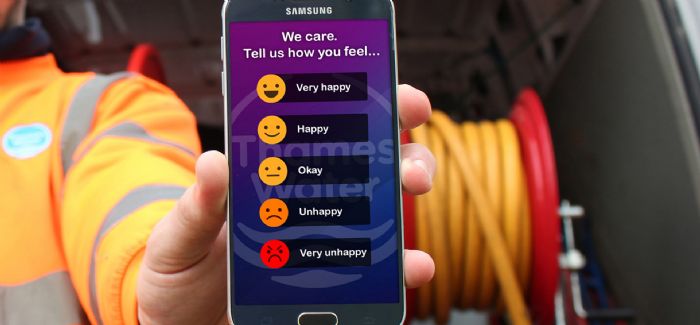 By Robin Hackett
Across the industry, many companies are making efforts to not only cut down on health and safety incidents but to improve the overall wellbeing and mental health of their staff.
Beyond the obvious human advantages, bringing about improvements in these areas can reap far-reaching rewards: a happy, healthy workforce is far more likely to be a focused, productive and loyal workforce.
As part of its AMP6 wastewater network maintenance framework contract with Thames Water, independent drainage and utility specialist Lanes Group has introduced a host of new innovations that are now driving remarkable improvements throughout the business.
ROOM FOR IMPROVEMENT
Health, safety and wellbeing has long been a focus for Lanes Group and its efforts have attracted plenty of attention in recent years.
In 2014, Lanes won two awards for its Essential Standards workplace guide and training tool, which involved taking dry, lengthy operational manuals and putting them into a more easily digestible pictorial form with cartoons and icons.
It also launched a Shout About Safety newsletter, distributed within the group every month and featuring advice, news, success stories and seasonal safety warnings.
The following year, the company won an award for a PoWRA (point of work risk assessment) app that asks field workers a series of questions to determine the safety of their working environment – whether there are any overhead cables that may present a risk, for example – and requests images at each stage of the process, which is all collated into a centralised record that can be viewed online instantly.
These are just some of the early initiatives Lanes had implemented in its work with Thames Water, but the reduction in incidents was failing to match expectations. Over the course of 2016, the team had five RIDDOR incidents, where workers were away from work, or unable to perform their normal work duties, for more than seven consecutive days as the result of their injury. There was also a lost-time incidents (LTIs) in which someone was off work injured for a shorter period.
In the autumn of that year, Lanes Group technical director Andy Brierley and the leadership team gathered at the Customer Solutions Centre that Lanes shares with Thames Water in Berkshire to search for solutions.
"On a dark Thursday night, all the senior managers gathered in this room and set out to work out where the issue was," Brierley says. "We had a new induction, the best PPE, the best kit, the best managers, the best mindset, but something was still going wrong because we were still having incidents.
"The LTI rate peaked at 0.47 in February 2016, which is pretty good but not where we set our aspirations to be."
At the meeting, the team opted to implement two new initiatives.
One was to enhance the system for site audits. The team introduced a new card system to rate success, with green cards awarded to those who pass with flying colours, yellow cards for those with room for improvement, and red cards for significant issues that prompt work to be stopped.
"Green cards quickly became coveted," Brierley says. "They're for sites set up just how we want and expect – correct PPE, clean PPE, right attitude and culture, clean vehicle. We even swab the steering wheel to look for bacteria traces causing sickness and diarrhoea.
"Any yellow cards result in a higher frequency of audit for that engineer or team. A red means: 'We've got an issue here, stop work, make changes and have a review of where things had gone wrong.' It can be challenging, but it's constructive. We always want people to learn and improve."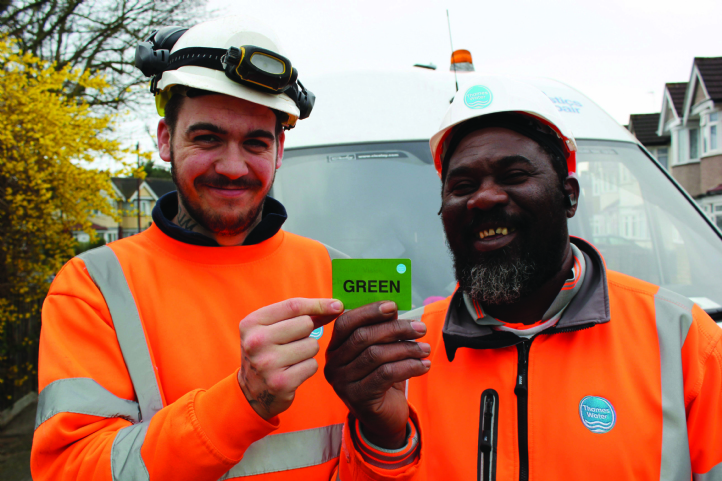 The card scheme proved a success, but the other initiative to emerge from the meeting was perhaps more significant.
"The only thing that answered the question of why the incident rate remained stubbornly high was that it must be cultural, it must be behavioural, it must be about mindset rather than the training," he says. "We realised that if we could measure feeling, emotion and attitude, we could do something about it.
"That's the variable that changes minute-by-minute, hour-by-hour and day-by-day. You could have had an argument with your partner the night before. You might not be feeling well. You might have financial pressure. You could have mental health issues. All these things culminate into poor customer service, unsafe behaviours and ultimately incidents."
The day after the meeting, Brierley contacted Lanes' app development team and asked them, as a matter of urgency, to create an app that would ask workers to report on how they were feeling when they signed in each day, ranging from very happy to very unhappy. Two days later, a prototype of the app had been created. The day after that, it was rolled out to 1,500 people. The implications were more significant than anticipated.
"We opened a Pandora's box," Brierley says.
LIFTING THE LID
With staff able to flag their mood at the click of a button, Lanes was given an unprecedented insight into the emotions of its people.
The initial plan had been for those who clicked 'very unhappy' to go to their regional managers but, with 80 per cent of those issues caused by factors unrelated to work, that proved a flawed strategy.
"It was quickly apparent that our managers weren't trained in what came next so, two weeks after launch, we hired Kelly Hansford, a wellbeing practitioner," Brierley says. "She's a qualified mental health support worker with a wealth of experience in challenging positions within the healthcare industry.
"Now, the app asks anybody who clicks 'unhappy or very unhappy' if they would like to talk to their manager about what's making them unhappy. If they say no, Kelly will call them to introduce herself and offer to discuss how she might help."
Staff may be unhappy for any number of reasons – they might be going through a divorce, struggling with debt or have medical issues. As a result of the app, Lanes has been able to find out about such issues and intervene, and there have been plenty of instances where that intervention has had a significant impact.
"A GP I spoke to about a colleague's care plan for depression said he was amazed at the support Lanes gives its employees," Hansford said. "He said he had never come across anything like it before."
Lanes has sought to drive this culture throughout the business: the company is in the process of training a team of 30 qualified mental health first aiders. Everyone who manages people is IOSH (Institution of Occupational Safety and Health) accredited while everyone who manages a team is NEBOSH (National Examination Board in Occupational Safety and Health) accredited.
The wellbeing app and practitioner programme, though, has also lifted the lid on work-related unhappiness: by establishing which staff members are discontented, Lanes was able to find hotspots and then unravel problems.
"While originally we were looking at managers dealing with the problem, we actually found that the way people were being managed was, in some cases, part of the problem," Brierley says. "We started to unearth issues that, as a management team, we never got to know about. That helped us put in place measures, including a programme of people skills training, to change mindsets and behaviours. Managers have embraced this approach. They now have better skills and insights to help support their teams."
FURTHER PROGRESS
Lanes reaped swift benefits from the new initiatives. With the wellbeing app and card scheme having been brought into action shortly after the board meeting in late 2016, the decline in the number of incidents is clear from the chart at the top of the page.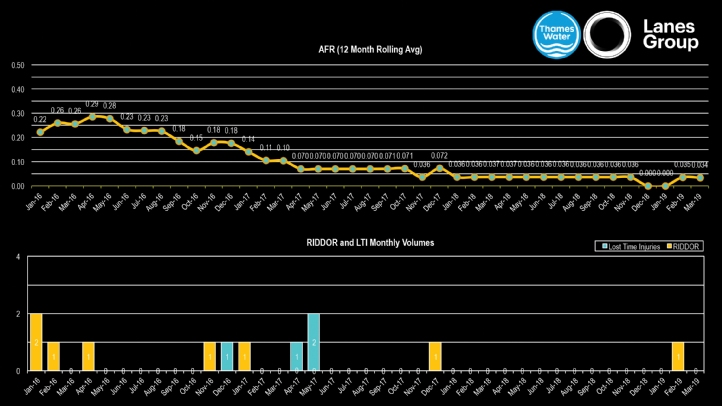 The success has spurred Lanes to gain an even greater understanding of the workforce. In early 2018, it launched 'Golden Chair', which sees a frontline member of staff invited into the weekly board meeting and invited to share their views.
The invitation is open to any of Lanes' 1,500 employees working for Thames Water, with the participants decided at random via a digital 'wheel of fortune'.
"It's one of the best things we've ever done as a team," Brierley says. "When they come in, we tell them: 'There is nothing off the table in this room. Whatever you want to say, however you think we're running the business, we just want your feedback.'
"The Golden Chair gives colleagues the chance to give us a view on whether they have the tools they need to do their job and how they're being treated. We as a leadership team know our people better than any other business on the planet – we know what they're feeling."
Numerous reward and recognition initiatives have also been introduced.
Some of those are designed to recognise good work. Pathway to Success is a programme that presents clear routes of progression within every role and shows employees how they can reach their desired position, with the company offering to provide the necessary training and education.
On a more immediate level, Drive for £5! sees field workers rewarded financially every time their performance is rated 5/5 by a customer.
The company has also teamed up with Perkbox to give workers access to an app that provides shopping vouchers, while a tie-up with Via Vita Health led to the 'WellMe' programme, which gives staff the chance to achieve their personal healthy living targets, such as weight loss or giving up smoking.
As part of that, chefs have come in to stage healthy cooking demonstrations, while there have been events ranging from ballroom dancing and taekwondo to cleaning up woodlands with local Wildlife Trusts. Messages promoting the importance of work-life balance are screened in the office and people are rewarded if they cycle to work.
Staff are also offered free personal medical assessments, while the company will offer funding for up to six physio sessions for injuries suffered outside of work.
Building on the wider efforts to boost wellbeing, Lanes Group has taken specific steps to reduce absences related to sickness, bringing about major improvements from January 2018 onwards.
"We're one of the only organisations on the planet that measures IFR – illness frequency rate," Brierley says. "We measure lost time as lost time."
An occupational health support programme was introduced in late 2017 that means any member of staff calling in sick will receive a call within two hours to determine whether a home visit is required.
"That used to be two weeks," he says. "The quicker you intervene, the quicker you can provide the support needed to allow people to return to work."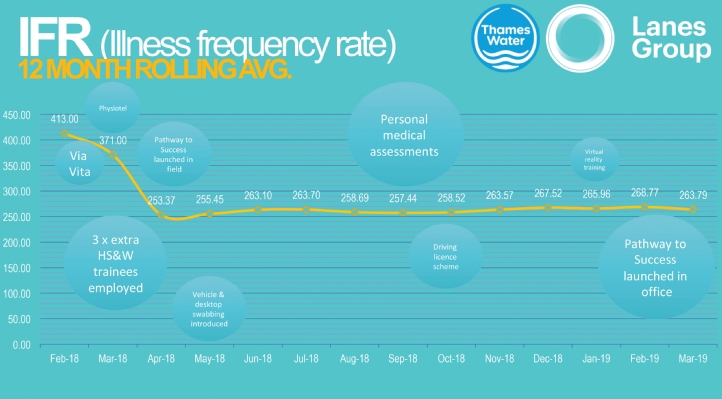 Around the same time, the company decided to bring in the 'duvet days' concept, which allows staff to call in up to an hour before their shift starts and – providing their manager has sufficient cover – take up to three days off.
"This has been around in the United States for quite some time and it's been a big, big success," Brierley says. "Our sickness rate has absolutely plummeted from about six days per full-time employee per annum to about 1.8. Our illness frequency rate is 267 days in total per month, down 35 per cent on what it was this time last year."
NET GAIN
Lanes continues to seek new ways to drive improvements. Its most recent innovations have ranged from using actors to simulate testing scenarios as part of the management training protocol to the introduction of a new NeverAlone app, which requires lone workers to regularly check in and can raise an alarm if the inclinometer in the phone indicates the person is lying on the floor.
"We innovate wherever we can on anything we can deliver," Brierley says. "For us, it starts with safety. The innovation in health and safety has been driven by deciding to do something completely different. We needed a fresh look at it and the results have been phenomenal.
"We said we would have zero very unhappy people and the wellbeing app tells us we're nearly there – down from 12 or 13 per cent to less than 1 per cent. We said we would have 365 days without a lost-time incident – we've just completed a period where we were just short of 5 million hours without a lost-time incident. And at the end of 2018, our AFR was zero."
The wider benefits have also been significant. For one thing, the company has seen a 57 per cent reduction in staff attrition, resulting in a £1 million annual saving on recruitment and training costs.
"We were bringing people through the door and losing the same amount," Brierley says. "We were industrialising our training in terms of this constant churn. How do you retain knowledge, customer service, safety-focused culture and world-class service delivery when it's always new people? You can't do it. We're managing the sewer network for London. It's complicated, it's hard, it's busy.
"If we select people who are a good fit for the business, we owe it to them to give them absolutely everything they need to stay with us for their entire career. Recently, our loyalty's been shooting to the moon."
Customer satisfaction scores have improved throughout the years, too.
"You can see tangible results in reducing complaints," he says. "If our teams are happy, they're more productive and more customer-focused. It all just links together."
IGLOO GETS INTERACTIVE
In early 2017, Lanes Group sought to enhance its induction process by investing in an Igloo: a 360° projection theatre that can provide a taste of real-world working environments. The theatre has been jointly funded with Thames Water, which also uses it for training and presentations.
"It makes learning much more immersive," James Brewer, Lanes Group's learning and development specialist, says. "Where you've got your standard induction in a classroom, we can break it up by coming into the Igloo to watch a video briefing on health and safety, for example, or we can run presentations through it. We can then have a discussion.
"Rather than just looking at photographs, you can imagine you're standing in the street with the other trainees – it brings it to life and keeps them engaged."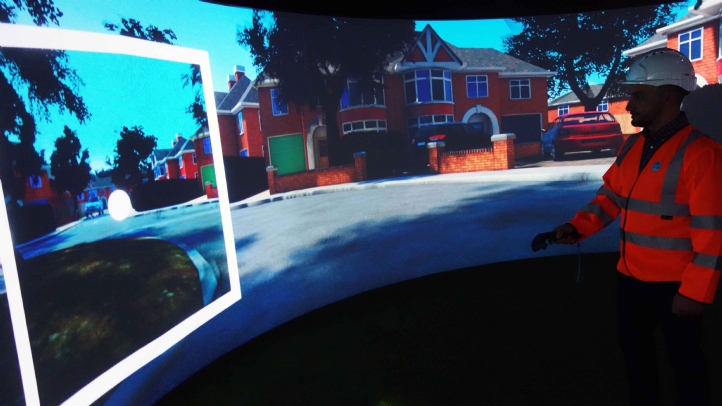 Up to 15 people can undertake training inside the theatre at any one time, and Brewer adds: "It's saved money as well. Rather than sending people out to a location, we can do the training in-house and it makes it much easier to have conversations."
At the start of this year, Lanes opted to take things to the next level, pioneering the world's first 'mixed virtual reality' Igloo by integrating an Oculus Rift headset with the software controlling the projection system so that people can take a wand into the space and interact with the screen as part of training games.
"Because you don't have to wear a headset, it's not insular," Brewer says. "You can have multiple people in the Igloo at once going through a training scenario, or game, as we call it."
The training games are set in a VR world called Thames Town and feature residential, rural, high street and industrial settings, with more in the works.
In the initial demo game, trainees are shown text conversations with a customer to establish the reasons for a visit to a house, then given multiple tasks, such as checking for faults with their equipment, taking photos of the worksite, and selecting the correct equipment to clear a drain blockage.
"The company that designed it has made it look, sound and feel like a game to encourage the people who use it, and to make it feel familiar for them," he adds. "We can also pause the training game and talk the teams through why they need to do things, ask questions about why they made the decisions they did and give them guidance."
The original Igloo was a major investment for Lanes and Thames Water. Pioneering this new technology, which involved working with both Igloo and game designer Myriad, has added to the cost.
"We felt the business case was strong enough," Brierley says. "The feedback has shown that immersing people in different environments sets the scene for going out into the real world.
"If you can welcome someone into your organisation to the best possible standard, they feel valued, they feel they have a purpose, and they will go out and perform, showing loyalty and, above all, staying safe."
This article originally appeared in the May issue of WET News