In Depth: Pumping and Energy
Whether it is impeller design, motor specification or the timing of maintenance and replacement, much can be done to make water and wastewater pumps operate more efficiently. James Brockett runs a rule over the latest trends in the quest to save energy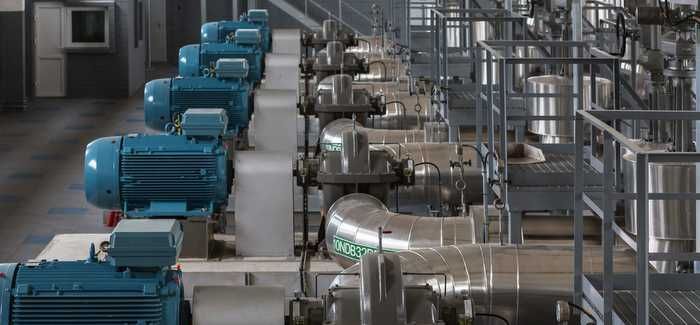 Water utilities operating in the Totex-led regulatory environment of AMP6 should have more incentive than ever to save energy in their operations – and with pumps making up some of their most energy-intensive assets, they should be a natural focus for these efforts.
There are many ways of saving energy on pumps - spanning product design, selection, control, motor optimisation, maintenance, monitoring and optimal time of replacement - and the potential rewards can be significant. Anglian Water, for example, has 28,000 pumps and its annual energy bill for pumping alone is £24M, or around 35% of its total energy use across its business. It is easy to see how achieving a relatively small energy saving of 1-5% could yield a six-or seven-figure annual benefit in monetary terms, together with a reduced carbon footprint.
Pump design and motor efficiency
So where can these gains be made? On the clean water side at least, the answer is usually not in the design of the pump itself. The hydraulic efficiency of pump impellers for water has for some decades been at as high a level as it is likely to get, so much more work in recent years has concentrated on the drives and motors powering pump sets, explains Christoph Pauly, a spokesman for German pump manufacturer KSB.
"The most efficient pump we ever had in KSB had something like 93 per cent efficiency; it was a huge water pump that was built in South America 40 years ago, and it's still going," says Pauly. "When transporting clean water, very often the efficiency of the pump is more than 90 per cent so there isn't much progress to make. The progress in recent years has been around the engine part. It used to be the case that you'd have pumps running at the same speed no matter if it was needed; what you find now in the water industry is that many of those pumps are equipped with a frequency inverter to reduce the speed and just deliver the water that is needed by the customer."
It's now the norm for pumps to be supplied with a motor and inverter in a matched group, so there is no reason for utilities to miss out on these benefits.
Pump design has a greater role to play in wastewater, where concerns over energy use have traditionally taken second place to ensuring the pump does not block. There will always be a trade-off between efficiency and avoiding clogging, which is why the hydraulic efficiency of pumps in operation can be anything between 20% and 80% depending on the size and exact application. Yet recent improvements such as non-clog impellers, solids separation systems and impellers that can better cope with methane gas can all make a real difference as to where a pump is positioned on this spectrum.
Sizing and Selection
Aside from this, one of the biggest things that utilities can do to make efficiency savings in pump selection is to ensure they pick a pump of the right size, says Peter Reynolds, Managing Director of Grundfos.
"Today we see many installations that are oversized, or they have a considerable spare capacity in-built into the product selection to cover that once-in-a-year possibility that could happen," says Reynolds. "The key is that you need the right data to make the right decision on product selection. Duty requirements change over time and so you have to check that real-life conditions on that site have not changed since the system was initially designed and selected."
Many companies in the supply chain provide a service where they visit pump installations and advise on how to improve efficiency; replacing the pump impeller with one of a smaller diameter is a frequent recommendation, as it is inexpensive but can yield energy gains if the pump has been bigger than required.
Performance monitoring
The greater use of technology to monitor the performance of pumps - so you can see when efficiency has dropped and they need maintenance or replacement - is a growing area. Anglian Water is about to roll out such a system, explains Valerie Hindie, Energy Projects Development Engineer at Anglian.
"Today's technology makes it easier because with GPRS systems and improvements in telemetry, we can generate pump curves ourselves remotely," she says. "We have a system going live this month – the Energy Efficiency Monitoring system - that will permit us to establish the pump's curve in real time. That's going to be a massive improvement, and we are going to use it to target all the larger pumps. We'll be able to monitor pump decay over the years, and the right time to maintain it or change it. For the moment we only have 65 sites covered, but year after year we hope to increase that number."
The EEMS gathers historical data about the pump's decay in performance, which can point clearly to the right point to intervene: there is no need to wait until the performance drop becomes visually obvious or the pump fails. Eventually, it is hoped that operatives will be able to receive alerts when a pump drops below reasonable efficiency so they can do something about it in good time.
The size of a pump and its amount of daily usage makes a huge difference to the degree to which energy saving is possible and desirable. The pumps initially covered by the EEMS system will all be over 300KW in size; any slight gain in efficiency at this size is valuable. By contrast, 70% of the utility's wastewater pumps are below 10KW, and 80% are below 15KW (a proportion which will increase still further with the adoption of private pumping stations later this year). At this smaller size, energy savings do not amount to much in total; furthermore, many wastewater pumps only operate intermittently depending on flow. These facts explain why wastewater pumping has traditionally been the poor relation where energy is concerned.
Programming and maintenance
Anglian's energy team concentrates its efforts on pumps that are more than 15KW and run for at least five hours a day, says Hindie. For pumps that are running a few hours a day, controlling pumps so that they are not running during peak times when electricity is more expensive (e.g. 4-7pm) is a useful tactic. This can be achieved relatively simply either via a Programme Logic Controller (PLC) or a basic timer, says Hindie.
More regular, proactive maintenance can also boost efficiency. This clearly applies to wastewater pumps, which have a shorter lifespan and are beset by rags and hard objects, but is also a consideration in water treatment and other applications, where the use of chemicals such as ferric chloride can create hard deposits on machinery and lower efficiency.
Sealing and submersibles
Ensuring that a pump has an appropriate mechanical seal is another way of helping make sure that efficiency does not drop; selection of inappropriate sealing systems can have a very significant impact on the energy efficiency, says Richard Smith of AESSEAL.
"The purpose of a mechanical seal is to 'seal' the process fluid - whether it is toxic or expensive, the objective is to keep it within the system and pipe work to avoid it seeping out and resulting in a cost for lost process fluid and clean up," says Smith. "And, of course, if the liquid or process fluid that is leaking is heated, it is losing costly energy from the system. So, be it with flanges, valve stems or pump seals, it is necessary to think of the seal not only as preventing process fluid contamination and leakage to the external atmosphere but as an important part of conserving energy within the system."
Another more specific area of technical development surrounds motors for submersible pumps in wastewater. In the past, the motors for these pumps have received less attention than those in water and other applications, because their operation within wet wells means that they require a specific design to avoid being inundated. KSB is among the manufacturers who are investigating how more efficient motors can be brought to these pumps, which are a significant portion of utilities' asset base.
Conclusion
There are certainly multiple ways in which utilities and other large users can approach the challenge of minimising their energy use from pumps. Technology is helping, whether it be with online selection tools to help with pump choice, better telemetry and controls, and monitoring of performance. With many thousands of pumps to look after and improve, it might seem like an endless task, but the other side of this coin is that there is an almost endless capacity for marginal improvement.
- You can find out more about how to minimise the energy use of pumps at The Pumping Station interactive exhibit, which is part of Utility Week Live, May 17-18 in Birmingham. www.utilityweeklive.co.uk