Hydrogen sulphide attack countered in Worthing
Covering plant to control odour can cause corrosion, but a Kent company provided a solution for Southern Water. Richard Maggs, operations director of Arnolds Environmental explains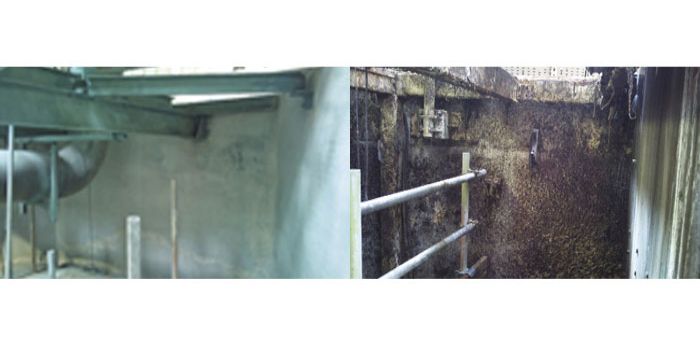 Inlet works before and after
Arnolds Environmental (AE), a specialist mechanical engineering company from Brenchley in Kent, has successfully completed the first project of its kind to rehabilitate a live inlet chamber at a Southern Water wastewater treatment works (WwTW). AE carried out its work as a sub-contractor to Barhale Trant Utilities (BTU), the principal contractor responsible for the multi-million pound East Worthing Compliance scheme.
The concrete and steelwork at the inlet works were suffering severe corrosion, mainly due to hydrogen sulphide attack as a result of moisture in the air producing sulphuric acid. This had been exacerbated as a result of covering the inlet some years ago as part of the installation of an odour control system. Southern Water recognised these issues and was quick to put in place the necessary remedial works. It was expected that the initial scope would be minor repairs and coating of the steelwork and concrete. However after further investigation it was agreed that more detailed repairs were needed.
It was necessary to examine the floor cover plates which covered the supporting steelwork. This revealed that both the concrete and the steelwork were in a condition that meant the inlet chamber had to be fully scaffolded. As this was a fully operational site, the work had to be undertaken without disruption to the works. Working over a deep and live inlet is potentially extremely dangerous.
The hazards and risks were considerable – not just for erecting the scaffolding, but then completing all remedial work from that scaffolding as well. Ultrasonic testing of the steelwork was carried out and a number of core samples were taken from the concrete and analysed. These confirmed Arnold's initial assessment.
On site, specific teams handled scaffolding, repairs, application and safety. Within the working area as a confined space, there were also significant issues with poor atmosphere and potential rescue situations. All the work therefore was conducted using breathing apparatus.
Sean Jordan, operations director at BTU commented: "We made the decision at the beginning to have everyone go together on the same set of additional safety courses. A full confined space safety course and then a full breathing apparatus course were run for everyone involved in the work together.
"So we were a working team well before we arrived on site and unquestionably that helped the work go smoothly and, most importantly, very safely."
AE then began the work with an extensive clean up and everything was washed down. The concrete was then returned back to sound condition using an ultra-high pressure (UHP) water jetting unit and 'scabble' head running at 25,000 psi. It had to be built back for two reasons – to give a smooth surface to put the highly corrosion protective coating on afterwards; and as we had already exposed a certain amount of corroded re-bar we had to address that corrosion and then recover it.
The product used to build back the surface had to assist with the long term protection of the re-bar, have high build characteristics, very good adhesion and, by necessity of the environment in which we were working, have a very short curing and overcoating time. This was not something we could do with standard sand and cement or other regular concrete repair products.
Once the re-build of the concrete surfaces had been completed, we applied the Chesterton S1HB, a specialist hi-build protective coating from the AW Chesterton in the US, specifically produced for just this work and designed to go on both concrete and steelwork for hydrogen sulphide protection.
Arnolds Environmental anticipates a growing number of similar opportunities in the years to some. Many sewage treatment works these days are being covered mainly for odour control reasons.
There is a big issue arising and it is being recognised by all the water companies. Now they are covering the works they are seeing that they have some serious hydrogen sulphide issues to deal with.