Research Notes: How will water be delivered in 2065?
The TWENTY65 consortium of six universities, led by the University of Sheffield, recently won £3.9M in funding from the Engineering and Physical Sciences Research Council (EPSRC) to investigate how disruptive innovations could address the 'grand challenges' of water over the next fifty years. Here, the project's lead researchers explain what the project hopes to achieve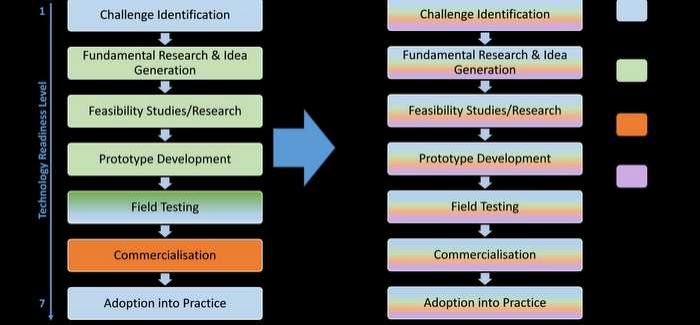 The current fragmented route to innovation (left) could be replaced by a more collaborative approach (right)
by Professor Joby Boxall and Dr Vanessa Speight, University of Sheffield
The current approach of centralised treatment and distribution of drinking water has made significant advances in protecting public health and fundamentally changing the way people live. However, the delivery of high quality drinking water to every home and building has come at a cost in terms of energy, capital, and impact on the environment. Moving into the future, population increase, ageing infrastructure, and the need to better protect the natural environment all in the context of uncertain climate change will drive our current systems beyond breaking point.
Given this situation, a grand challenge emerges: how can we tailor water systems to deliver positive impact on health, the environment, the economy, and society over the next 50 years? The TWENTY65 consortium, which includes the Universities of Sheffield, Exeter, Imperial College, Manchester, Newcastle, and Reading is tackling this grand challenge through research and collaboration across the water sector.
Combinations of disruptive innovations are needed to change the current water paradigm to create more flexible and adaptive systems. The application of traditional technology-based solutions alone is not the way forward; there is no universal single innovation that, on its own, can address the interconnected and interacting pressures. Thus a suite of solutions will be required for each individual location, or catchment, or city, or neighbourhood. Our research into such solutions will focus on the developed world first, but will have substantive potential for the rapidly developing and developing worlds. Our research will identify and develop disruptive innovations that can impact across the water cycle as well as to understand how to integrate these and other innovations, in a future context, to evaluate and optimise the performance of each suite of solutions.
TWENTY65 comprises a variety of research themes linked and supported by a central water innovation hub. Fundamental science and engineering research is core to each theme, with significant impact and benefit resulting from deep and disruptive questioning around the current water management paradigm.
Consider the case of an urban area with dense population. A large investment in infrastructure has been made over the past century and pipe networks will likely still represent the best way to deliver mass quantities of water. But to extract the best performance from these systems, we will need pervasive sensors to understand the location, condition and performance of this critical infrastructure. This data could be obtained by robotic autonomous systems, which is one of the research themes in TWENTY65, such that human intervention in buried infrastructure is eliminated in the future. Research to be carried out to help reach this goal includes technical specifications and computer simulations for performance of future robotic devices, consultation with robotics manufacturers to jointly explore the potential market, and developing prototype devices.
If our water systems are well-understood thanks to robotic autonomous devices, there may be the ability to add value to the networks by using them for distributed energy storage. The energy sector is increasingly in need of energy storage to balance renewable energy sources across their distribution grids. TWENTY65 will research the potential for using pumped water in combination with heat recovery and other energy generation technologies, at various scales, to serve as energy storage and thereby avoid costly energy grid upgrades. Such added value would help drive and underpin investment in water infrastructure, without directly affecting the price paid by consumers for clean water.
Given the need to increase sustainability of treatment and the influence of pipe infrastructure on water quality degradation, treatment technologies of the future should be considered at the point of need, matching water quality with water use. This paradigm shift will be investigated in TWENTY65 via multiple treatment options including treatment at the household or neighbourhood scale via gravity-fed advanced ultra and nano-membrane filters with little or no pre-treatment, introduction of novel treatments such as synthetic biology to remove fats, oils and greases at the customer sink, or novel adsorption/ion exchange and electrochemical oxidation processes to recover nutrients from wastewater and remove emerging pollutants.
However, technological advances alone will not succeed in addressing future water challenges if users, regulators, industry and the general public are not mobilised. Therefore there is a great need to better understand and engage with a variety of stakeholders, which is another key theme for TWENTY65. The mobilisation research theme will develop a systematic framework for describing and assessing engagement activities, with the goal that stakeholder-based solutions be considered equally alongside other technical innovations to address future water challenges.
Underpinning this vision for the future of water is the concept of a collaborative and innovative sector. Working collaboratively across the water supply chain from challenge identification through commercialisation and implementation at a water company (see diagram) will be essential in achieving a sustainable outcome for the water sector in the future. TWENTY65 will be researching collaboration processes for innovation in this context and developing tools and models to guide future joint work efforts.
Good collaboration requires great communication. The TWENTY65 Hub will serve as the central point of contact for a variety of cross-sector interactions to enable innovation, including through a set of Thought Leadership Clubs. The Thought Leadership Clubs are open to any interested parties who wish to work collaboratively and contribute their knowledge on the water sector. Part of the journey to a new future is a shared vision, so the Hub will be developing a roadmap in consultation with water sector leaders, companies, researchers, and users. The first step in the roadmapping process is underway with the development of white papers about disruptive innovations, authored by the Thought Leadership Clubs, to lay out the current situation, the potential pathways forward, and the research needs to get there. Collectively, we can solve the grand challenge of clean water for all for the future and ensure the sustainability of this vital resource.