How to achieve improved reliability of service
Richard Broome, managing director and founder of LSBUD, talks about why a consistent service is key to customer satisfaction and looks at how better protecting underground water pipes is crucial in improving reliability.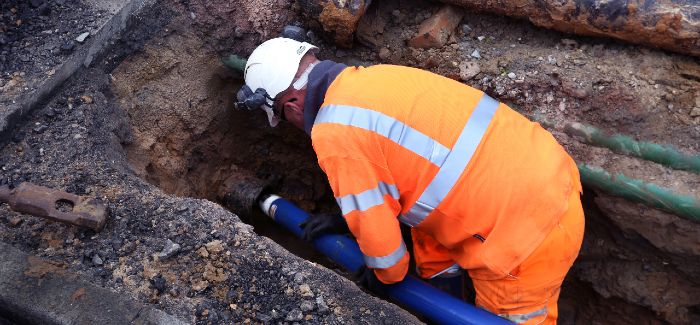 Someone accidently hitting an underground water pipe during digging work will not only have a significant impact on the pipe itself, often causing major damage, but also on the water company's business. A single spade or digger bucket used in the wrong place can disrupt a water company's ability to supply customers, tarnish its reputation and cost thousands in repairs.
So, what is being done to improve reliability of service for the customers?
Ofwat steps in
The pressure has been ramped up on water companies to make smarter business decisions and deliver better regulatory and customer outcomes in AMP7. Targets set by Ofwat include a 16% reduction in leakage, a mains bursts' reduction of 12% and at the same time bills must fall by 12% before inflation.
In September 2019, Ofwat also released its annual report on customer satisfaction. This ranks water companies on their handling of issues and the number of complaints each received over the previous 12 months. Once the results are collated, the water companies are given either a financial payment or penalty, depending on where they end up. In 2019, Portsmouth Water and Anglian Water came out as top performers, whilst Thames Water was in last place, having to return £100m to its customers under Ofwat's proposals.
David Black, senior director at Ofwat, was quoted as saying: "We expect companies to put customers at the heart of their business. Those like Thames which achieve persistently low scores need to give this area of their performance more focus. Until they do so they will continue to face penalties and pressure to pay more attention to understanding and meeting their customer needs."
The introduction of very specific regulations, and the annual grading of water companies, keeping them in check, shows Ofwat's commitment to ensure that the industry delivers a reliable service to its customers.
Prevent third-party damage
Given Ofwat's stance, it would be fair to assume that water companies would investigate all ways to reduce preventable, and often costly, water leaks caused by third party damage. Especially as Ofwat now treats asset failures caused by third parties the same as any other failure of the company's assets or unplanned interruptions. The financial penalties that result from customer lost minutes can be considerable, and PR19 has set a significant 64% reduction target for customer interruptions.
Yet only one in five water companies is involved in our central system which rapidly tells anyone who is about to dig where underground pipes and cables are. If someone turns to our safe digging search resource, which people do every 3.7 seconds during the working day, they will find the pipes and cables of most electricity, gas and oil networks, as well as many telecoms, but not the infrastructure of many of the UK's water companies.
This means construction firms, contractors, farmers, small builders and the general public are digging blind more often than not when it comes to underground water assets. In stark contrast to the gas and electricity networks, 80% and 70% of whom respectively are easily found on the central portal.
Gathering data
Water companies which follow the lead of these other utilities will find they gain much more than just a greater visibility of their networks and thus fewer third-party asset strikes.  They will also gather tremendous amounts of search data. In this 'data revolution' era, insights into who's digging where and why is invaluable to water companies keen to identify hotspots, protect their assets and thus ensure the reliability of their service.
Water companies can now use data gathered on our portal to see who is planning to work in the vicinity of their network, the type of work they are going to do, when they are doing it and perhaps most importantly, the exact locations. Not only is this beneficial in the short term, but the continued use of data, and the improved understanding of it, allows companies to recognise trends and make predictions based on the statistics already seen.
The data also provides these network operators with the ability to control and manage works close to their assets, and where necessary provide a greater level of protection. There is also a significant opportunity to use predictive analytics after modelling previous strike incidents to continually improve the understanding of risks to a network. This represents a vital opportunity for the water sector to have greater insights into the past, present and future activity around its network – ensuring both resilience and customer service are improved.
Data protection
The security of data is one area where water companies tend to feel a little uncomfortable, and it is easy to understand why given everyone's concerns about data breaches. However, it's important to point out that our portal doesn't actually need an LSBUD member's data in order to function, we can simply let them know who is requesting their data and allow them to make the decision on how to handle it. Members are always notified about every search, and they remain in complete control what happens to their data and who can access it.
In summary, Ofwat has been a fantastic force for change when it comes to reliability of service and it still acts a positive catalyst within the sector. With its 'customer first' focus it is making significant demands on the water industry to deliver measurable service improvements.
For water companies faced with such pressures surely, it's time for them to join the other utilities and ensure their assets are easily found on a single central location. That way needless, accidental damage through third-party digging will be minimised, potential risks to networks anticipated and reliability of service to customers much more easily assured.