How the water sector is moving to be net zero
Water companies have ambitious plans to reach net zero carbon by 2030, ahead of commitments made by other industries, but how will the strategy work, what changes to technology and infrastructure are required and who will foot the bill? Stephen Cousins reports.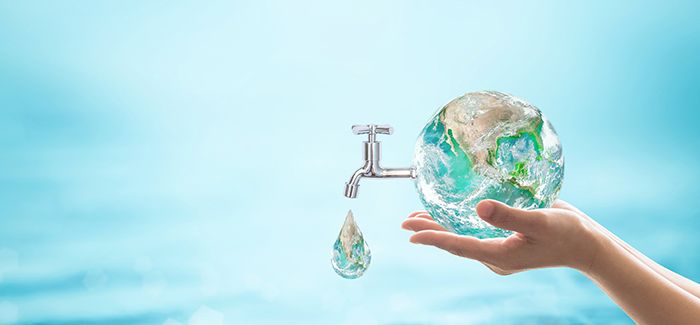 Case study: Sutton & East Surrey Water electric vehicle trial
Emissions from SES Water's in-house vehicle fleet account for 17 per cent of its net carbon footprint, and those belonging to its main contractor account for a further 20 per cent (when the firm is doing work for SES), making the switch to greener alternatives a key concern.
In February this year, the water company partnered with its energy supplier, Drax, to trial 10 Nissan e-NV 200 vans over a period of five years to help identify the best operational set up.
Initial fleet analysis by Drax determined the vehicles and systems that would work best and the individual vehicle users in the trial covering diverse roles such as M&E technicians, site operators, network inspectors, samplers and education coordinators.
An innovative 'EVs-as-a-service'  leasing arrangement was introduced to cover the installation of charging infrastructure, operating software, van leasing, and the renewable electricity used to power the vehicles, for a single monthly fee.
According to SES Water, partnering with an energy supplier has removed many of the barriers associated with EV uptake. Initial fleet analysis and identification of suitable vehicles and charging systems went beyond the traditional remit of fleet or energy management.
The trial is expected to deliver carbon savings of at least 43 tonnes of CO2 per year, as well as facilitate and encourage greater uptake of EVs amongst employees and in the contractor's fleet.
Data collected from the vehicle telematics will highlight the typical mileage different types of user get from vehicles between charges and how it varies based on outside temperatures. In addition, EVs contribute to improved air quality in the local communities the company serves.
SES Water now plans to roll out EVs more widely than initially envisaged and has extended the number of charging points from the 16 proposed in the trial to 28 across four sites, including three treatment works and at its head office.
The deluge of rain and floods that hit many parts of England in the months leading up to Christmas, not to mention ferocious bushfires in Australia, provided further evidence of the devastating impacts of global warming and the need for drastic action to drive down greenhouse gas (GHG) emissions.
As the fourth most energy-intensive industry in the UK, the water sector is a major national contributor to emissions responsible for around five million tonnes each year, roughly equivalent to 378,000 cars with average use.
Aware of the impact, water companies in England and Wales have joined together with an ambitious commitment to achieve net zero emissions by 2030, well ahead of the government's 2050 net zero target for the country as a whole.
The pledge could signal a major turning point and is one of five voluntary Public Interest Commitments agreed by the sector. A roadmap for implementation of net zero is currently being developed by trade body Water UK in collaboration with consultants Ricardo and Mott MacDonald.
Experts are predicting fundamental changes to water infrastructure systems, plus greater interaction with other infrastructure sectors, the environment, wider society and the economy. Some projects, such as a plan to plant 11 million new trees that will suck CO2 from the atmosphere, are already underway, while other activities will require more effort, research and investment.
The plan must deliver GHG reductions yet still accommodate tightening environmental constraints on water quality and Ofwat's requirement to cut annual consumer bills. It also raises serious questions for supply chain activities and infrastructure assets. Brian Cox, water management consultancy practice director at consultancy Atkins said: "The commitment will require collaboration across the supply chain to ensure that emissions are reduced across all suppliers rather than simply being displaced. Bold decisions will be needed to consider whether carbon-inefficient assets with years of life remaining are better replaced sooner."
Raising the bar
Weather events like extreme flooding, wildfires and violent storms have become a common phenomenon and the latest science shows that global warming must be limited to below 1.5°C to avoid the most catastrophic climate impacts. And that means reaching net  zero emissions worldwide by 2050.
The concept of net zero applies to all sectors and dictates that human-caused emissions, such as from vehicles and factories, should be reduced as close to zero as possible. Any remaining GHGs must then be balanced with an equivalent amount of carbon removal, for example by restoring forests or through direct air capture and storage technology.
Water companies have made strong progress in reducing their emissions over the past decade, but net zero by 2030 represents a step change. According to figures from Ricardo approximately four million tons of CO2 will need to be managed and reduced, encompassing both operational emissions and capital carbon used during the construction of assets, such as water mains, sewers and pumping stations.
Stuart Colville, director of strategy at Water UK, remarked: "This commitment really sets the pace and as a highly energy intensive industry it represents a massive challenge."
Details of the roadmap for implementation are currently being developed, an initial report is due for release in March, followed by a more detailed blueprint later in 2020 that will outline the framework of measures companies need to take over the next 10 years.
A first step for the project team is to trawl through environmental performance data that has been reported by the industry at a fairly granular level since 2008, to identify key sources of emissions and areas requiring improvement. Forward projections will then map out what would happen to emissions in a business as usual scenarios without any action from the sector. For example, the rapid ongoing decarbonisation of the electricity grid will help the sector significantly reduce its carbon footprint.
Ian Behling, principal consultant, energy & climate change at Ricardo Energy & Environment, commented: "We can overlay that with new technology opportunities and other efficiencies to deal with the shortfall, as well as opportunities to remove CO2 emissions from the atmosphere through carbon sequestration projects. The carbon management hierarchy is always to reduce emissions first before trying to offset them because it is more cost effective. In simple terms, if you're burning less fuel, you're spending less money purchasing fuel."
Net zero is a shared target for water companies in England and Wales and each entity is expected to implement different carbon saving measures and solutions based on their own specific strengths and weaknesses.
Yorkshire Water is hoping to exploit its large land real estate portfolio and work with tenant farmers and other significant landowners to promote more sustainable land management practices, including peatland restoration and tree planting. Liz Barber, CEO at Yorkshire Water, said: "It will be very difficult to completely decarbonise without working in partnership with those in our region, thinking needs to be joined up both within the sector and beyond it."
Anglian Water wants to exploit its renewable energy resources. During 2017-2018, as part of a carbon mitigation strategy, the company saved over 6.5 GWh of electricity and generated 106GWh of renewable power from biogas CHP, wind and solar combined.
David Riley, head of carbon neutrality at Anglian Water, told WWT: "We've got very ambitious goals around renewable energy, we want to source 44 per cent of our energy consumption from on-site renewable resources." 
As with the other Public Interest Commitments, net zero 2030 will be subject to independent scrutiny and held accountable for incremental progress against incremental targets, details of which are forthcoming.
Colville comments: "There's a big question of how we manage this commitment post-2020. We need to think through the management framework, we need data reporting information, and some way of ensuring that we stay on track to satisfy independent scrutiny."
Principal offenders
Hitting climate targets means pinpointing and tackling the biggest sources of emissions. According to figures from Ricardo, grid electricity currently accounts for half of the sector's overall footprint, followed by process emissions related to water treatment and sludge disposal that comprise about 25 per cent. After that, various sources are broadly equivalent, such as transport and emissions from the direct use of fuel, like natural gas or gas oil.
Look ahead to 2030 and the picture changes somewhat, the rapid decarbonisation of the national grid is expected to reduce related emissions to 30 per cent of the total, elevating the impact of process emissions to about half.
Behling at Ricardo comments: "Decarbonisation of the grid will support the continued decarbonisation of power usage by the sector so energy going into pumps and treatment processes will become less carbon intensive over time. The sector is also investing hugely in renewable energy, both traditional renewable generation such as PV and wind, and using biogas that comes off sewerage treatment processes much more efficiently."
Bringing down process emissions will place a greater emphasis on technological innovation. UK Water Industry Research (UKWIR) launched a project in August, specifically linked to net zero, to develop a better scientific basis to quantify process emissions resulting from water and wastewater treatment and disposal.
A significant amount of carbon is locked up in more stringent EU environmental constraints and treatment processes required to remove damaging chemicals like phosphorus from water. Whether the rules remain in a post-Brexit is uncertain, it is possible that regulations will change to favour natural habitat or biodiversity solutions that remove chemicals 'upstream' before going into treatment works.
Cars, vans and HGVs are a vital component of most large businesses and their supply chains, these will need to quickly shift from petrol and diesel fuels to low carbon alternatives.
Northumbrian Water aims to make all new vehicle purchases for its thousand-strong fleet zero emissions from 2024 as part of its industry-leading commitment to become carbon neutral by 2027. Sutton & East Surrey Water is currently trialling 10 electric vans through an innovative 'EVs-as-a-service' arrangement with an energy supplier (see case study in panel).
But renewing fleets within 10-years raises challenges. EVs require extensive charging infrastructure and there are currently no viable electric options for HGVs and freight, which may mean looking at less tried and tested solutions like LNG, hydrogen fuel cells or even biogas powered models. Riley comments: "We need to work with manufacturers to assess the impact on warranties and the cost of operating these vehicles, discussions are ongoing with the net zero target in mind."
Among the many other factors to consider in pursuit of net zero are measures to cut operational energy demand, such as new low carbon operational processes and assets, reduced pumping and treatment of surface runoff, and efforts to prevent leakage. Water has a poor track record on the latter, but one of the five Public Interest Commitments is to triple the rate of leakage reduction across the sector by 2030.
"Carbon is so interlinked with everything that we do we need a holistic suite of policy objectives for the sector that draw links between different areas," says UK Water's Colville. "We need to think about asset planning, the consumer dimension and the supply chain. A lot of the supply chain have an intention to act to cut carbon and we are in dialogue with trade association British Water and other groups to make sure we bring them along and ensure we make progress."
The bottom line
"Who pays?" is a tough question to answer in the context of rapid decarbonisation, and the necessary investments in new technologies, vehicle fleets, upgrades to treatment processes, etc, threaten to damage water company profits and elevate consumer bills.
Ofwat's decision in December to order water companies to spend £51bn on improving services and investment in infrastructure, as well as to cut customer water bills by an average of £50 over the next five years, may dampen some stakeholders' appetite for net zero.
However, some low carbon improvements will involve minimal outlay or provide longer term cost savings by enabling more efficient operations. The cost of renewable generation technologies like solar photovoltaics and wind turbines have significantly dropped and using a waste product like sewage sludge to generate biogas as an energy source is both economic and sustainable.
Companies can work with suppliers to develop more efficient solutions and technologies that avoid the need to build new infrastructure and plant, and investigate more economic procurement and commercial models. Liz Barber points to the success of a new sustainable finance framework, adopted by Yorkshire Water last year, that requires any activity to demonstrate clear environmental and social benefits before financial spend is approved. 
In addition, the sector-wide approach to net zero should provide opportunities to identify lowest economic cost options. For example, Company A could offer to invest in a project to mitigate emissions costing £1 million, but a project proposed by Company B could cut the same amount of carbon but cost half as much.
Atkins' Cox comments: "[The sector needs to] identify and cost optimised solutions for each emissions reduction pathway, including timescales, milestones, key decision points and required changes. This can then be used to create a simple strategic risk framework, underpinned by solid technical considerations and working with stakeholders to measure performance. However, the costs at present remain uncertain."
This type of decision making will be critical to ensure the sector delivers on net zero and lowers its high emissions profile, without adversely hitting the wallets of business and consumers.
Find out more about how the industry is responding to the environmental crisis at the WWT Water Security in a Changing Environment Conference on 6 May: https://event.wwtonline.co.uk/security/