How apps enhance maintenance
Efficiencies can be delivered by better use of mobile technology, says James Hannay, managing director of Schad, a mobile applications developer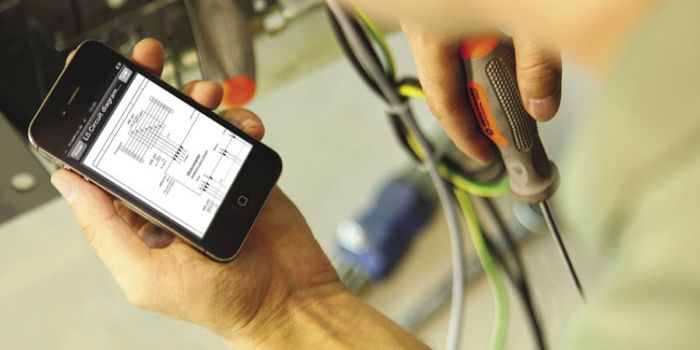 Technology is making a difference
Compared with other developed economies in Europe, the UK's population continues to grow. In London alone, demographers have predicted millions of extra people, equivalent to the current population of Birmingham, moving into the city within the next decade.
Multiply this across other cities and it is obvious that water and wastewater companies will be servicing a lot more people. Alongside population growth, the industry faces other challenges – rising consumer expectations for better service and value, increased energy costs, an expectation to improve sustainability and with it, a need to adapt to changing climates and demand patterns – yet opex and capex budgets have been slashed.
Linking in
Mobile technology provides an immediate opportunity for the water industry to improve efficiency by enabling workforces to be directly linked to operational systems and therefore empowered to make faster, better decisions whilst working in the field. Reports from some water companies indicate that some maintenance data is six months old.
Giving remotely-based engineering teams mobile devices means data can is captured in real time, bringing a new, richer level of data into the organisation for more informed management decision making.
Valuable lessons can be learned from other sectors already using mobile technology. You might wonder what airport operations have in common with water companies, but upon closer examination, the connection is clear.
Both are concerned with providing an uninterrupted service, preserving the lifespan of equipment and reducing operating costs. Added to this, airports and water companies also have in common the huge number of automated assets that each is required to maintain on a daily basis. United Utilities provides water and wastewater services to 7M people in the North-west. To achieve this, it maintains an asset base of more than 120,000 pieces of equipment on 3,540 sites, requiring an annual operating budget of £371M.
Cutting costs
Taking maintenance engineering as an example, airport operators have adopted mobile working as a way of cutting asset maintenance costs and reducing downtime. Asset management creates a huge volume of data, which brings with it the inherent problem of filtering and management.
Mobile working offers a means to introduce condition-based maintenance instead, which makes planned maintenance activities more efficient by better managing the volume of data generated by assets and being able to direct engineering resources to the right places at exactly the right times. The outcome of improved data management means response times to attend to unplanned maintenance activities are shorter and assets can continue working efficiently for longer time periods.
Quick response
Using a mobile software application running on a smartphone or tablet device, it is now possible to intercept SCADA alarms at a very early stage and pass on relevant information about the asset which is held within a central computerised maintenance management system (CMMS) or enterprise asset management (EAM) system such as Eclipse, directly to a field-based engineer's mobile device.
The software sends a filtered alarm from SCADA within seconds of a fault occurring, allowing an engineer to immediately switch from completing planned maintenance work orders to attend to a fault on their mobile device.
This can significantly reduce equipment downtime and extends an asset's lifespan by supporting better, more efficient maintenance. It also means more up-to-date information is automatically recorded within the maintenance system and eliminates the need for paper-based work orders.
Longer term, mobile working reduces ongoing maintenance costs and total cost of ownership through the effective monitoring of ongoing asset performance levels and longer asset lifespan.
Integration
Returning to airports, the impact of integrating planned and unplanned maintenance is clear. Since Munich Airport implemented mobile SCADA to monitor its baggage handling operations, downtime has been cut significantly and equipment is close to achieving 100% operational availability.
Airport maintenance teams expect around 200 short term failures to occur within the baggage handling area and now, response times for each failure and any corresponding system downtime has been reduced by up to three minutes. Overall maintenance efficiency has improved because engineers are now able to spend more time concentrating on planned maintenance activities and monitoring asset performance levels as part of an ongoing condition based maintenance programme.
Within the water industry, the benefit of integrating SCADA and maintenance is further increased because assets are geographically dispersed across multiple sites and a single maintenance engineer may be required to cover large area, attending to faults detected by SCADA as they arise within the field. Having the ability to remotely view assets using CCTV and then check historical maintenance information also helps eliminate unnecessary journeys to inspect faults reported from SCADA.
Scottish Water has piloted mobile working and proved its benefits for completing routine tasks and quality analysis, health and safety inspections and meter readings (see page 18). It saw a 100% quality improvement, a 93% reduction to the amount of paperwork generated and unproductive time spent by operators plus 79% less time spent on wasted journeys. In the future, as the adoption of smartphones and tablet devices continues to rise, mobile working will become commonplace within the water and waste industries. It will play an important role in ongoing asset management, and will support greater maintenance efficiency by allowing engineers to combine planned and unplanned maintenance activities in a single workflow.