Holding back the floods
Increased flood risk due to climate change cannot be ignored, says Frank Kelly, chief executive of UK Flood Barriers, but the water industry can use effective passive technologies to protect communities and properties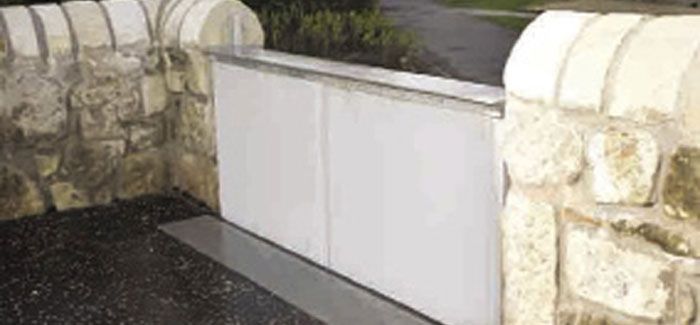 In December, during the UN Climate Change conference in Durban, the Met Office in the UK released a report warning of the increased risk of climate change, specifically how both water shortages and flooding are likely to increase. It found that more than160,000 British people will be affected by coasting flooding by the end of the century if temperatures are left unchecked.
This report is affirmation of what we have known for a while – that flooding is going to increase, and that there are measures that can be taken to protect our properties and communities, but that we need to act fast to put these solutions in place. Although the Government has updated its legislation to establish responsibility for flood protection, there is much more that can be done to ensure maximum, and on-going, protection from the increased risk.
No longer can a reactive approach be taken to flood defences. Much of the suffering and damage that was experienced by home-owners in areas such as Cockermouth in Cumbria in 2009 or Boscastle in Cornwall in 2004, for example, could have been avoided, and the solution does not have to be complicated or even expensive.
On a property level, there are a number of solutions available that can protect new and existing buildings from the suffering – the authorities need to take what steps they can to stop the effects of flooding before it even reaches the community and the front doors
of homes.
And therein lies the problem; many existing flood barrier options are demountable and stored off-site and therefore have to be manually deployed when needed. However, the rapid onset of flooding rarely gives the luxury of necessary deployment time and while individuals place their lives in danger erecting them, the damage is quite often already done before they have even done so.
UK Flood Barriers (UKFB) specialises in passive flood protection, whereby products fitted into properties and communities are self-activating. Passive flood defences can be permanently and invisibly installed – rising only as it needs to with approaching flood water. As they effectively harness the power of water they do not require a power source or human interaction to deploy, so lives are not placed at risk and maintenance resources and the associated on-going costs are negated.
Aesthetics
Furthermore, where aesthetics can sometimes be a contributory factor for authorities when considering flood defences, passive options meet the objectives of maintaining local aesthetics, while being cost-effective and fulfilling its primary role of protecting the community. When they are not deployed, you could be standing right on top of one and not even realise.
A device from UKFB's Self Closing Flood Barrier range, for example, was installed in Freuchie Mill in Scotland following heavy flooding in 2008. Residents were clearly concerned that permanent flood defences were going to be an eye-sore in their picturesque village, and rightly so, but upon seeing
the installation, all reservations were immediately removed.
The SCFB has also since been used to protect vital infrastructures and riverside communities from flooding in Dorset and Cumbria as well as many other locations around the UK, and indeed the rest of the world.
Another product in the range is the FloodBreak – a bespoke, automatic floodgate which minimises the risk of flood to ground level or underground structures. It can be installed in shallow foundations, reaching heights of three metres and can be manufactured to span an unlimited length without vertical supports.
The FloodBreak has recently been installed in a London Underground station, where it was not just the effectiveness or aesthetic values of the product that were taken into consideration. With the area being so densely populated, the process of assembling demountable defences simply would not be practical – and in a flash flood situation, probably verging on the impossible. The FloodBreak avoids all of these problems by erecting automatically.
Market data shows that as many as 50% of demountable flood protections systems fail at the most critical times due to lack of intervention. With flooding becoming a more regular occurrence, often with more severe consequences, passive defences represent the future of how local authorities, and
the water industry, can play their part in protecting homes, businesses and of course, people's lives.