Hired help: The ultimate guide to hiring chemical dosing systems
The maintenance, modification and expansion of treatment facilities can present significant challenges to water companies in the face of a loss of skills and manpower, restricted budgets and ever-increasing regulatory pressures. The hiring of equipment, and dosing systems in particular, can play a critical role in helping process plant managers to meet these challenges, writes WES sales and marketing director Graham Ward.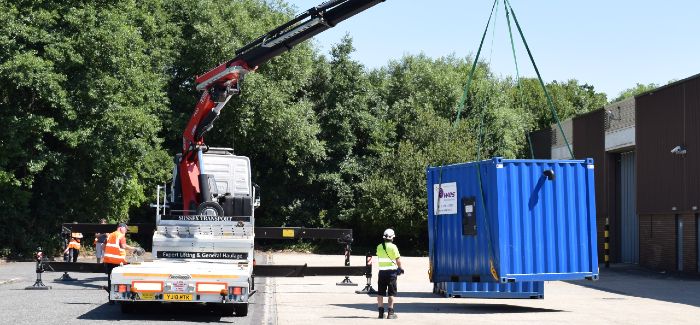 Chemical dosing systems have always been essential for the treatment of wastewater; a complex, difficult and potentially costly process that must be carried out in compliance with increasingly strict and numerous regulations. Now, with the water industry gearing-up for hundreds of new final effluent phosphorus consents, which will come into force before 2025 as part of the Water Industry National Environment Programme (WINEP), and the new Asset Management Plan for 2020–2025 (AMP7), the reliability and functionality of these systems has never been more important for plant managers.
As such, a business that needs chemical dosing systems will likely buy its own equipment, but there are times when hiring it will be beneficial to plant managers.
A plant might need to be upgraded or replaced, but – as is increasingly the case – the operator's capital expenditure (CAPEX) budget might be insufficient for the task. The hire of dosing equipment can reduce this cost to a relatively low monthly payment that can be taken from the company's operating expenditure (OPEX) budget.
Alternatively, a hired system can be used to buy time until the necessary CAPEX is available. These options are especially useful to businesses falling outside the water industry's AMP cycle, or for industrial treatment applications that may be subject to tight constraints on capital investment.
In-house knowledge, skills and capacity to install and maintain dosing equipment can be limited or overstretched. A stand-alone hired system, specified, engineered and tested by a specialist provider, can be supplied ready to install. If required, an experienced hire company can also manage its installation, commissioning and maintenance.
To meet more stringent regulations and reduce operating costs, different strategies and processes might need to be tested and evaluated before new equipment is bought. In these situations, it makes sense to carry out tests and field trials using hired systems in order to establish if the proposed changes will have the desired effect at the plant concerned.
Further, any short-term changes in demand or in processing requirements can be handled using hired equipment, providing plant managers with the means to adapt the capabilities of their site rapidly and cost-effectively.
Finally, and most obviously, hired systems can come to the rescue if a plant's dosing equipment unexpectedly stops working, enabling operations to resume quickly, while giving engineers time to investigate the problem and carry out repair or replacement work.
A dosing system might also need to be shut down for planned maintenance, for refurbishment, or for the upgrade or expansion of the plant that it serves. Again, equipment can be hired to prevent any interruptions to vital processes.
Unless the plant manager and staff already know exactly which dosing system they want to hire, and how to install and maintain it, they will need a provider whose advice and support they can trust.
The plant manager should look for a hire provider that is flexible, responsive and has a proven track record of fulfilling the needs of its customers—in both emergency and planned situations. As such, the provider will need extensive resources and to demonstrate a commitment to providing the right combination of equipment and support, whenever it is needed and for whatever period is required.
How then can plant managers identify such suppliers? Versatility is the key and hire providers should engineer it into their systems right from the start. Hire equipment needs to be suitable for a wide variety of requirements and must feature pumps, valves and pipework that are compatible with the chemicals used in the industry.
The pumps should have an exceptionally large turndown ratio – up to 800:1 in the larger units – to accommodate varying flow and pressure specifications, while timing and dosage parameters should be easy to adjust.  
In the event of breakdowns, especially, the plant manager needs to know that the hired system will be up and running on site as soon as is possible. For the supplier, this is largely a question of having a big enough hire fleet and an efficient logistics set-up.
Plant managers should look for a provider that can offer same-day mobilisation and can get their systems fully operational within days. If the precise system requested is not immediately available, a capable supplier should be able to put together a combination of equipment from stock to create a suitable solution for the process.
As we have seen, a plant manager might have any number of objectives in mind when they decide to hire a chemical dosing system. The right supplier will ensure that these objectives are met.