Hidrostal solves problematic pump issue in residential development
When a network pumping station in the Anglian Water region was suffering from repeated blockages, a more effective replacement was found with the help of Hidrostal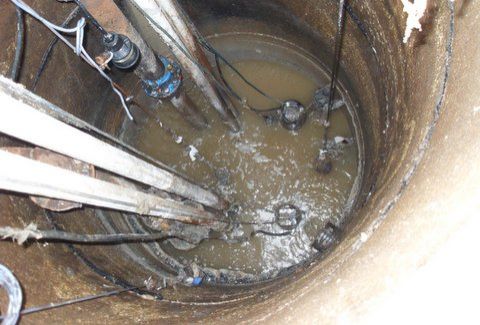 The Hidrostal pump in the wet well
Hidrostal, specialist pump manufacturers for the wastewater industry, were approached by Anglian Water when a network pumping station situated in the village of Harleston, Suffolk was proving problematic.
The wet well raw sewage pumping station is gravity fed from the surrounding residential development which accepts the common waste from domestic properties and can vary in its content owing to the accumulation of wipes, fats, oils and greases. This contributes to the potential for rag build up making the pumps more susceptible to blockages.
An increase in reactive maintenance costs, disproportionate with its size and capacity, coupled with an increase in residential complaints, meant the site was becoming untenable. The annual reactive maintenance costs were amounting to a value exceeding 300% of the original purchase cost of just one pump unit. Reactive maintenance covers unscheduled or unplanned visits to any asset outside of its scheduled maintenance programme. These visits can often entail out of hours emergency call outs, unscheduled tankering, increased wet well cleaning cycles and lifting and de-ragging of pumps.
The original pumps on this site were installed for their energy benefit and innovative designs but had not been able to cope with the waste water from this development. One of the units was replaced in favour of the Hidrostal Screw centrifugal impeller pump. Hidrostal's single screw centrifugal impeller design was chosen because of its increased free passage and rag handling capabilities whilst retaining a high level of hydraulic efficiency. The replacement pump was retrofitted with minimal disruption to the existing installation which was on a permanently installed guide rail mounted system.
Since the installation of the Hidrostal pump 18 months ago, there has been zero reactive call outs and the station is back to a single scheduled annual wet well clean and maintenance visit. The local technician even joked that there would be a greater need for garden maintenance than pumping station maintenance.
"Hidrostal are delighted to have solved the pumping problems for both Anglian Water and the local residents of Harleston village," concluded the company. "With solids handling capabilities that are second to none, Hidrostal's pumps once again proved to be the best choice for pumping high rag laden sewage."